Good Morning All. Cloudy and it only cooled off to 70° overnight after reaching a high yesterday of 80°. Still dealing with 25mph winds out of the south which will turn northerly and diminish somewhat around late afternoon. Tonight's low is supposed to be 46°, a vast change from right now. However tomorrow's high will reach 82° since the north winds won't last for more than 10 hours or so. At least that's what the NWS predicts. At least the wind will die down a bit.
I spent a good part of the day yesterday, trimming trees that aren't even on my property. I live on a corner piece of property, and while the road along the east side is a county road with notoriously poor maintenance, the road on the south side is not, thus the property owners have to maintain it. I am the majority owner as I own ~800 ft on my side. The other much longer side borders a wheat/sorghum field that a local farmer leases from an elderly lady in parts unknown to me. So nobody maintains that side. Well the branches from the trees in the fence row are now overlapping the road a bit and scrape the sides of vehicles if two are passing at the same time. Not so much a problem since there isn't a lot of traffic, but they also prevent mowing that side. I do it occasionally, as does another neighbor. The other reason for me trimming these trees, besides the free kindling, is that the UPS and Amazon trucks swerve over to avoid them and leave ruts in part of my yard.
A big pile of blueberry pancakes and four sausage links for me this morning Francine. I see Flo back there in the kitchen helping Mel.
Thanks to all who liked or commented on yesterday's update post;
Garry, Karl, Guy, Tom O, Sherrel, Phil, Hughie, Troy, Patrick, Jaz, Gary. Ken, Rick.
I had a disappointing day out in the train shed yesterday. While testing a variety of locos through the newly installed grade crossing, I found many were derailing, especially the CF7's. All were four axle models. They didn't have a problem when the initial crossing was installed and I couldn't figure out why??? It took some time and I finally realized that it was the roadway section that I installed between the two tracks, out of view on the other side of the locos, that was the issue. It was slightly higher than the wooden approaches against the actual rail, and it was snagging the stabilizer hangers on the four axle trucks. Additionally, it was snagging the overhanging very low pilot plate on the CF7's. So I spent a bit of time removing and modifying it. A successful endeavor. Better than filing down all of the loco parts. Needless to say, not much else got done.
Next on deck, is the quarterly layout cleaning project. I'll work on that while I do other projects. For those who are new here, I don't want to spend a lot of time cleaning the 640 sq. ft., two level layout at one time. Fortunately it doesn't need much to begin with. So I have divided it into eight roughly equal section, and at the beginning of each calendar quarter I do a section. Mainly I first inspect the track and right of way for any loose parts that may have dropped off any rolling stock. I clean track where needed and vacuum every bit of it. I also remove each structure (all mine are removable), and take it over to the workbench where I dust/vacuum the dust and cobwebs off. I also sometimes add additional details or weather some of them. And I also dust off the vehicles and other details. This takes several days although I don't spend all of my time doing it; I need time to run trains and work on other projects at the same time. This has always been done on a two-year schedule.
At the beginning of 2020, I decided to document the process, as a way of displaying the many parts of the layout. We have now been through the entire lower level, and the first part of the upper level. So I am ready to start round six this quarter for you.
To begin with, here's a few shots of the beginning of this section. Most of this section is still bare except for the block along the front that was a project last year. We start at the northwest corner and move south towards the town of Vernon. Vernon is named after my late father-in-law. In the corner itself will be a gravel loading operation tentatively called Glacier Gravel, since that's the name of the Walther's kit that I am using as a base.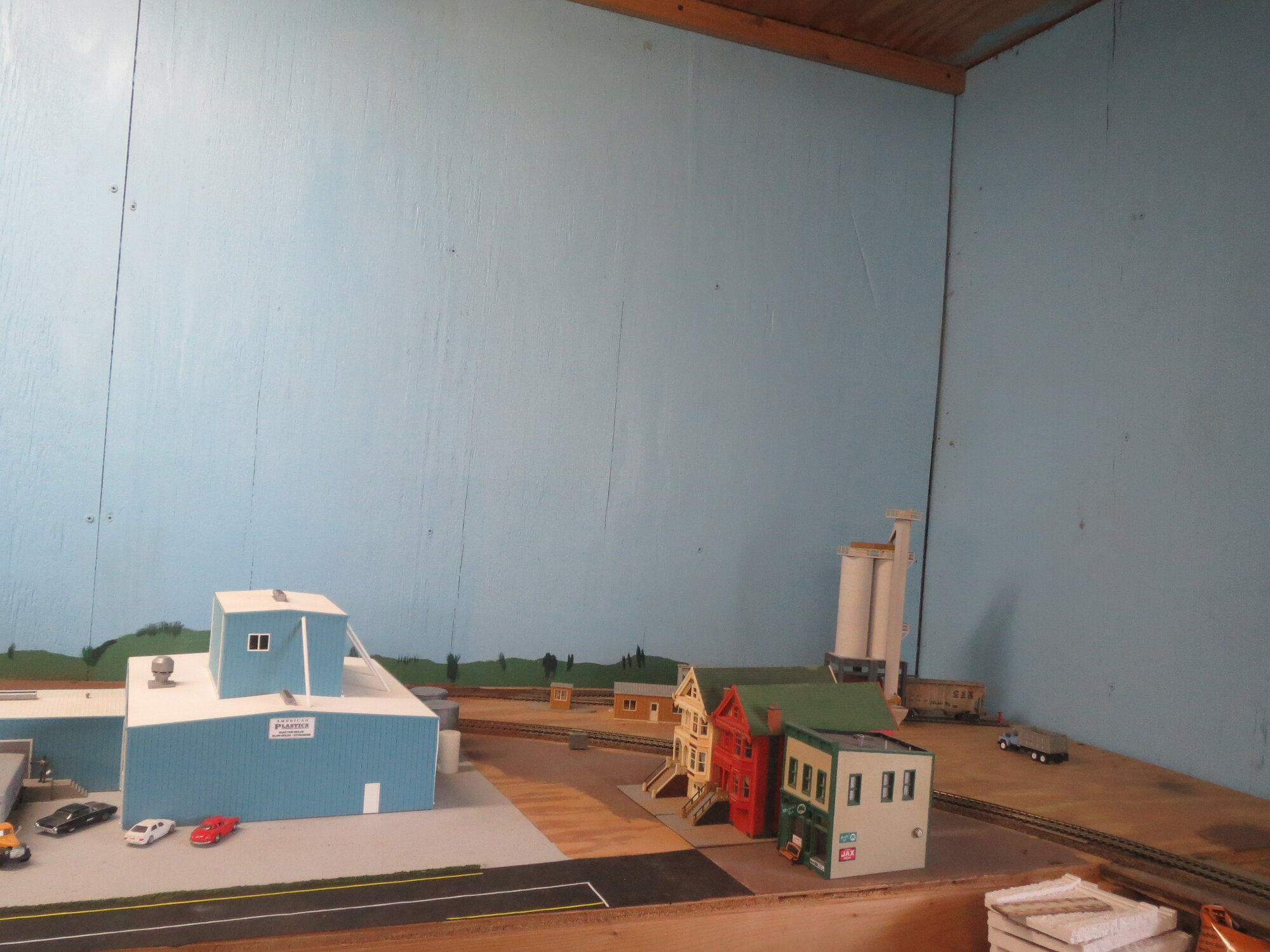 To the left is American Plastics Co. They extrude plastic stuff and do injection molding. They are rail-served with an indoor loading dock in back of the structure.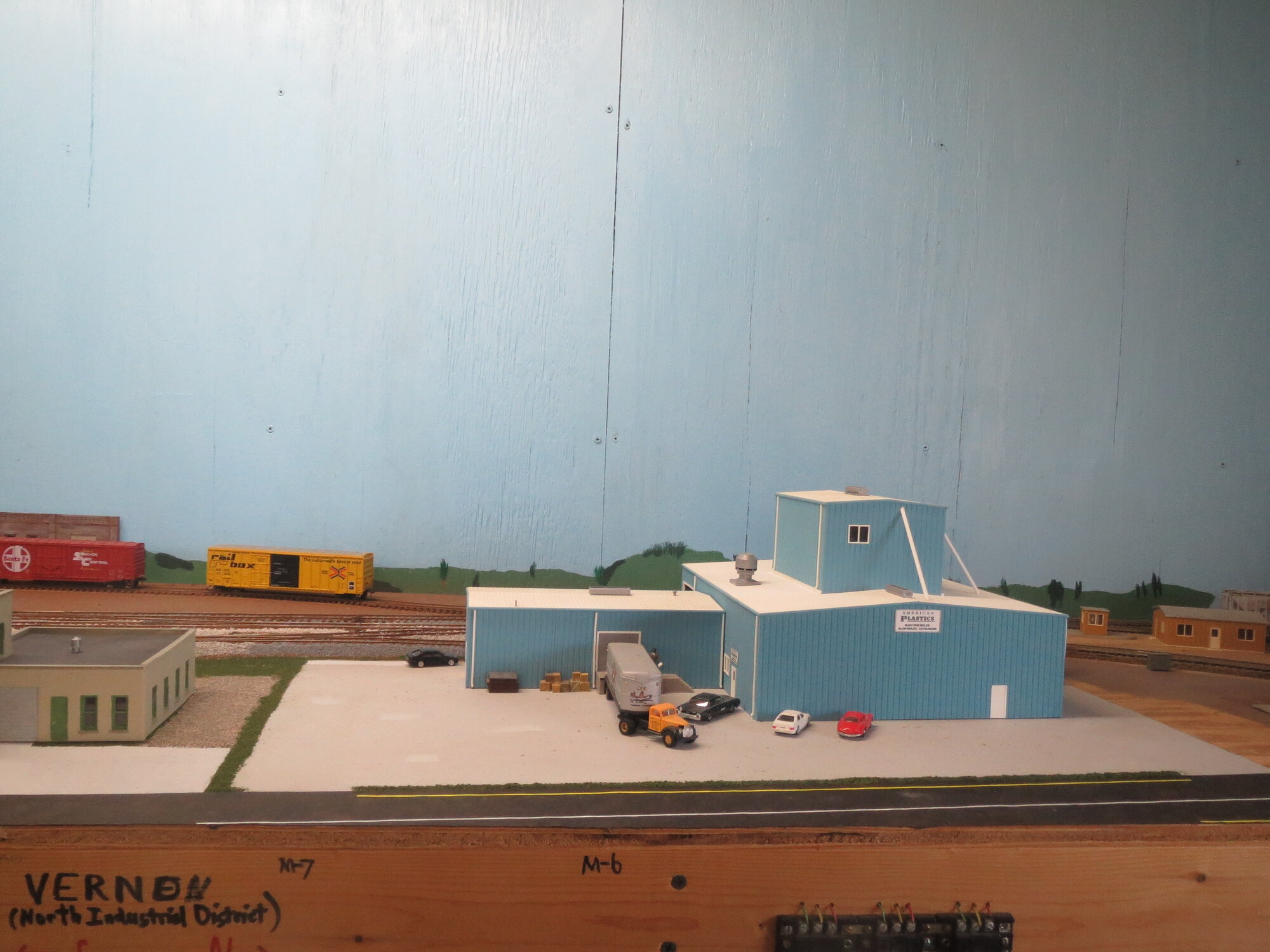 Next are a couple of recently built small businesses, C&T Refrigeration, which is a DPM structure; and the Woodland Scenics kit, D's Diiner.
Behind them is another rail-served unnamed industry made with DPM modular walls. There's another business next to D's Diner that I didn't take a picture of!
Then there is a modern grain elevator on the other side of the tracks.
I don't remember the name, but it's a Walther's kit. More on that when I remove it.
Then in the corner is a propane distributor. It's made from two Walther's kits.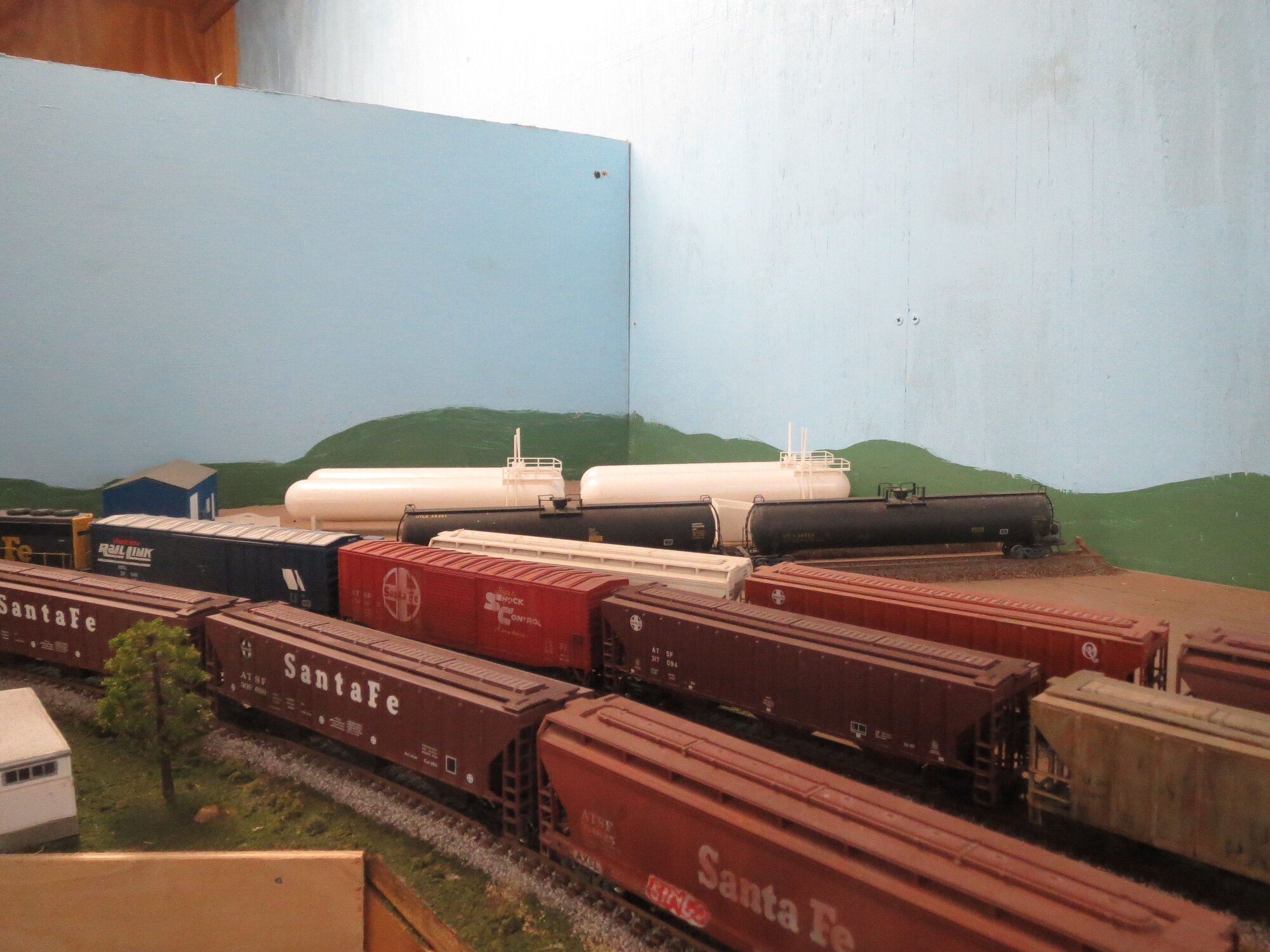 That's part of the west wall of the train shed. This quarter's section headed south on the RR will continue through the town of Vernon itself. As you can see I have a plateful of projects left to do along here.
Guy
- I recognize that goose from flying overhead last month, third from the left on the bottom part of the "V"!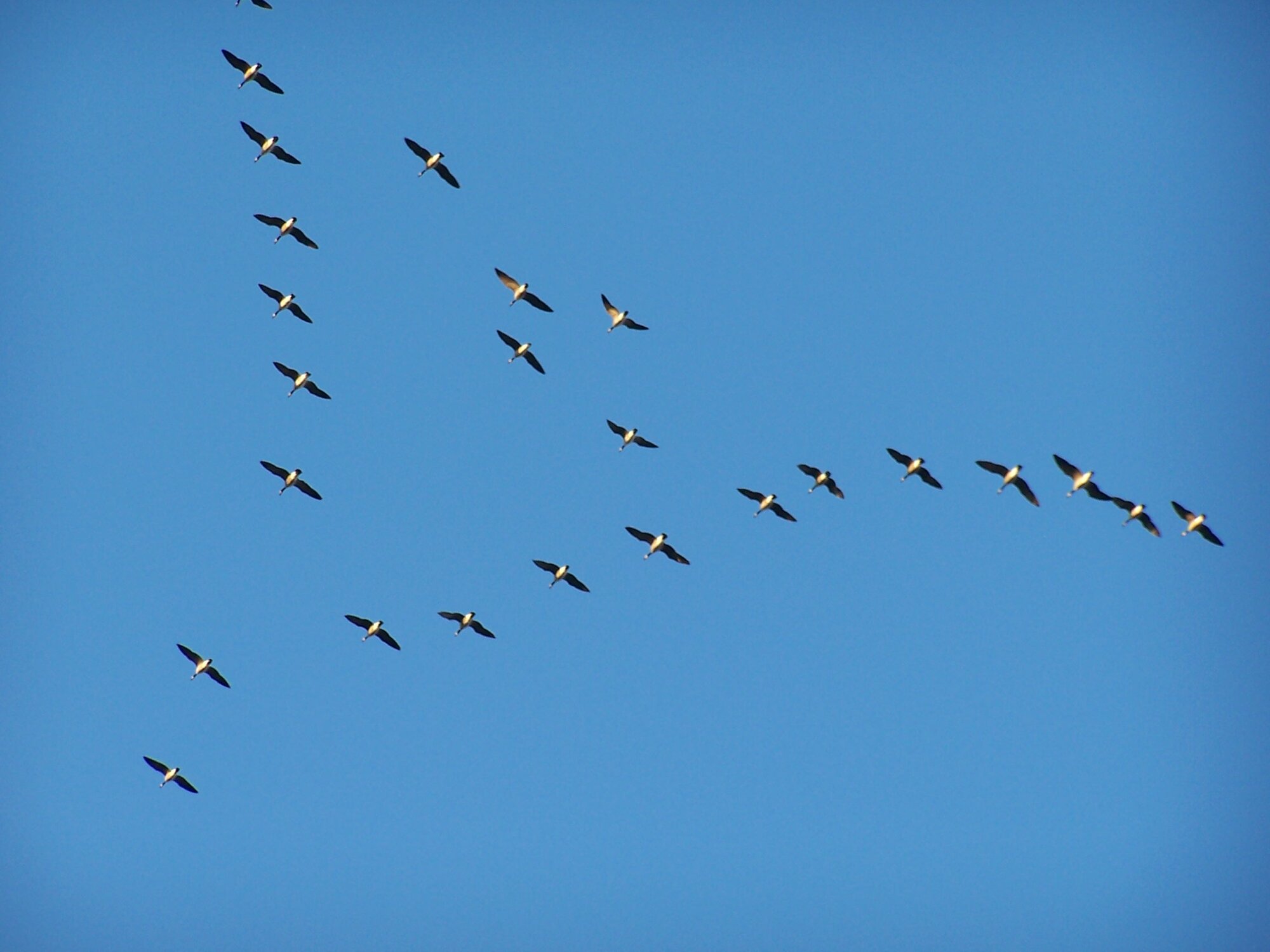 Although I don't model them, I find switch mechanisms rather interesting. Ground throws work for me.
Tom O
- Our spring rains haven't amounted to anything yet this year. Interestingly, many trees that are normally flush with new leaves are just barely budding out. And it's been six weeks since the "Big Freeze" here.
Sherrel
- Sorry to read about the negative experiences with your grandsons. I grew up with "Spare the rod, spoil the child" and carried it forth with my family, gently. I look at peers who weren't disciplined as kids and their offspring, and many are constantly in trouble. My wife has a nephew who has spent at least 30 of his 50 years bouncing in and out of the slammer. Nothing violent, but he consistently fails to follow probation and parole rules, and stole (embezzled) from his late uncle. He started when he vandalized his high school a month after graduating. We think that maybe he just likes confinement and eating crappy food.
To quote
Karl
:
No, It has more to do with respect. If he will steal from a family member, he will from anyone. The longer this is tolerated the harsher the life lesson will be he gets older.
GeeTee
-
proper parenting can land you in jail these days.
Unfortunately that's true in some cases. While my kids were still in school, it was no secret that all of the teachers and bus drivers had a paddle available to use if needed.
All
of the parents in the school district approved, but it's use was rare since most of the kids were well behaved, especially since they all came from homes that were OK with the paddle to begin with. From what I understand, it was phased out around 2009, due to political pressure from the Department of Education, the rich uncle!
Troy
- Gotta make that investment pay off. If I wasn't so far away, I would be coming over (meat in hand) to check out the grill's performance.
Today is National Beer Day. It sort of commemorates the beginning of the end of Prohibition. Nonetheless, I celebrate it nearly every day. Wait until you're off work to start, be responsible...do it at home!
Everyone have a great "hump" day. Be safe.