Good Morning All. Cloudy and 62° on the plains of North Central Texas. Doesn't appear that the clouds are going away today, but it will be 78°+ later. Cool front should arrive around 0300 tomorrow morning along with a 60% chance of rain. Mild temperatures for a few days after.
Of course it will rain, I brought my two granddogs home with me yesterday. Bentley who rides inside "the crate", puked as usual and I had to hose it out after getting home. Cannot understand why my daughter
always
feeds him in the morning before a road trip? This ain't the first time which is why he's confined to that carrier. Thankfully the blind skunk has not made a return visit since coming around three weeks ago; but a very large armadillo came by Wednesday and Thursday nights. Molly will teach Bentley how to chase them. They're actually pretty fast when pursued, despite being rather clumsy looking. I return the dogs and pick up my wife a week from Sunday. If I run the Roomba vacuum, kinda like a Jetson's device, every other day, I may be able to keep the doggie hair in check. I really don't like that device, it's great for laziness, but it is extremely inefficient, circling over and over in the same places repeatedly.. I haven't tried to make use of the mapping system yet, because that requires a combination of WiFi, Alexa and cloud storage...all of which I have access to, but it is a pain to set up. I am not favorable to smart homes at this point in life. Note to
Sherrel
: I unplugged Alexa while my wife is gone, both of them.
Sausage, cheese and egg biscuits with bacon on the side for me this morning Flo.
Thanks for all of the likes and comments on yesterday's posting;
Guy, Sherrel, Karl, Walt, Chad, Phil, James, Hughie, Joe, Curt, Dave, Jerry.
No train shed time yesterday, and to make matters worse, my wife took the newer camera with her. I'll have to use my duct-taped 25 year old Kodak digital for a few days.
Meanwhile I anticipated this and took a number of pictures earlier this week. Let.s look at eateries on the layout. Since my layout is pre-Covid, they're all open and thriving.
In Rycon Township, named after my grandsons, Ryan and Conner, we start with an Oriental restaurant named Mai Wah Noodles & Chop Suey. It's a Downtown Deco kit known as Blair Ave. Part I.
The real joy to me is painting and detailing these Hydrocal structures. The second floor scene is actually a picture from the Internet, that I mirrored and combined to make a dining room.
Also in Rycon Township is Betty's Diner. It's a laser-cut wood kit from Bar Mills called Sweaty Betty's.
The Southern Grill is part of a Walther's Merchant's Row I structure in Maultown.
Paul's Pizzeria is a pre-assembled Walther's Trainline structure that one of my daughter's gave me for Christmas.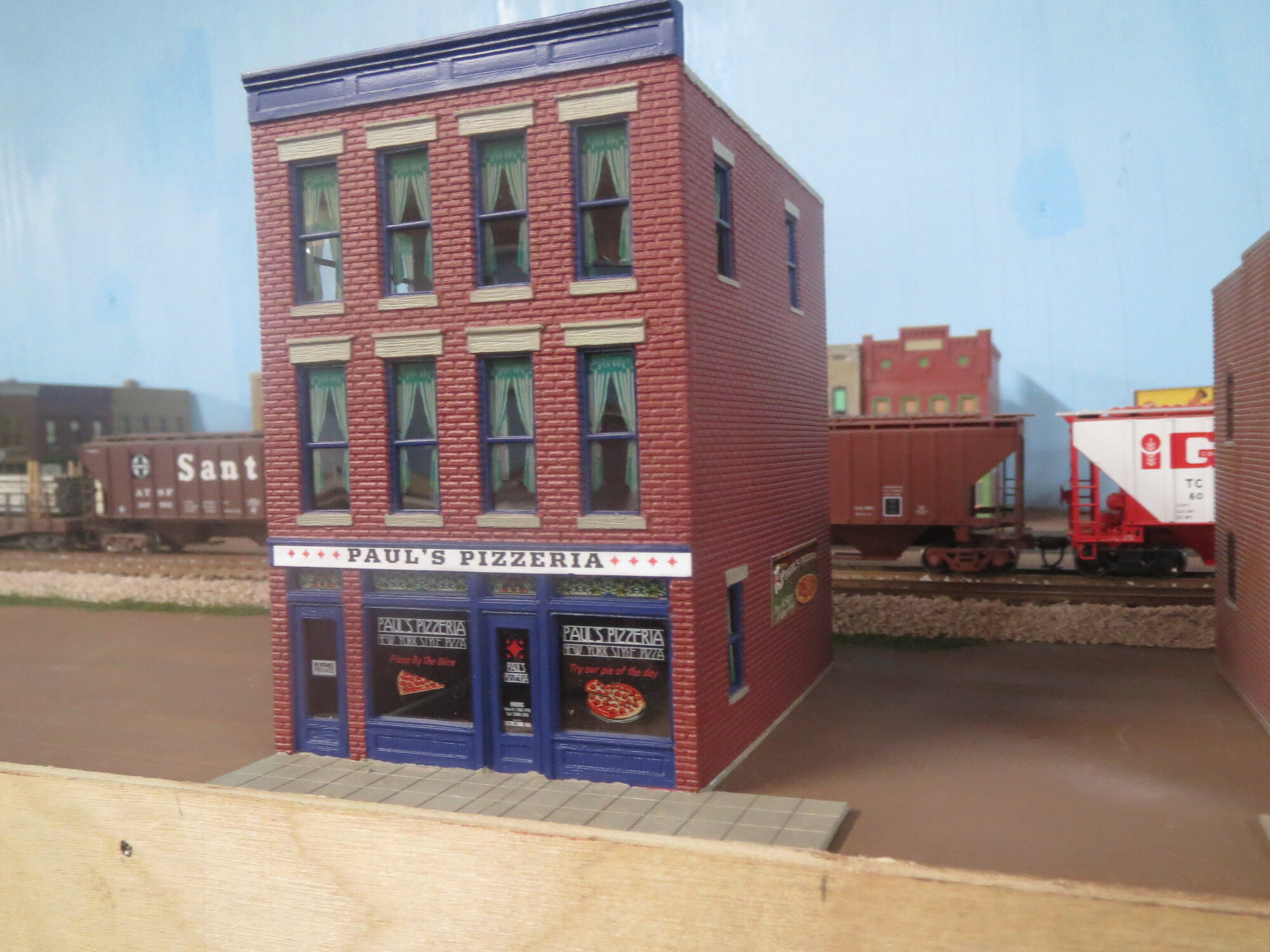 I added the sidewalk but no additional detailing or figures yet. It is the beginning or a restaurant row in Charlottesville.
Still in Charlottesville is Adella's Restaurant. It still needs an interior and some patrons. It's a DPM structure sold as Carol's Corner Cafe. If you look at Woodland Scenics built up structures, you'll see the same structure with a couple of other names.
Further north is Casa Montez Mexican Restaurant. It traces its origins to a
Heljan/Con-Cor kit, Two Brothers Restaurant.
Sherrel
- I can't really offer any advice on GP7's, as they were before my era and I never researched any. I do have an old blue box Athearn one that I believe is actually a GP9; that I have used a a parts supply for years.
Walt
-
Willie - Safe travels and don't overspend at the hobby shop!
Unfortunately no visit to the hobby shop as I had the two dogs in the car. Didn't think that one all of the way through.
Greg
- Good luck with the Covid antibody test.
Karl
- That's good news for you regarding the Covid test. Bad news is that you are still susceptible, as many of us are also.
James
- That was a lot of interesting facts about the E units that you posted. Thanks.
Everybody have a great day and an awesome weekend.
NOTE, I stopped while writing this post to freshen up, and forgot to return to it for a while; thus I am later than usual in posting. Now, why did I come into this room to begin with???