Afternoon All,
Our family event was cancelled (probably a good thing since it would be with strangers) so I vacuumed the pool and cleaned the filter. After that I hooked up the sidings electrically to the main buss. After metering everything I tested the sidings with a F3A and 4 Pennsy H21's. After a break I covered everything in a black craft paint wash. Finally I laid out the right hand side reverse loop (inside the right hand loop around). It looks like it will have a 22" radius-not great but it is what it is.
I found out today that a local friend (lives in Orlando), his wife and his MIL have tested positive for Covid. I usually meet up with him 1-2 times a month but we haven't met up for months because of daughter being a school teacher and the grandkids in school.
Hughie-
That sounds neat.
Joe-
Immaculate looking trackwork.
Troy-
I use 0.5mm solder in HO scale so the 0.6mm may be large for N scale. Nice soldering station.
Willie-
Great looking eating establishments. I was in second grade (in El Paso) and I remember to this day that a girl who had been in the school office came back to the classroom crying because she saw on a TV that the president had been shot. I remember the teacher telling us to bow our heads and we prayed for him and his family. I also remember how the country shut down for days. This was the first government thing that I remember from my childhood.
Garry-
Nice pictures.
The test train.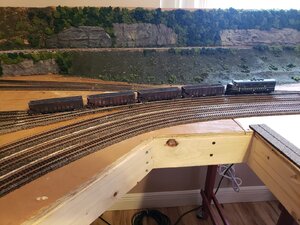 How I like the mine. Gives me a track for a shifter. The blank spot would be for trucks.
.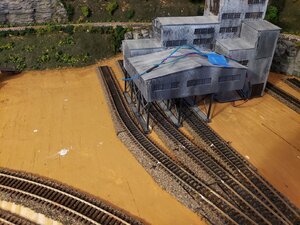 How it should be placed.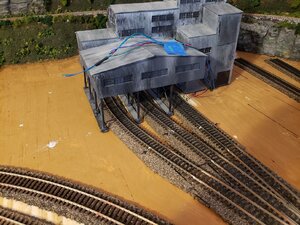 I hope everyone has a good night.