Good Morning All. Partly cloudy and 68°, another cool morning. The view from in the pool this morning looking East.
A little more to the Northeast.
Barely made it to 90° yesterday, I like August so far!
The forecast still is calling for possible triple digits by Thursday. Pool temperature is ranging from 85° in the morning to 87° by sunset, a perfect range. Felt good this morning. Perfect walking weather again this morning. An unusual occurrence today for a Sunday though, as there was a car that went by. Didn't recognize it or the occupant. Most likely a late honky-tonker returning home via the back roads. There's not usually any traffic on our road on Sundays until at least 9 or 10.
Still picking tomatoes, quite unusual here considering the heat, although there's only about 10-12 plants still with tomatoes on them. Looks like it will be dry enough to mow again today after the dew dries. Oh Boy!
Loads of bacon and a couple of scrambled eggs this morning for me, Flo. Add a piece of raisin toast and a large OJ.
Thanks for the reactions and comments yesterday for the progress post;
Jerome, Guy, Joe, Tom O, Garry, Louis, Sherrel, Justin, Phil, Curt, Tom, James.
NY is nice, once you escape the Metropolitan Area.
I'll second that. I have a cousin that lives on 75 acres in the Catskills that is absolutely gorgeous. It was our family's vacation home owned by a great aunt when we lived in Brooklyn in the 50's.
I continued on with the newest project out in the train shed yesterday. The next step was to move the Magazine Mountain out of the way!
Lo and behold, there is scenery behind it!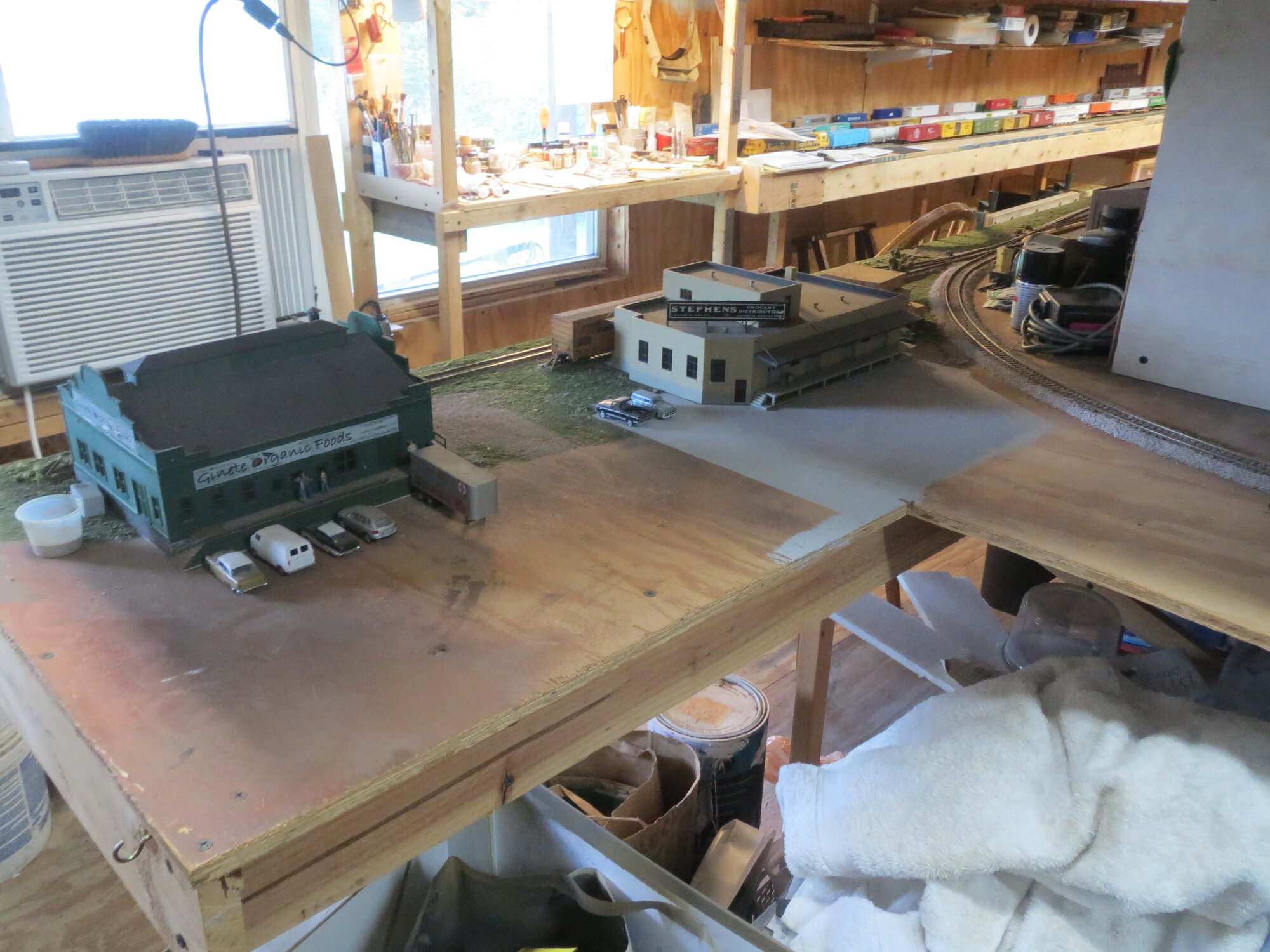 Then test fitting some track and some flatcars into the area.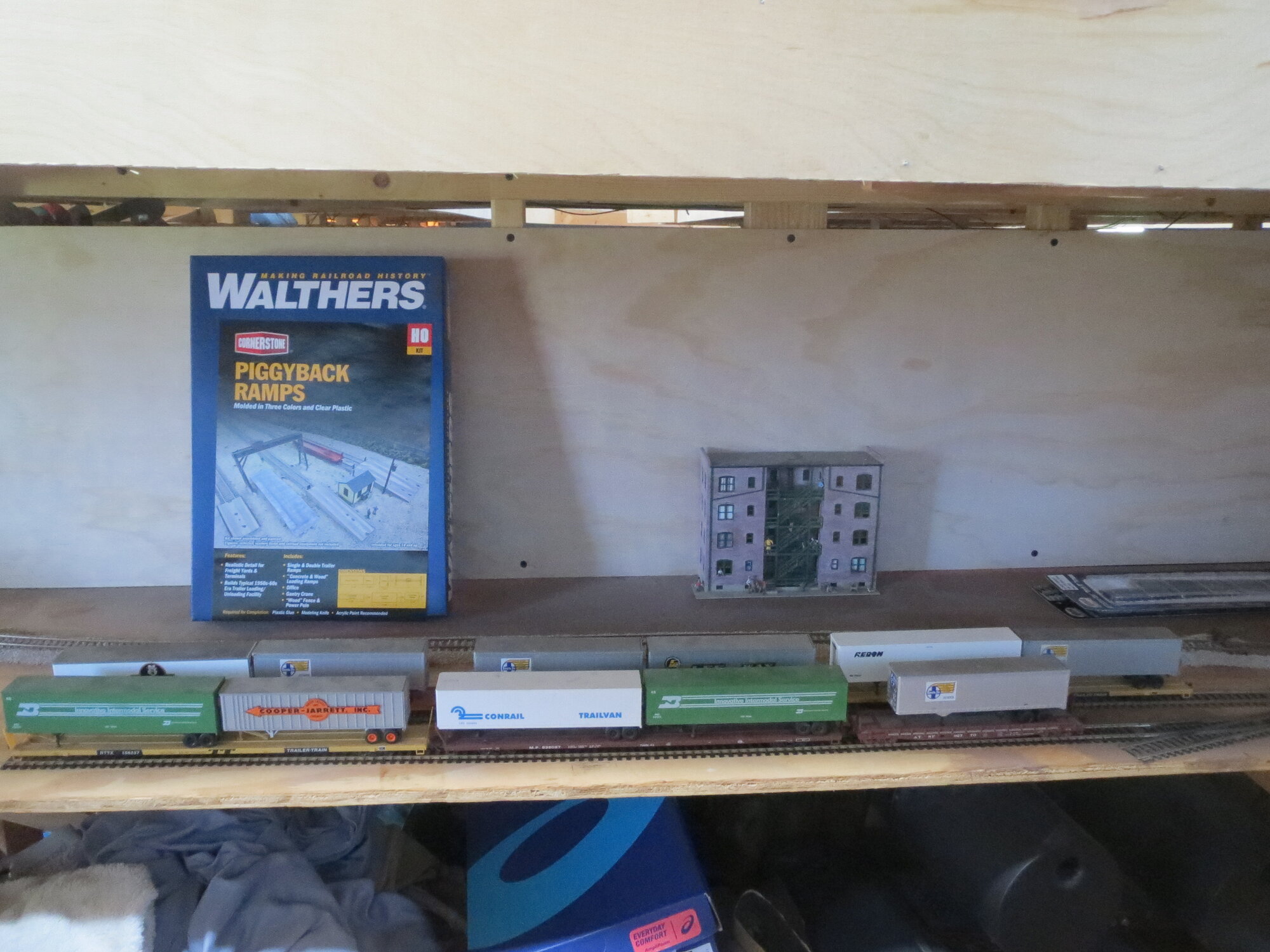 Guy
- I have done a lot with those old Atlas kits. I look forward to seeing what you come up with.
Garry
- I think that it is going to be a completely static display. I'll be able to move the flats in and out only. The ramps on the flatcars can be glued on in either the up or down position only. Still a work in progress.
Chet
-
You must have had a senior moment when you put the trailer flats together
Not really, that's where the mounting holes were located. I wasn't originally planning on a piggyback ramp so it didn't matter. In these days of Mijack cranes and
Kalmar fork trucks
, orientation doesn't matter. I see them both ways at the BNSF (formerly ATSF) Alliance Intermodal Yard nearby.
Terry
-
"Hello! Our records indicate you have not contacted us to activate your vehicle's extended warranty!"
Five freakin minutes I've had this number!
Out of choice I only got a cell phone in late 2018. I never had any extended warranties on any vehicles that I owned, but I still get those calls. They are trying to reach the previous owner of that phone number...ATT had told me that it had been inactive for five years (seven now). To this day, I still get calls and text's for Kristina G, since she never told anyone that she had changed/dropped the number. Doctors, dentists, beauticians, insurance companies, old friends, political campaigns, but mostly bill collectors; they all still call me. I have begun to have fun with some of them.
Justin
- Nice looking truck.
Sherrel
- Prayers and best wishes for Kate.
Curt, Phil,
and anyone else from Florida and the East Coast. Stay safe. Haven't checked today, but it looks like mostly rain without a lot of damaging wind. But we all know how quickly that can change.
Everybody have a great day.