Good Morning Everyone. Clear and 49°. Quite a cool front blew in last night, yesterday's high was 83°. I had to close the windows as the wind was over 35mph. It almost rained. I could see lightning off to the north but it never made it this far.
I am wore out from yesterday. Besides the usual household tasks, I did an extra load of laundry with all of the winter wear that will be stored until next season. I also did a partial remodel of the bathroom that I remodeled two years ago. My daughter remodeled her bathroom and we took away a discarded cabinet/drawer thingy, that is 6'4" tall. Before it could go into position, I had to remove a shelf and some of the corner trim from the area that will be behind it, and reinstall new trim. After lunch, I finished the tree pruning adventure across the road, getting some straggling branches out of the way. Neighbor came and mowed as soon as I was done.
I've been posting about the garden this year, so here are a few pictures.
The red lettuce that I planted indoors in January from seed.
The Arugula (center) seeded in the garden immediately after the "big freeze".
Next to that is a bunch of mixed loose leaf lettuce varieties planted on the same day.
The broccoli in the background is doing well, here's just a few of the dozen plants.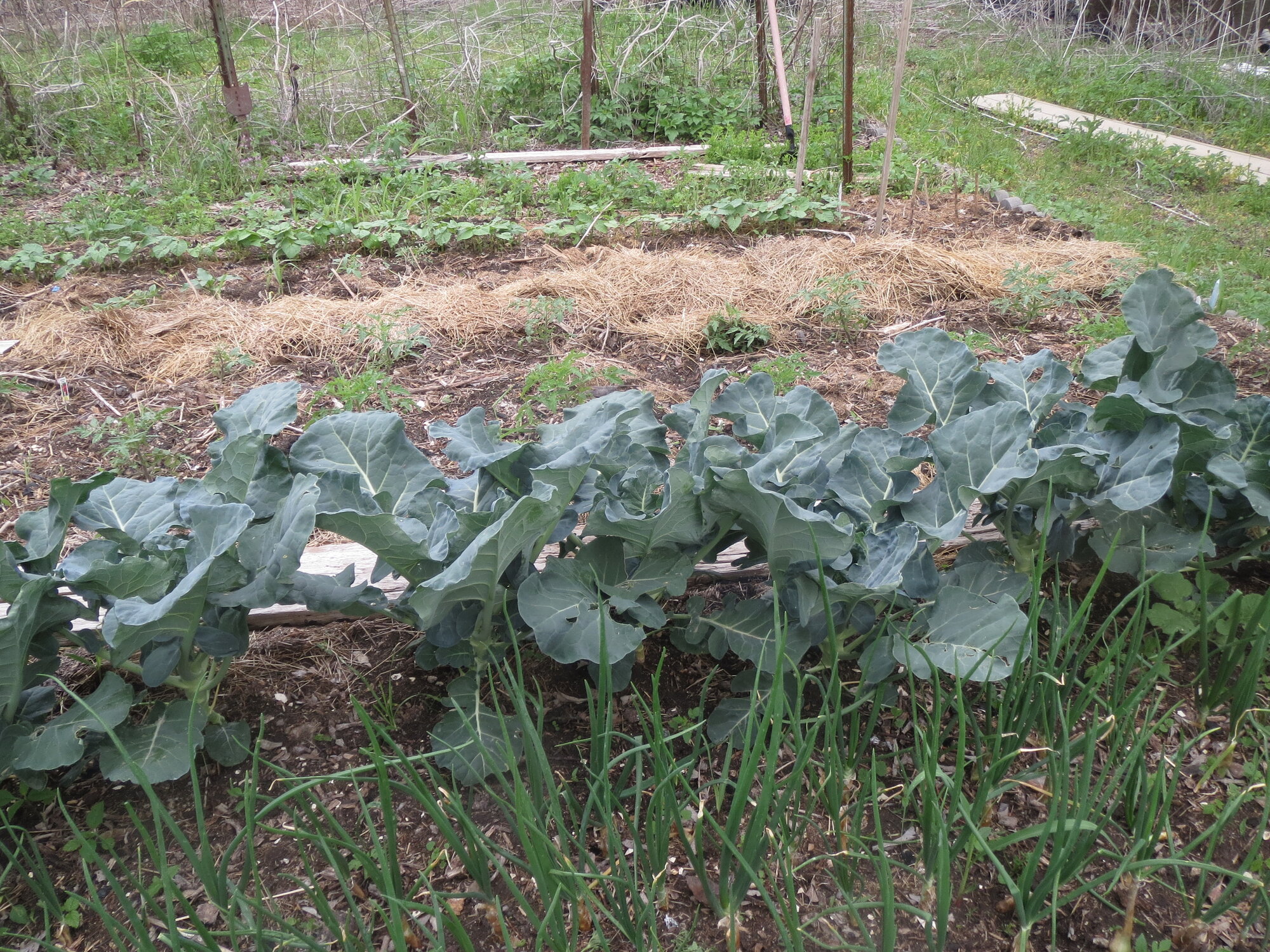 A row of green beans just starting.
The vegetation to the right is just weeds in the fallow half of the garden. They'll be mowed and covered with hay in a few more days.
Then, here are
some
of the tomato plants. They will double in size next week after the watering that I gave them Thursday morning.
It's time already to install the cages around them, before they get too big and unwieldy.
Flo, fill my plate with blueberry pancakes and bacon this morning. Tall glass of OJ to wash it all down with.
Thanks for all of the likes and comments on the continuing tour;
Guy, Patrick, Tom O, Karl, Phil, Sherrel, Hughie, Jerry, Joe, Ken, Gary, Rick, Justin, Jaz.
More coming up.
Out in the train shed yesterday, progress was still slow on the grade crossing. Cutting, trimming, gluing and painting all of those individual ties that make it up took time. But I did finish it. I'll be making an inspection today before taking a picture for you all. While waiting for stuff to dry, I vacuumed the first 14' section where I cleaned track Thursday. Wasn't really much since I had added scenery and structures to part of the layout last summer.
Here are a few more pictures moving south from the rooming house. Many have been posted before, but these are new ones and kinda give a perspective to where things are in relation to other things.
Next to the rooming house is a small rural country store and car repair business, a laser-cut wood kit from JL Innovative Design. It's known as the
Saw Pit Store
, a name that I kept.
Counting up, it looks like I have hit my picture limit per post. More tomorrow.
Karl
- Nice scene that won you a prize. Congratulations.
Tom O
- We had one of those remotes back in the 50's, but it didn't really work until the 60's when we finally got a TV. Remember those days, before TV??? Mom would bake some cookies or a cake and we went next door on Sunday night to watch Ed Sullivan back then.
Sherrel
- Good luck with the wiring harness. What is it about wires that mice like? I have had to remove several stiff ones that bit the wrong ones over the years, 120v.
Jerry
- My backdrop is very simple, just mainly sky blue, with a very rough horizon made with different shades of green. Nothing specific but with an occasional vertical stroke that might represent trees. I haven't learned to do clouds yet. In some places I have pictures of structures attached. At some point in the future, I hope to enhance the backdrop some more, but I am also happy to leave it the way it is for now.
Garry
-
The contractor has dual citizenship with US and Mexico. All of his workers are Mexican immigrants. They worked very hard and knew what they were doing. .... This evening, the contractor treated Shelley and I to homemade, authentic Mexican food prepared by his wife. It was delicious. .... Next week will be quieter without the pounding and the loud Mexican music on the boom box.
Welcome to Texas. Building contractors have been that way here for over 30 years now. They do a damn good job. Those young men listen to and respect "El Patron", (foreman). Many learn what they can and start their own businesses later on. Boom Box is a must have!
After reading about some of the vaccine reactions from fellow forum members here and elsewhere, i am pleased that the only issue that me or my wife experienced was some shoulder discomfort normally associated with any injection, for a few hours at most.
Everybody have a great day and an awesome weekend. Stay out of trouble and don't burn the soup! Be safe everyone.