Good Morning All. Cloudy and 74° right now. Chance of rain has been removed from the forecast for now, although there are some spotty showers from southwest to northeast of me. They don't seem too heavy and aren't moving, so I don't think that any rain is hitting the ground.
Bought a new 20 cu ft freezer yesterday from Home Depot. Looked at a few others around town, but delivery time killed most deals. Cannot wait until October. It's bad enough that I will have to wait until next Tuesday. However by consolidating the coolers of stuff into the old freezer, I can reduce the amount of dry ice that I have to purchase
daily
from 60# to 30#. The circulating fan still works and it's staying in the 25° range for now. Regardless of how much that I use, dry ice only lasts for about 24 hours at best.
Good Morning Francine. Where's Flo this morning? Oh! Recovering from
Sherrel
's birthday party last night. What? She jumped out of the cake in her birthday suit! Oh! She just jumped out of the cake for his birthday. I guess that I need to adjust my hearing aids. Let me have a Mexican omelet this morning with a bowl of spicy salsa to go with it.
Thanks for the likes and comments yesterday;
Jerome, Karl, Lee, Guy, Sherrel, Phil, Joe, Tom, Tom O, Ken.
After a day of freezer shopping, I did hit train shed for a little bit. On the diner project I just started painting more details like the planters and propane tank. I did some painting on the four bicycles and placed three more of my own figures in the scene. More are coming.
I also had a chance to examine more closely some of the booty that I picked up Monday.
How about a look at the four Oxford vehicles. First up is a '69 Dodge Charger "Daytona". This should fit in well at the diner.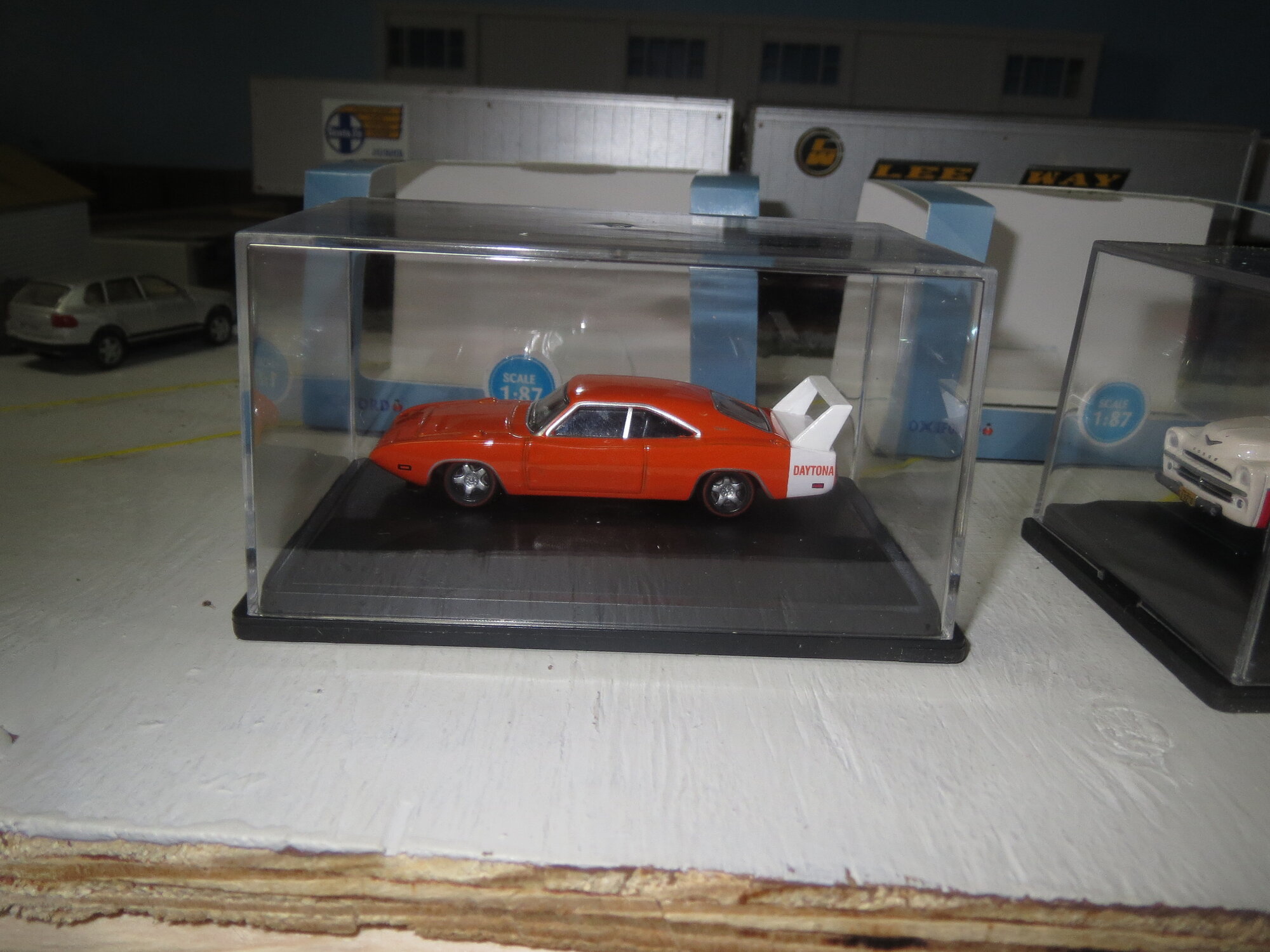 A '57 Dodge D100 pickup truck. I have several feed stores that could use customer vehicles.
Now we have a '61 Cadillac Sedan de Ville. No particular place to go. It can go into several vehicle-challenged scenes.
And lastly a '65 Chevrolet stepside pickup, with a Bell Telephone emblem on the door. I already have a couple of telephone linemen to pair up with this one, have to decide where to insert the mini-scene. It could most likely pass for any year up to the late 70's, as pickup truck designs didn't really change much back then.
Sherrel
- Belated Happy Birthday wishes.
Jerry
- The Magne-traction was a very interesting concept. Not too sure how far away it would attract stray metal, I wasn't allowed to experiment with Dad's trains! They did it in three ways over the years. One was to magnetize the wheels and use a stainless steel axle. This I believe worked the best. The second was to use a rod shaped magnet in the center of a stainless steel axle, and the third way was to have magnetic plates behind the wheels. The reason for using stainless steel is that the common variety of it is not magnetic at all. The idea was to make the magnetic flux pass through the wheels on one side, into the steel rails, through the steel ties across to the other side, and back to the magnet through the wheels on the other side. Steel axles will defeat this concept by providing an alternate flux path between the magnet's poles--a magnetic short circuit. I got this information long ago from someone that I don't remember.
Thanks for the comment on the figurines. I like to include some "racy" young ladies in some of my scenes. After all, my layout represents a slice of life from my past.
Lee
- While no one told me that about a flat layout, I had observed and heard from folks who had grades how hard they were to get accurate. I think that the transition got most of them more than any other factor. I did have a "no-lix" on a previous layout that wasn't too difficult, but had plenty of room for transitions and the grade itself. I used 80' to go up 16", and much was in the open and landscaped.
Nice farm that you have there.
Joe
- Fortunately deer are not a nuisance in my area. Ironically, there were none here when we moved here 40 years ago. Then the Corps of Engineers built Lake Ray Roberts about 18 miles to the east on 30,000 acres of farm and bottom land, and it took them about 20 years to migrate across the Interstate to get here. Side note: My old rented homestead on a hill is now an island in the lake. Had to move in 1980 when they started construction.
Ken
- I never had any luck with losing weight by exercising. I can only lose weight by restricting food/beverage intake. I do continue to walk a mile every day and exercise in the garden just to stay fit and keep the body somewhat tuned up.
Patrick
- Hope that all went well yesterday.
Today is Constitution Day. Be sure to show your support for it and all of the amendments. Enjoy your (our) freedom.
Everyone have a great day.
Last edited: