Good Morning Everyone. Clear and 62° here in North Central Texas. Another great day in store for this area, maybe a high of 90° with light breezes. Sadly, no rain in the forecast for the next ten days.
Seems like yesterday was a lost day, as I cannot remember doing anything noteworthy until I made it out to the train shed. OK, I did spend over an hour on the phone dealing with Humana Prescription Services regarding them sending my most recent prescription as a "Signature Required" package. The first representative didn't really understand why I was upset after years of hassle-free delivery. My mailbox is 1.25 miles from my house (very rural out here) and I had to make a 25 mile round trip to the post office to sign for it. Then I had to repeat everything to a second, more qualified representative who had to put me on hold while she talked to someone else, etc, etc, etc. She did finally resolve the issue and then I had to deal with changing my credit card information with them since I just got a new number. The card that AMEX mailed to me on September 16 never arrived and it had to be cancelled and a new one issued. So I am having to deal with that issue as well now.
Good morning Flo. I'll have Mel's special omelet of the day today, red chili and sausage with eggs and cheese. Sounds very good!
Thanks for the comments and likes yesterday (and already this morning) regarding the layout photos;
Jerome, Patrick, Sherrel, Garry, Phil, Curt, James, Tom O, Lee, Guy, Tom, Rick, Jerry, Gary.
Meanwhile out in the train shed, I continued to work on stuff on the workbench. I got all of the fence posts glued to the Insta-Fence, attached the overhang to the DPM atructure a nd also dabbed it with some weathering powders. Neither one worthy of a picture yet. Over in the project area, I added small amounts of ground cover here and there before the next step of planting structures.
In lieu of progress photos, and judging from many of the recent comments, I took some shots of the small town on the peninsula that one encounters when entering the train shed. It seems that many of the newer Coffee Shop visitors were not here when I did that area about two years ago. I haven't actually named this town yet, as a suitable name has not leapt out a me yet. But here are a few anyway. To set the stage, I built a number of laser-cut wood structures over the years just for this location, first thing that you see at eye-level as you walk in.
Overall view.
Close up of Jack's Back Yard, a Bar Mills kit loaded with details.
On the other side of the road is Uncle Tony's meat and vegetable stand. It's another Bar Mills kit called Four Fingered Tony's.
Here's a closer view during the build stage.
Next to Tony's is LaBosky's Motorcycle Repair. It comes from JL Innovative Designs.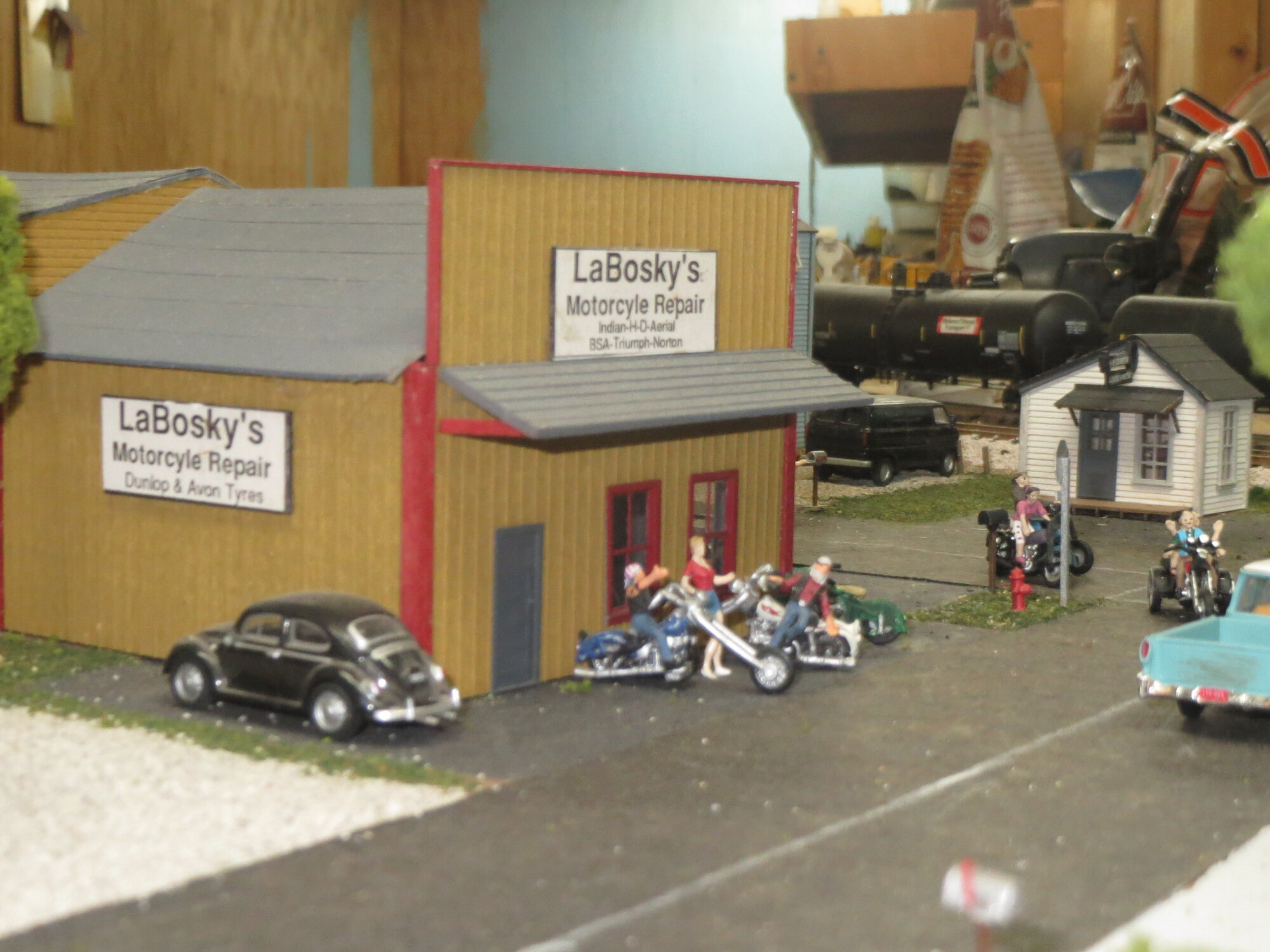 View from the crossroads.
Behind LaBosky's in the white structure is Amos Cutter's General Store. It is also a Bar Mills kit.
That's all for now, Tour will continue tomorrow.
Dave
and others who inquired
- Here is a picture of the track on the N scale roadbed without ballast. That's a shadow on the far side, the roadbed is centered as seen on the close side.
Jerry
-
Willie, the pic, coming down "the alley" in Charlottesville, what a good place to play foamer, uhh, I mean rail fan from
Interestingly enough, there is a railfan viewing area in the midst of that block of buildings. I'll put it on my pictures to be taken list.
Sherrel
- Sure hope that you don't have termites. And thanks for the information yesterday. It's always good to talk with you.
Guy
- Welcome back from your "invisible elk hunt". Those are some fine looking vehicles.
Gary
- It definitely looks like a plan. Keep us posted on the progress.
Greg
-
I realized today that I have too much rolling stock
Boy, I can sure relate to that.
Karl
- Really great picture this morning.
Sad that EVH finally settled his feud with Sammy Hagar the way he did.
Everybody have a wonderful day.