Good Morning All. 72° and cloudy. High today is forecast to be 90° after 87° yesterday, then a "blue norther" hits around midnight and the high tomorrow may reach 75°. May not be much of a cold front to some, but it is for this time of year here. Roller coaster weather for the next ten days.
I did get an hour or so mowing under the belt before lunch, as the dew dried yesterday morning very quickly. Then it was some household chores for a while.
Had a great visit yesterday by my daughter, her husband and our granddaughter, culminating in another trip to town to eat at our favorite Italian restaurant. Of course that cut into train time, but it was a very enjoyable visit. Hadn't seen granddaughter since she spent a few days with us in early August. Third time in a week that my wife left the house for dining out, so her recovery seems to be going really well. We don't really dine out that much even in pre-pandemic times.
A couple of over easy eggs and a handful of bacon this morning Flo. Big glass of OJ to wash it down with.
Thanks for the likes and comments yesterday regarding the layout progress;
Lee, Garry, Alan, Guy, Karl, Jerome, Troy, Sherrel, Phil, Tom, Chad, Curt, Justin, Mike, Jerry.
I made minor progress in ballasting yesterday in the train shed. Not worthy of a picture yet.
Over on the workbench, I got the four walls assembled on the DPM kit. Wasn't too hard after filing off the beveled edges that are a part of most DPM kits.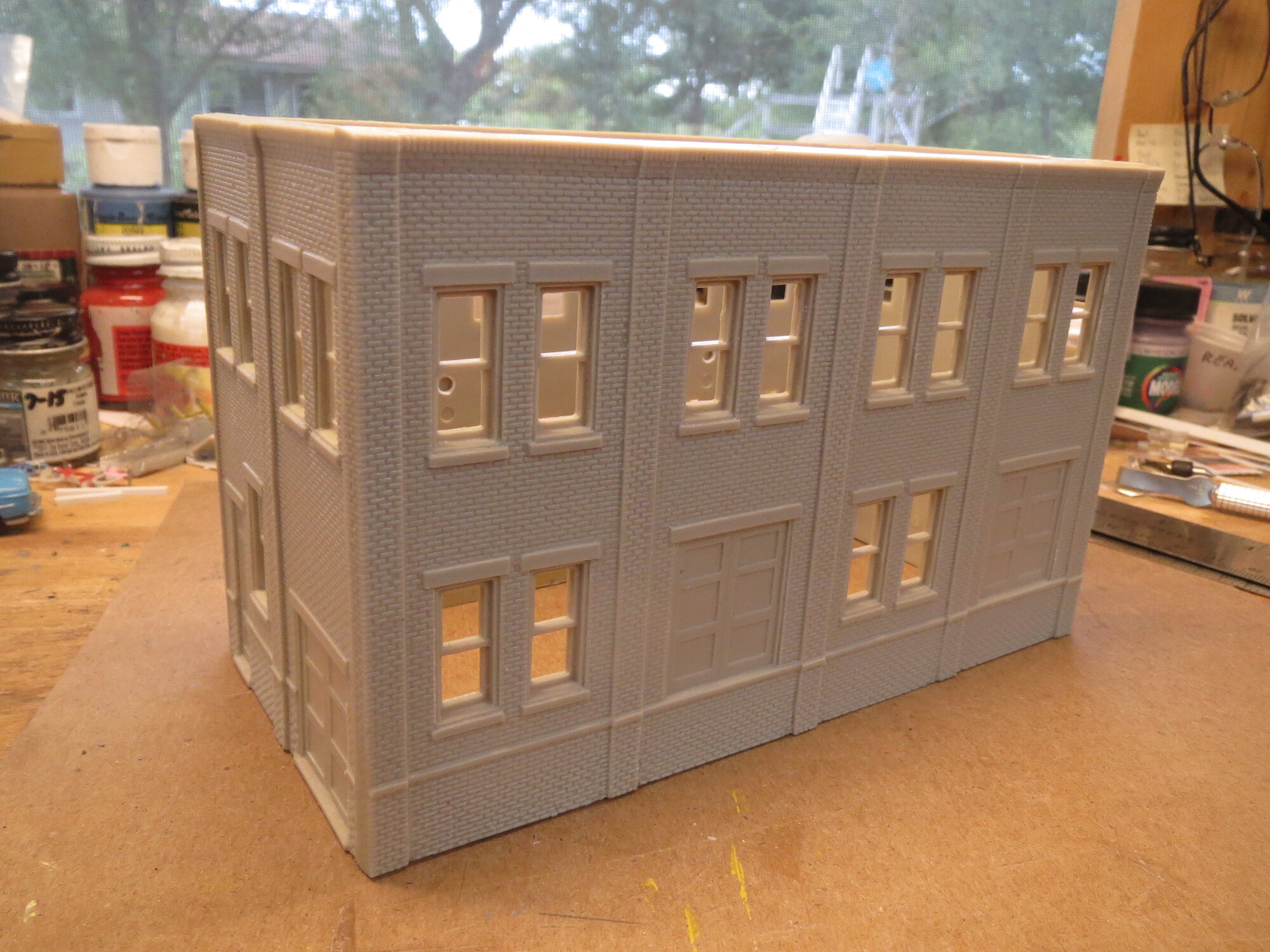 Afterwards, it went into the paint shop where it is still drying this morning.
As I was exiting the train shed, I came across the following critter that I had not seen before.
That's a 2"x2" that she's climbing. I don't recognize the species; I believe that that's an egg sac on her underside. Either that or it's extremely fat! Common Texas Brown Tarantula's do not carry their eggs around, and it's the wrong time of year for them to be reproducing. Females rarely leave their burrows either. While I have much larger spiders in residence elsewhere on the estate, this one is quite large.
Joe
- I like yesterdays pictures.
Alan
- I like your analogy of "Model Railroading is an art form". That is how I view it, but never thought to put it into those words.
I haven't paid attention to sports for quite a number of years now. Much to my surprise, I went into the living room last night and my wife was watching the hometown favorite Dallas Stars playing in the NHL Stanley Cup Finals. I didn't even know that they were in the playoffs! So I watched about five minutes at the end of the tied third period before heading for bed. I may actually have to watch the next game.
Today is National Crush a Can Day, meant to increase awareness of aluminum can recycling. I don't really need the money that I get for recycling, but I do pick up all of the ones that I find on the side of our rural road when I am out walking. Today, like most Sundays, are somewhat lucrative. Keystone Light seems to be the most favored beverage of the litterers here. Those added to our own usage nets me about $30 every three months to go into the modeling budget.
Everybody have a great day and observe safe distancing.