Good afternoon. Been busy for a few days. Went to Butte on Tuesday for a dentist appointment and then went on to Deer Lodge to visit relatives and friends. Didn't turn the computer ion yesterday, but saw some posts. Spent the morning down at the Hot Springs getting the leg exercised. We used to take out kids there when theey were "kids", but now the youngest just turned 40. Time flies. Now I have to try to catch up.
Garry
- Sorry for your loss of your MIL.
Greg
- Like the photo of the 0-8-0. Nice locomotive. That was an interesting video. Like that SOO line box car scene.

Joe
-
Thanks
for the info on that photo I posted. I know it was for an electric locomotive and possibly for the brakes. You answered the question. It's been laying around my computer room for years. Like the Pennsy F unit.
Jim
- Interesting photos, especially the one at the steel mill. Looks like an accident waiting to happen.
Johnny
- Good photo at the lake. The city scene photo is a winner.
Sherrel
- Nice shots of the Burlington equipment. Garry should like them. The Frisco units were also neat.
truckdad
- Interesting photos. Good use of old equipment. Just west of Billings, there was a number of old Northern Pacific stock cars that they used as a corral for cattle plus shelter for them. There must have been over a dozen of them.
Ray
- Nice photos of the MRL GP-9's. I am wondering if they could be some of the old CNW geeps that I saw lined up outside the MRL shops years ago. There were dozens of them. For a while that was probably the main power for them until they got up on their feet, Now look at what they run.
Willie
- The photo of the barn was cool. Nice work. I do have a question for you about that hand held throttle. I have one that I have been using for years that my friend Pete Ellis gave to me. I have no idea what brand it is or who made it. I will have to say that it is an excellent throttle.
Curt
- Nice to see you posting. Do you have any idea yet of what you are going to do for a new layout yet. Hope the work moves along quickly.
Justin
- Like the photos, especially the steamer.

Beady
- Looks like you're enjoying yourselves. Nice photo.
Garry
- Really like your salvage yard photos. Well done.
Jim
- Nice photos. I think that this might be a GP 2.5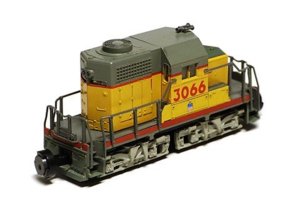 I did get down to the train room yesterday and ran some trains.
Later