Burlington did haul ore trains from Great Northern connection in St Paul to the steel mill in Granite City, IL. ... So GN is a good choice. My railroad, however, is a fictional division of CB&Q allowing me to exercise Model Railroader License. So I have GN, NP, CNW, Soo, and SP ore cars. Majority are GN. Most are weathered, and it is hard to see which railroad.
Sort of like these ore cars ??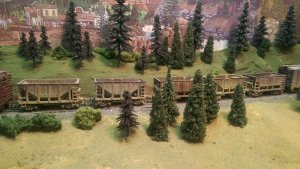 I did these years ago when I was experimenting with weathering. Found them in a box when I was moving things around. Forgot I even had them. Unfortunately I don't do any ore hauling. They live in a box. I think they're old MDC cars.