Good Morning All. Clear and 52°. In a couple of hours, the wind is going to severely increase in velocity from the north and today won't be much warmer than it is now. The closest precipitation is at least 300 miles north in the form of snow in Kansas. The NWS is sticking with it's prediction of a low tonight perilously close to freezing which I do not want to see. Tomato plants are too large to cover with my motley collection of nursery pots, but I can cover the peppers and the still small squash plants. The green bean row will be covered with a layer of hay, the same with some of the tomatoes. This basically protects everything from a frost which can occur at temperatures in the upper 30's. It appears though that the humidity is going to be low enough to keep the dew point (and hence the frost chance) low enough to not be a problem,. However we have all of the right conditions coming together for a freeze, no wind, no clouds, low humidity! The hay and pots will offer some degree of protection, but just before daybreak I will turn on the water sprinkler...the water temperature, while cool, is running about 50° right now and it will somewhat warm up the vicinity.
So much for my meteorology for the morning! Yesterday was a fine day here in the mid-70's and sunshiny. the kind of day that skin cancer doctors love to see!
I finally fired up my chipper/shredder and made some mulch out of the mountains of trimmings still left from the winter/spring tree pruning and kindling preparation. The logs were done in January-March, now it's just the scraps and lots of them. I have one brush pile about 4' high and 8' in diameter plus a few smaller ones. When I was younger, I used to just start a large bonfire, which isn't against any regulations except during burn bans, but it is a bigger hassle than I wish to deal with any more. I had to watch things closely and be on standby too long. Invariably, some well-meaning passer-by would call county officials and the local VFD would have to waste their time coming to check it out. Of course it gave us all some socializing time besides the annual catfish fry fundraiser!
How about steak and eggs for breakfast this morning Flo.
Thanks for the comments and likes on my posts the last two days. I am really liking the new grill. Grilled BBQ chicken breasts with grilled yellow squash and hamburgers with lightly grilled sliced onions so far.
Very short time in the train shed yesterday, but I did get some additional detailing done on the cardstock market.
Meanwhile, the tour down Main Street in Vernon continues.
A rather non-descript City Hall made from Walther's modular walls.
Here's a log shot showing the backyard across the tracks.
A shot of the salon and another yard.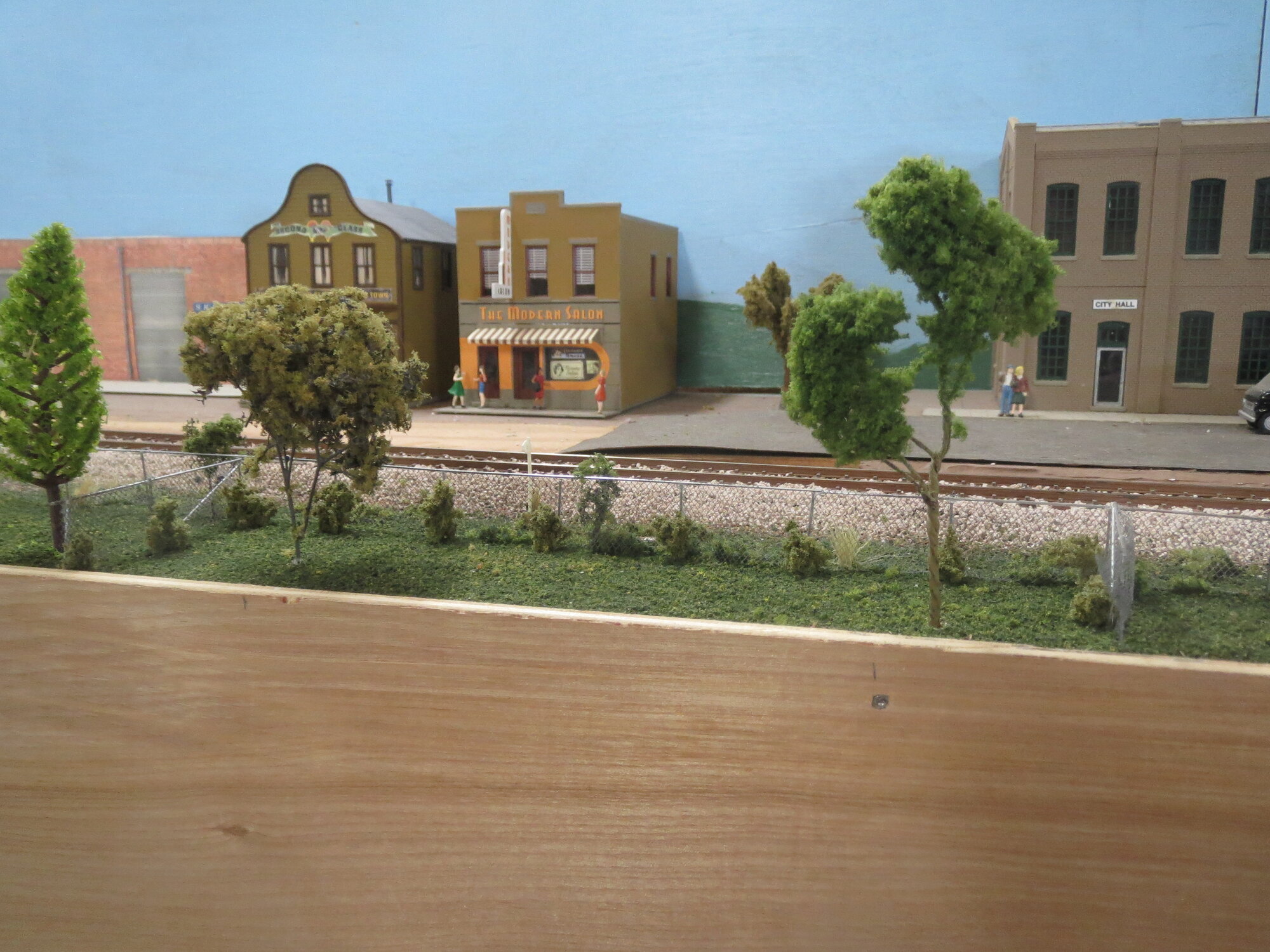 The salon is a City Classics structure.
Next to it is a Grandt Line "Second Class Saloon",
Tom O
- Interesting description about Terry's garden. Seems like it should work.
Hughie
- I guess that congratulations are in order for reaching 450!
Garry
- Yes, there's quite a collection of vehicles out in front of the boutique.
Ah! Yes
Patrick
. Today is 4-20. I think that I remember it well.
Everybody have a great day. Stay safe.