Hello all.
I recently mentioned that I had a broken Kato locomotive on another thread. This locomotive has seen better days, and now suffers from a multitude of issues I haven't been able to fix. I'm 16, and only a casual modeler, so I don't have a quarter of the experience I know some of you have. I was hoping that some of you would be able to lend a hand or give me pointers on how to fix it.
I'll post a couple of photos below. Here are the main issues with the locomotive:
1) The shell is missing the steps up to the cab. I dunno when or how these fell off, but they did. This is on both sides. As far as I can tell, they are their own clip-on parts and are not part of the rest of the cab.
2) The fencing on the front end of the locomotive is gone. Can I just buy N-Scale locomotive guard-rail? And if you can buy the whole walkway thing (see below), does it come with fencing installed on it?
3) The walkway has been scraped up over the years, and has got lots of glue all over it. Can I buy a new one of these? I cannot find it on the parts listings. Or, alternatively, could I remove the glue buildup easily?
4) The couplers and their boxes/ mounts are missing. Cannot find the coupler mounts anywhere online. The holes and places for mounting are on the bottom of the walkway.
Anyway, to my knowledge, the locomotive is a
SD-40
. I could be very wrong, so be sure to tell me if I am. If it is, here's the
parts list
.
I only recently restored the motor to working status. The reason why I am having so many problems with the exterior and couplers is
this
. You can see that everything is part of the shell here. The couplers are part of the trucks on that. Well, not so on my locomotive, which is more like
this
. As previously mentioned, and pictured below, the place for the coupler mount appears to be on the underside of the walkway...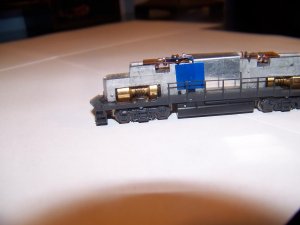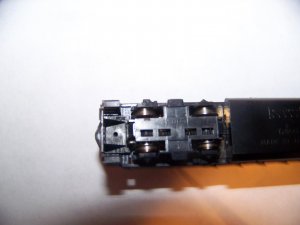 Thanks so much to anyone who reads this whole thing and/or tries to help. I could use pointers to parts, repair instructions, encouragement, and whatever you'd like to offer.