Could you point out problem areas of this layout and how it might be improved?
This is my first "real" layout and I am trying not to be overly ambitious. It starts with the existing Timesaver, can grow around the room with one track, then add passing tracks.
(Click on the image to enlarge it.)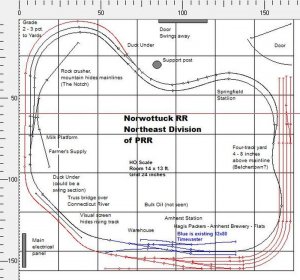 This is the first cut of an HO layout for an existing 13x14 ft room.
Immovable Constraints

Main electrical panel (possible swing bridge instead of duck-under?)
support post
two doorways

Time Period: 1920 to 1942
Area : rural Western Massachusetts
Minimum radius: 26 inches
largest car: 85ft Pullman (6 cars)
Motive power: PRR steam (4-8-2 is largest) and a GE 44-tonner
Operation:

Continuous running option
some switching, incorporate the existing 12"x 80" Timesaver
marshaling yard is optional

Must-have structures

Amherst station 1 (brick)
Amherst Station 2 (wooden)
rock crusher
Farmer's supply
No engine service facilities, (any room for a 12" turntable?)