Hello
Okay. I have finally went out and bought the lumber for my layout. This is the absolute last time I'm changing spaces, as this will be a portibal layout anyways.
I was origonally going to build an N scale layout on a bunkbed...even made a thread on it, but then was told that I would have to sell all my HO stuff to get N and was offered a space a little better for HO. What are you gonna do, eh?
Now to the statistics.
Prototype RR: Florida Central(Imaginary).
Time: 1940s & 50s when Florida wasn't populated too much and there was still a large logging business.
Region: Central and Southern Florida.
Size: 4 x 8.
Construction: Plywood(Pine), Foam, Plastic, and Cardboard.
Paint: Green w/ Waterseal.
Track: Flextrack
Turnouts: Peco # 4, #6, and curved.
DCC or DC: DCC, Digitrax Zephyr.
Roadbed: Cork(On mainline & "Yard") and Foam(On sidings).
Industries served: Retail stores(Unknown), Passengers, and a small logging business.
Okay, now that we have that out of the way...I start with my benchwork plan.
The outside edges are made of 2" x 4"s. The 8' edge is 96 1/2"(typo in the plan), and the 4' edge being 44 1/2. The 1/2" parts allow for 1/4" on each edge for faulty cutting of plywood or foam. Each of the 1" x 4"s are spaced at 24" apart.
I'm going to use the legs from the Worlds Greatest Hobby's "Building your first Model Railroad".
My plan is a knock-off of "Building your first Model Railroad"'s track plan. This is how it will look...or something along those lines.
There will be a road where the rerailers are(Part # 844) and a town in that area. The spur next to the town area will service retailers and the spur to the right of that will service the logging area.
I will add pics soon. My lumber is at my uncle's place getting cut, so when I get it back I'll show everyone the results. Going to get the 4 x 8 tomarrow.
Here is the cut wood.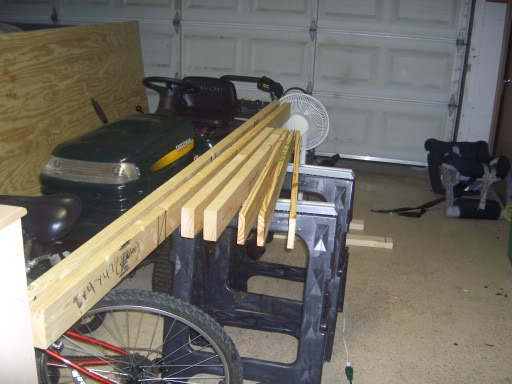 BTW, in that picture, the wood is on sawhorses, drying from my waterseal application. I plan to put the frame together with the frame wood pre-watersealed and then when the plywood goes on the frame, I'm going to water-seak that while it is streched out and all the little holes are open.
Here are the pictures from 6/22/06 . We would have finished the plywood's frame, but decided to go to Universal(I live a mile or so from it). We completed the outside structure(2 x 4s). All we have to put in now are the 3 support pieces in the middle(1 x 4s).
They are held together by 1/4" x 3" fine thread screws. We drilled 1/8" pilot holes instead of 1/4", so the threads would have something to grip to.
I learned a handy thing from my grandpa today about "noisy" screws. Take a bar of soap and lubricate the threads of the screws. It eliminates the "sqeaky" noise and they go in much easier!
Also, I never really measured "dimentional lumber" before. Did you know that a 2 x 4 is actually a 1 1/2 x 3 1/2? What a ripoff!
Here are todays(6/23/06) pics so far. I've also included the tools and screws that I'm working with. All for my future website though.
Pic 1 - This is the frame with the added 1 x 4 supports. They are spaced 24" apart.
2 - Just a diffrent view.
3 - Corded electric drill for drilling.
4 - 1/8" drill bit I'm using.
5 - Cordless drill for screwing in screws.
6 - 3" screws for framework.
7 - 1 1/4" screws for table top.
This and Pic 2 are just the tabletop, screwed in with 1 1/4" screws.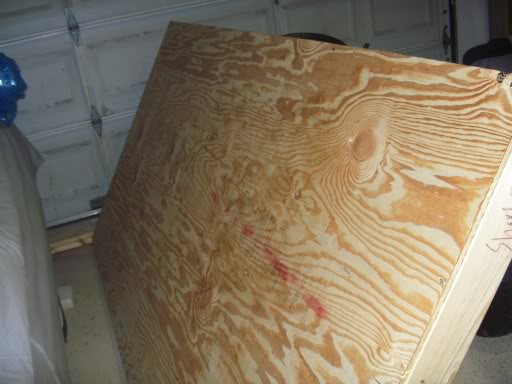 Pics 3 & 4 - These are pictures of the legs. They are held together with a series of five 3" screws on each leg and two 1 1/4" screws. The crossbar is held together with 4 carriage bolts, with flat washers and lock nuts.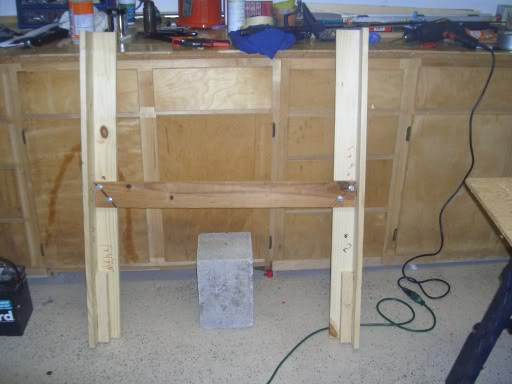 Pic 5 - This is a leveler on the center of the crossbar. You can barely see it, but the bubble is only about a fraction of an inch out of the centerline. There are 2 x 2 supports on the inside of the leg on the bottem, where 1/4" holes are drilled, where 1/4" tee nuts and threaded leveling feet will go.
I would very much like input from everyone on the benchwork, trackplan, anything at all.
Thanks,
Todd