I'm looking to pin down the actual heights of some of our larger rolling stock and locos. Thought it might be interesting to put all of this info in one subject thread. In this particular case for HO scale equipment.
I want to be sure I provide enough clearance for helix structures, and other tunnel and bridge situations. Here is an example of a helix photo that was sent to me, but it is a little unclear as to the 97mm clearance figure (3.82 inches)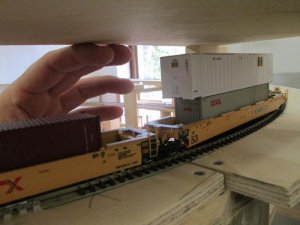 Another gentleman offered a real time measurement of well car dbl stacks,...
I just measured the height of a well car with stacked containers. From the rail head to the top of the containers was 2 3/4". Take it from there.
Other observations of tall cars or locos?