Good Morning All. 73° and partly cloudy, no wind and it seems quite muggy although the humidity is normal for this time of day. Whole wheat blueberry pancakes sounds good this morning Flo. Wow! Household chores caught up with me yesterday after getting home from the grocery/beer trek. Spent the afternoon on laundry, emptying the dishwasher (and refilling it), clearing out part of the fridge etc, etc. Looking forward to my wife's knee replacement and recovery so she can get back into the routine. Picked the first real tomatoes from the garden yesterday. I had previously picked some damaged ones from the hailstorm June 1, but these are the real thing!
Late in the day, the farmer who farms next door brought his combines (two of them) in to harvest his wheat crop. Man, those are massive beasts. Of course the south winds blew all of the chaff over to settle in the pool!
Thanks for the comments and likes regarding the completed Tire Shack yesterday;
Jerome, Dave, Chet, Patrick, Phil, Ken, Garry, Curt, Sherrel, Justin.
How about something else new today, some homemade flatcar loads. First up is a pipe load made from soda straws obtained from the local RaceTrack convenience store. I never had a clerk ask me about grabbing a handful when all I was buying was beer and gas. Bulkhead flat car is an MDC Roundhouse model.
Steel I-beams made from Evergreen styrene shapes. This is a very old Athearn Blue Box kit, among the first I ever owned, although I didn't make the load for at least ten years after I purchased the car.
Here I used some leftover concrete highway supports from several Rix overpass kits. They provided five for each 24' wide span when in real life only three are really used; thus all of the extras. Bulkhead flat car is also from Roundhouse.
Here's an EMD diesel engine from Walther's. Can't remember where I got the chain from. Flatcar is a 54' GSC car from Walther's.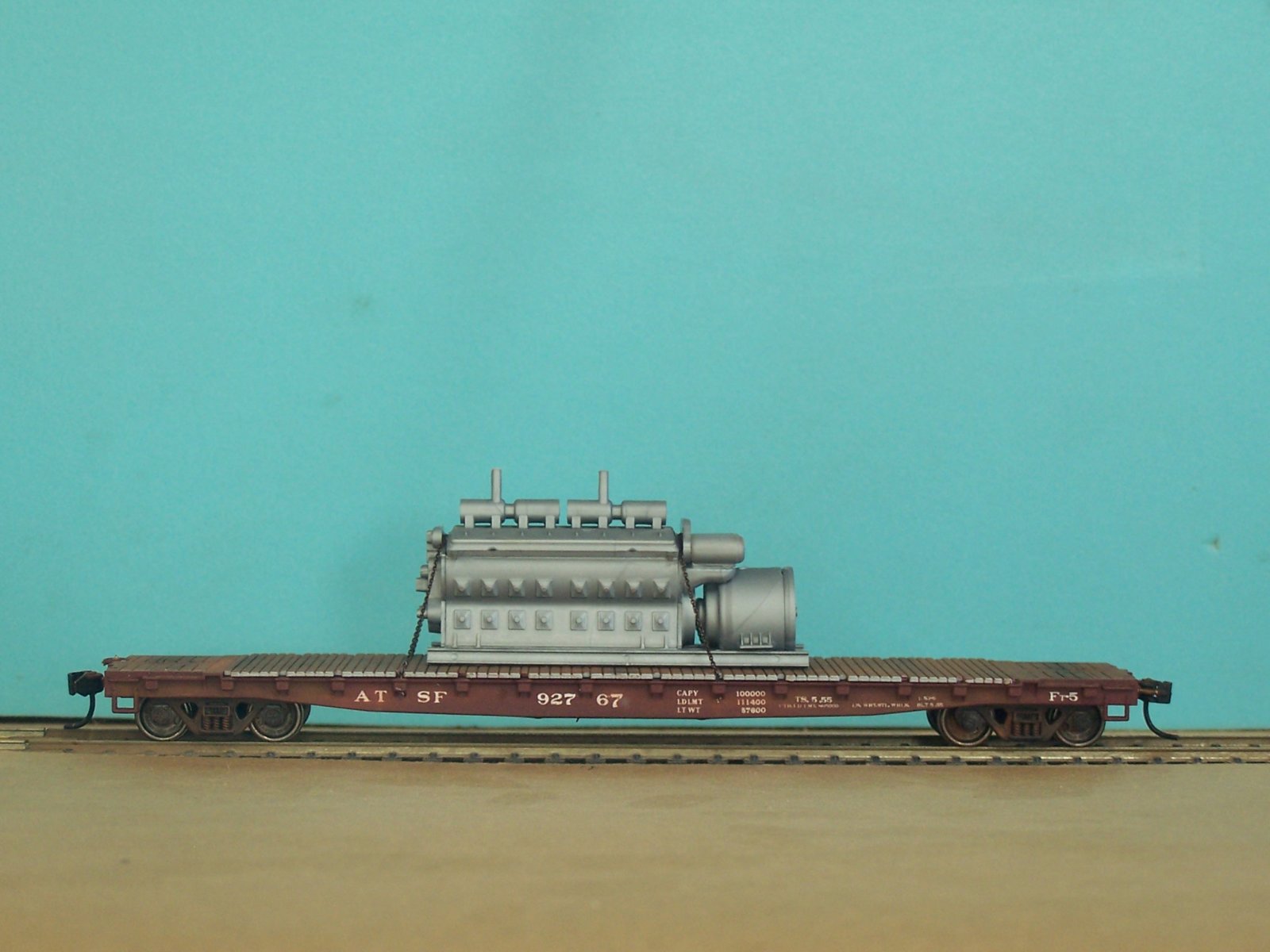 I did get to visit the train shed yesterday, sandwiched by the afternoon visit to the pool and making homemade spaghetti sauce and meatballs for supper. I further cleared the workbench, I should take a picture as there is an area of almost 1.25 square feet uncovered! That is out of an almost 4 sq ft bench! There are some tools that I won't find today! Some of the clearing involved completing the painting of a few more figures and removing the excess cardstock from the Masonic Lodge build, which seemed to occupy every nook and cranny.
Dave
-
Willie-- I cant believe how quickly you completed the tire shack. Those roof details are sweet! Super job!
Thank you very much. After nearly a year of assembling laser-cut kits and cardstock structures, it was nice and amazingly easy to do a plastic one again. This was pretty simple as well. I am a big fan of roof details, properly placed of course. Fully half of my layout is at 36" so roofs are the first things normally seen. Even though this structure is going on the upper deck at 54", I can see (and anyone taller than me can see) roofs on single story structures readily. Besides I never know if I will move it later on in life!
Johnny
-
Sometimes
even failed kitbashes can be used as structures in disrepair somewhere, usually "across the tracks".
Patrick
-
Tossed the 13 pound brisket in the freezer and now their on sale for another dollar a pound cheaper. Go figure.
I know the feeling, but I have noticed that the cheapest prices for "smokin' and grillin'" meats is just before the traditional holidays. Kinda like corned beef and St Patrick's Day also. I purchase in multiples around all holidays. I got four racks of spareribs yesterday.
Garry
- I'll be interested in seeing what else you do to the coal mine. They don't exist around here and there were none in the locale that I model, so I really don't have a clue what they look like except for
Justin
's pictures.
Curt
- Yea! Folks seem to think that retirement means that you become the odd-jobs "go to guy"; especially if you own a pick up truck, which I do not! I politely inform them that they have to supply the beer and drive me to and from! Since I am many miles from most civilization, that dissuades many requests. I do help with family if I don't think that they should be using "younger" friends instead. Electrical work for example. I was a manager for most of my professional career so I am good at giving directions.
The tire rack was relatively easy to make with scraps from the styrene box. I used some .020" triangular pieces for the sides, and used .030" rod for the bottom horizontal pieces. I used .020" rod for the top for a little variety and because that's the way I remember them. Five of the tires are actually pieces of leftover sprue material that I had saved.
OK, I need to get off my rear and move around a bit. I'll watch the grass/weeds grow since I can't mow yet. I still have stuff left in the car from the shopping trip yesterday to unload.
Everybody have a great day, and a wonderful weekend.