Good Morning Everyone....sunny and mild here in Wisconsin.
Speaking of "Old Age" and health issues, my Grandmother lived to be 98+ years old and her last wish was to go to McDonald's for a Big Mack, Fries and a Shake. She passed away that night. She was religious and believed that her mind controlled her body. I remember one time, against her will, she was taken to a hospital with all the indications of an heart attack. Tests proved the medical staff right about a heart attack. The next morning the monitors went crazy since she detached all the monitors and was doing deep knee bends. The MD examined her and all indications of a heart attack were gone. She went home that afternoon. She taught me a lot about the body and one's mind.
She stayed up until 4:00 AM every morning reading the bible. And then she got up at 8:00 AM to leave her dogs out.
I still don't feel like going down to the train room. Been reading magazines and the web site instead. Most people say it takes at least two weeks to feel half way normal.
Later I'll fire up the VCR or DVD and watch some Allen Keller videos.
Louis:
Yes, there are parts of big cities that are dirty and run down. I couldn't believe parts of Phoenix where gangs were stripping cars during mid-day. We stopped for directions and happened to stop at a store run by the Bloods. An older gang member suggested we leave intermediately after he gave me directions. I have a carry permit and carry a weapon when I go to a certain hobby shop in Milwaukee since its in a bad neighbor.
Nice looking photos everyone. I agree that the tow truck is cool. You don't see many of them on layouts.
That's all to report for now.
Greg
#############################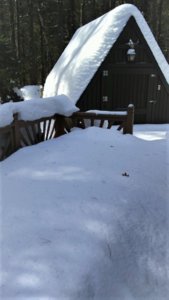 Early April at the Cabin...71 inches of snow fall during February. Sort of refreshing for guys like Willie who have the heat down South.-Greg