Modify Turntable Loop?
The thought occurred to me that I might make a modification to turntable loop that would allow 2 trains to run on the lower deck concurrently,.... if I were to further limit the amount of track that was 'shared' between the inner loops of track and the perimeter loop. I can't limit it all, but I can limit better than half of it.
What if I were to make the turntable loop a double-track loop. I propose to take the two long parallel tracks on the right side of the layout and pinch them up as close to their wall as feasible,...after all they are going to be covered over with a 'street and thin city building scene' that will constructed of lt-weigth foam board and plastic so as to be removable to access any derailments.
Those two parallel tracks will feed into the turnable loop of 2 concentric radius tracks, the outer one 25" and the inner one 23". The inner one will be for shorter engines, not long articulates (although I think some can transverse it).
What do I gain?
1) First off it might be interesting to have 2 mainlines coming around that outer edge of the turnable scene and feeding the yard, the turntable, a train station.
2) Secondly it frees up any 'sharing of track' on that side of the layout. So the inner loop train can bounce back and forth across the layout while only fearing one section of 'shared track' with the perimeter train,....that common track around the 'steel loop',
3) It might allow that 'perimeter running passenger train' to come into a station for a stop even while the freight train continues thru the freight yard and back onto the the other side of the layout.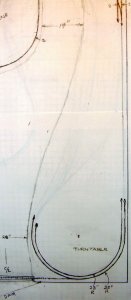 Last edited by a moderator: