I realized that I needed to stay small in order to stay on budget, so I minimized the layout best I could. It's now 4 feet wide and 9 feet long.
- I can run two trains at once.
- It has a reversing track. Only works from one direction but I can throw the train in reverse if needed. For a 4-by-9 layout, I think it's the best I can do.
- Has one industry.
- Has a turntable & roundhouse.
- Has a small town, intended to look trailer-parky, with station.
- Has lake and river (forcing curved bridges...)
- Probably well outside of my modeling capabilities
- Small hills and mountains throughout.
- No elevation changes on the track (gave up that idea).
- Atlas C83 track
To give you an idea of how the town should feel,
here's one of the buildings
I'm considering.
Comments and suggestions would be very appreciated. I decided to use Atlas track because it had the widest selection... also planning on using Atlas turnouts. Due to this being a small layout, I did go to #4 turnouts. Is this going to cause a problem?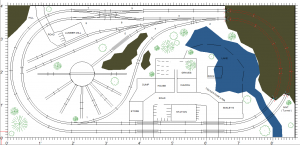 If you click on this photo, it should zoom in.
Thanks for looking.
Ron