[Last week I posted a question on another forum about installing a speaker into an Atlas GP38, and it somehow morphed into a how-to thread. I learned shortly afterward that there's a better way of doing it, to get improved sound quality. Hopefully nobody imitated my original bad example
, here's the 'better part': ]
The LC series of Soundtraxx decoders are notorious for their weak amplifiers - they output only a fraction of what other popular brands (Digitrax, QSI, etc.) produce. For this reason I needed an enclosure at least 1/2" deep, mounted beneath the twin fans at the rear of the long hood. Since the space was filled by a metal weight, cutting and grinding was necessary.
Here is what the rear weight looked like after the downsizing operation (forward end toward the left):
With the decoder and speaker already connected electrically, I carefully guided the speaker into a face-down position over the rear truck. I measured my available space, then cut out the sheet styrene pieces needed for a 1" x 0.56" x 0.5" box to house the speaker. I used a hacksaw blade to cut two small slits into one of the end panels for the wires to slide into, attaching it to the forward-facing end...
...then I re-attached the weights. This view from the loco chassis' right side shows the interior clearance between the speaker cone and the top panel: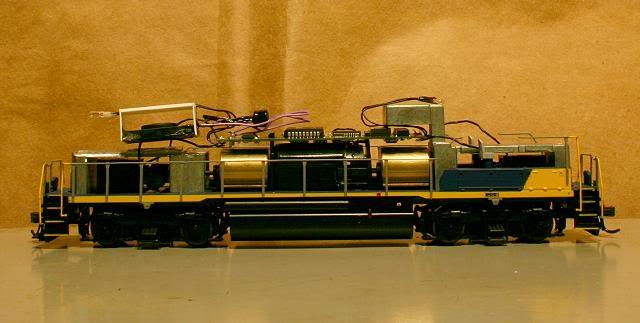 Since I was re-doing an earlier install, the speaker was already wired to the decoder - this prevented me from being able to construct an enclosure separately ahead of time. A consequence of that was, not all of my seams were airtight. Luckily I had plenty of Liquid Electrical Tape...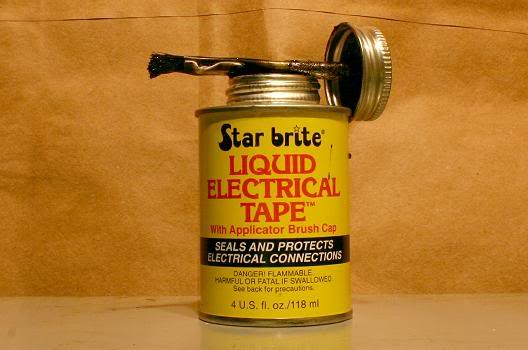 ...this not only helped me protect the uncovered leads of the capacitor, but filled-in unwanted gaps as well:
Here is a view of the
almost
-completed speaker enclosure. I still needed to attach the 'feet' to the bottom to keep the speaker cone off of the metal weight surface: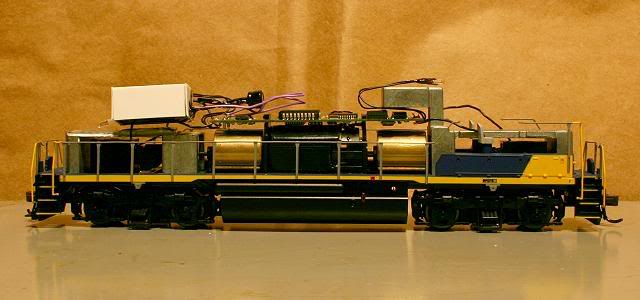 Now the unit was ready for the preliminary track test, minus the body shell. I was pleased to hear that the exhaust sound was perceptibly louder than it had been when I tried earlier to use a smaller, flatter enclosure. All that remained now, was to re-attach the shell:
The sound was even louder once the shell was restored - the additional effort paid off handsomely!
Last edited by a moderator: