The HO scale Yuba River Sub is a portion of a fictional Rio Grande 'California Extension' from Salt Lake to Oakland. The portion modeled is through the Sierra Nevada mountains of northern California between Nevada City and Yuba Summit, CA. I've set the railroad in October of any given year between 1940 and 1950, the motive power is all steam, so far.
The layout is a largely non-parallel double track main with a yard in Nevada City and small yards in Wagon Wheel Gap and Sierra City. The minimum mainline radius is 34", the maximum mainline grade is 2.25%.
Motive power is slanted toward heavy articulateds and larger non-articulated steam. Though most of the locos are Rio Grande prototypes, there are also other railroads represented on a loan-out basis, mainly SP, Colorado & Southern, Pennsylvania and Chesapeake & Ohio.
The layout is DC with dedicated blocks. Power is supplied by a Controlmaster 20. The layout is approx. 23x18' and is located in my garage (California basement).
Here's a few shots of the Rio Grande at work in the Sierras. Hope you enjoy.
Tom
A troop train descending the east side of Yuba Pass, with Wagon Wheel Gap and a work train in the foreground.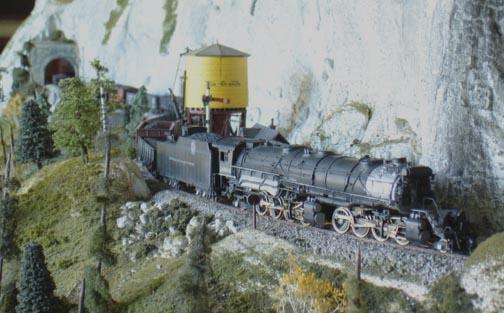 A big Rio Grande L-131 2-8-8-2 with a coal train on the west side of Yuba Pass. Elevation here is around 6800' above sea level.
#1600, a 3-cylinder 4-8-2 meeting an ex-Denver and Salt Lake 2-6-6-0 at Sierra City Junction
The Chicago-Oakland "Prospector" with a 1700 4-8-4 on the head end crosses the big arch bridge over Bullard's Bar Lake.
The South Yuba River canyon, where the fishing is good and the trains are frequent.
My "Never Was" Rio Grande L-140 2-8-8-4. Rio Grande borrowed these big Missabe Yellowstones during WWII, I just had the railroad go out and buy some from Baldwin for the California Extension. Hey, it's MY railroad, right, LOL?
Hope you enjoyed this little tour.
Tom