Last January as I was contemplating buying
this Walthers fencing kit
from the ModelTrainStuff.com website, I glanced at the single review somebody had left about it - 3 stars out of five, with the cryptic comment: "
As close to scratch building as it gets
." That didn't faze me too much since I've done a fair amount of scratchbuilding on my own over the past 20+ years. So I went ahead and bought two of them, estimating that should provide enough material for my scenery goals.
When I opened one of the kit boxes on Wednesday night, it became clear what the phantom reviewer was talking about. The only parts in this kit that were molded were the posts and the gate frames; the chainlink mesh was a 12x7-inch sheet of material resembling the tulle used on ballet tutu's, and a few dozen pieces of soft black metal wire - each slightly over 8 inches in length. So I'll be needing to cut the mesh myself into 1"-wide strips, and cement the metal wires to the styrene poles and the vinyl mesh onto the metal wires. [I could in theory go to my LHS and get some K&S brass wire for the poles and use that instead. But the hobby shops in my state are all closed due to the COVD19 lockdown, so I'll just have a go at it with what I've already got...]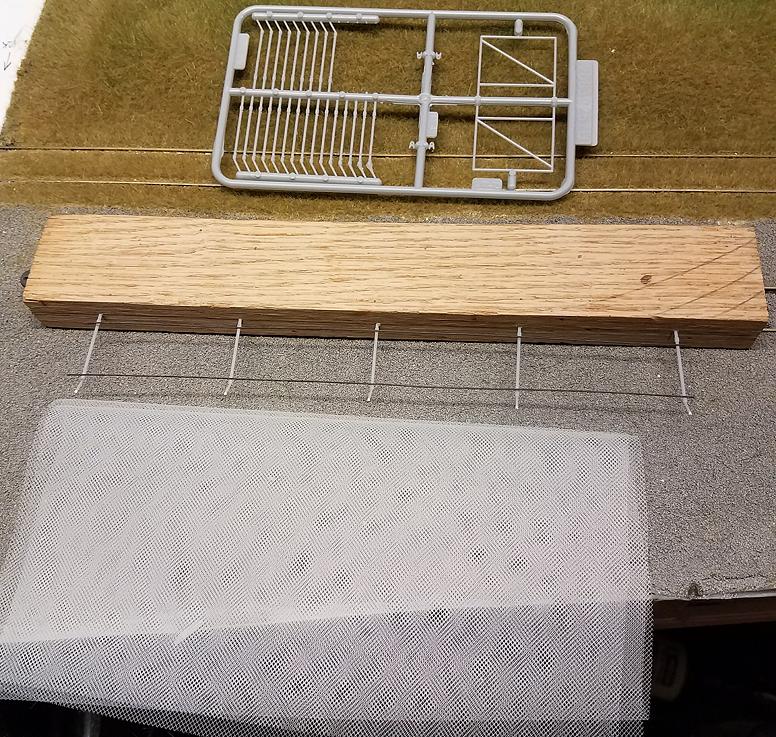 My first question is:
What type of CA glue
have any of you used for attaching two different kinds of plastic to metal? I'll need to go with the slower-setting syrupy stuff to have time for it to set. Many of the online reviews I've read say the syrup never hardens unless you press the pieces tightly together. Obviously that's NOT an option for this particular application. Hopefully there's a brand that does work effectively without pressure...[?]
Last edited: