Find my YouTube channel here!:
https://www.youtube.com/channel/UCwllFEdg1-mZlU5YgLpsSyg
Wow, It's been 10 years since I started my account on this message board, and I've come quite a long way. I'm now on my third HO-scale phase and it seems to be sticking hard. My collection has grown to something like 14 locomotives, and to think when I joined here I had just gotten my first 'nice' model, a P2K GP38-2 (now awaiting rebuilding due to zinc pest in the frame!)
Still no home layout yet, and that probably won't change for a while, but to get over it I've joined a nearby club; the Hennepin Overland Railway Historical Society, which operates a truly spectacular and
large
layout that is open to the public for viewing on weekends.
Somewhere around 2010 I learned about Milwaukee Road S3 4-8-4 #261, which is actually pretty sad since she 'lives' basically in my backyard. 261 almost instantly became my favorite preserved steam loco, and I had to have a model of her. She is the undisputed queen of my collection thus far, and her rake of Walthers Hiawatha cars is just icing on the cake. This is the Broadway Limited offering, and I am pretty happy with it although the sound is a little "meh" in my opinion.
Yes, the grabs need to be installed, and this Skytop Obs needs its mars lamp (and the Cedar Rapids name). I have EIGHT of these things out of nothing but luck!
I also just got ahold of these two Walthers Proto 2000 E7's. This was a lucky deal on eBay and I basically got two for the price of one. #18A seems to have some frame issues, though. I still havent decided what to do with it. Pilots were included, of course, I just had them out for a test run and didn't want to bother with installing those yet. The obvious benefit here is that my Hiawatha fleet can now pose as a Twin Cities Hiawatha train instead of just being an excursion fleet.
I've also got myself a UP 1943. Could not resist due to my interest in military stuff. Plain DCC, no sound. Also have the gorgeous UP 1989 just because I love the paintjob.
And along the same lines as #1943 I came across this boxcar on eBay and just had to have it. There seems to have been a set of these, but I was only able to find one other.
And to pair up with 1943 and 1989 I have this Walthers Mainline ES44AH, which I got for a steal of a price at a train show in Eau Claire. $95 with Econami sound! All the grates are begging for weathering, I'm just waiting for a good day to get the Dullcote out.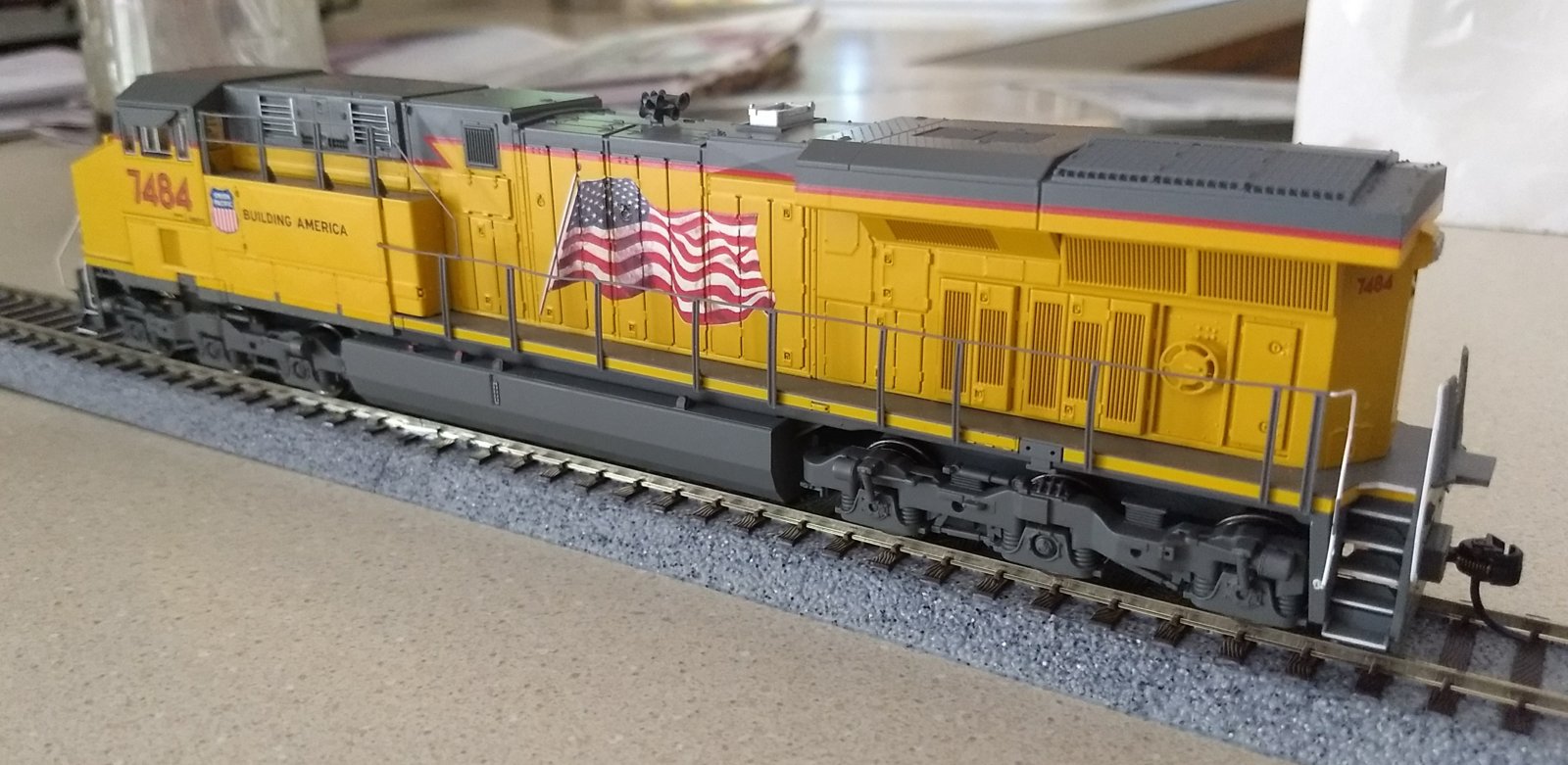 I landed this BNSF Pumpkin for a pretty good price also. Older Athearn Genesis with basic DCC. Photo from its test-run the night of acquiring. Snowplow snapped off somewhere and has since been fixed.
And then to go with my desire for Minnesota stuff, I put together a Northstar commuter train. I realize that Athearn was lazy and just painted up an F59PHI (Northstar uses MP36PH-3C's) But for its price I will not complain, and it looks pretty sharp anyway. This one came with Tsunami 2 Sound. The Bombardier cars can be finicky sometimes but since I always run pull mode they don't fight very often, and they look great at speed.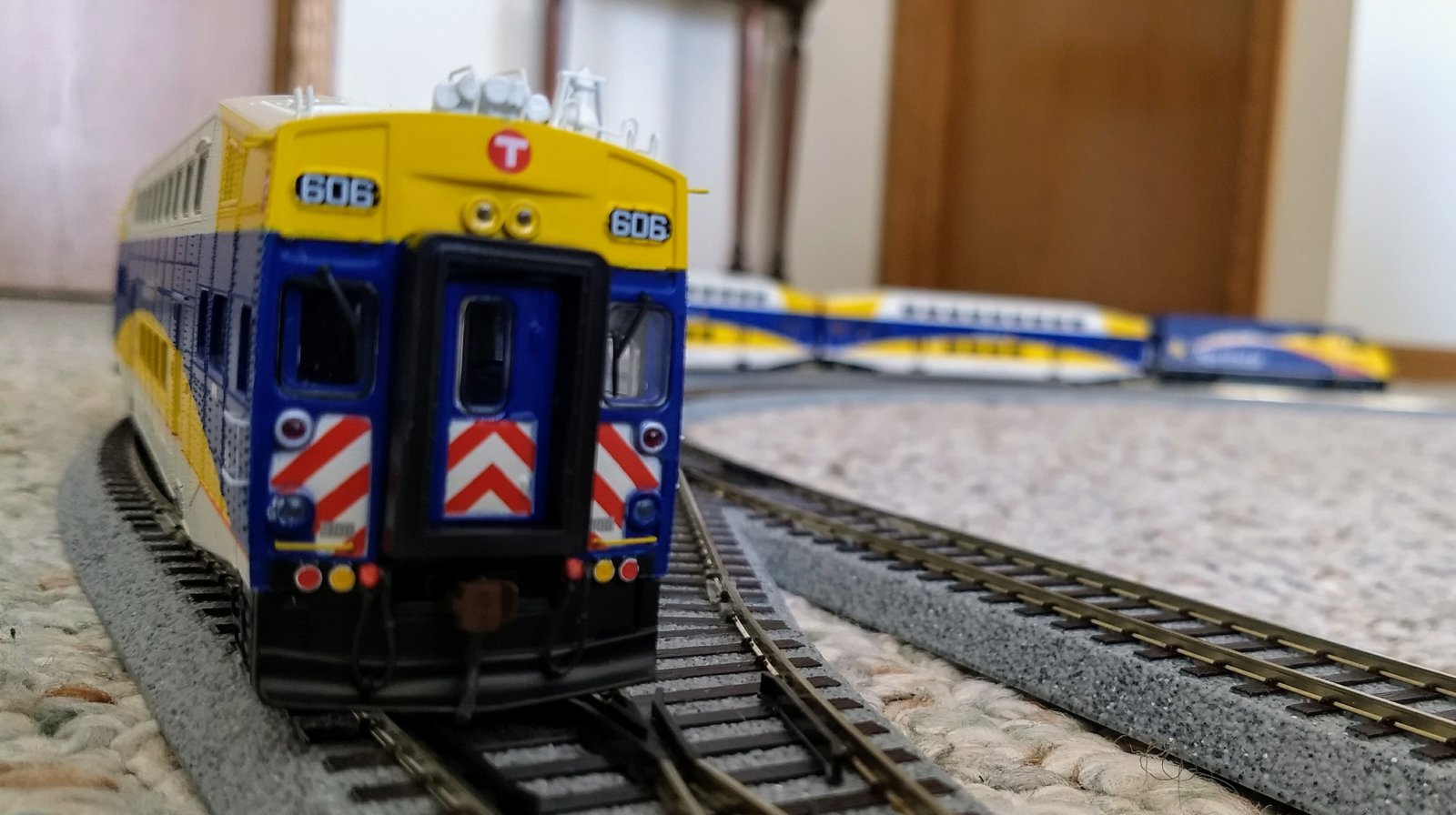 And of course I cannot forget my only working road-switcher at the moment, my ATSF GP60M. This thing acts kind of weird but after a brief warm-up, he settles into work. I believe a motor upgrade is in order for it, as well as detailing, ditch lights and some BNSF decals.
I have also since acquired a slew of new and used freight cars, among them are three ScaleTrains Operator Trinity tank cars in black & white scheme. I should have bought more. I got a couple of ScaleTrains Operator Gunderson hoppers (KCS 'Belle' cannot be ignored!) and a mix of others. Too much for me to remember at the moment!
Last edited: