Hi all,
After many months in the design/making i managed to clean up parts of the layout and take some decent photographs and finally start a layout thread.
The story:
Santa Fe Railroad in California, mid-sixties to early seventies (1965-1968 with current equipment). North of Los Angeles (undecided on how far north... I had to decide between Golden-gates and San-Diegans and i picked the Golden in a hypothetical situation where they actually reach LA by rail and not by bus, hypothetical scenario (since ATSF did not have full rail connection between LA-SF), or i might just pick a fictional town in-between LA and SF and be more prototypical.
The Layout:
Track:
Code 83 Peco tracks with both insulfrog and electrofrog turnouts, on 5mm cork roadbed and 15mm plywood sub-roadbed.
Minimum Radius:
27.5"~28",
Minimum turnout
#6 on mainline, #5 on yard and industrial sidings.
Type:
Loop to Loop folded dog-bone, double track mainline.
Size:
something like 4.5 x 4 meters (14.5 x 13.3ft give or take)
DCC:
Marklin DCC
Track-plan: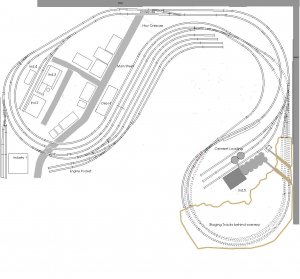 Main Yard:
Under construction (nailing tracks, modifying ladder turnouts), with some rolling stock in order to reduce the emptiness. the plastic sheets will be the (removable so that i can work on the workbench) base for my town plots.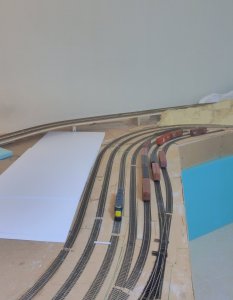 Scenery under construction leading to the scenic/cement plant peninsula (scenic construction details later):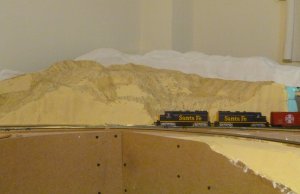 Cement Plant
(very raw form... 10 storage silos, 2 loading silos and a bagging building):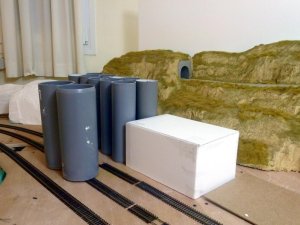 Further photos on my next post...
Thanks for looking everyone and many many thanks to all the forum members that really helped me out so far with precious advice and information!