I'm planning my first DCC-layout. It will be N scale, Peco c55 with electrofrog turnouts.
I'll be using Lenz Set 100 to run it.
I'm preparing to build a flipped left-to-right version of Granite Gorge and Northern.
One of my locomotives is too long to be able to turn on a turntable.
Would it be doable to add a scissors crossover on the bridge, the only reasonably straight section where both tracks run in parallel?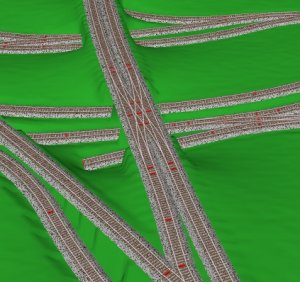 Normally trains will run away from the viewer on the track to the left, and towards the viewer on the track to the right.
This obviously means the my feeder wires will cause a conflict.
From left to right they will be maroon, yellow, yellow and maroon.
I can easily make a decent section or rail isolated, and possible to connect electronically to the next section of rail in either end. I'll need to do this at least twice to make it possible to move my giant locomotive from one track to the other and back again.
This means I will have to stop the locomotive once it has driven passed the scissors crossover, restore the polarity of the isolated section, and then move on from there.
Would it be possible to automate this is any way, similar to how you would solve a return loop?
Since this is not something I would do often, and possibly never during normal operation, I could of course find an simpler solution, without having to resort to the big crane in the sky.