Scratchbuilding a turntable: Indexing, part 1
Disclaimer
This is a construction journal, not a plan to be followed! If you are inspired
to build something after reading these articles, do so at your own risk. Take
the necessary precautions for safety. Working with powertools and electricity
is dangerous.
Indexing the turntable, part 1
As mentioned in the design, the indexing is based on a set of positioning
vanes attached to the positioning disk. The vanes pass between an IR
emitter (IR LED) and a pair of IR detectors (phototransistors). The first
picture shows what I found for this project. I found the phototransistors
at a local Fry's and the IR LED was in my junkbox from an earlier
experiment.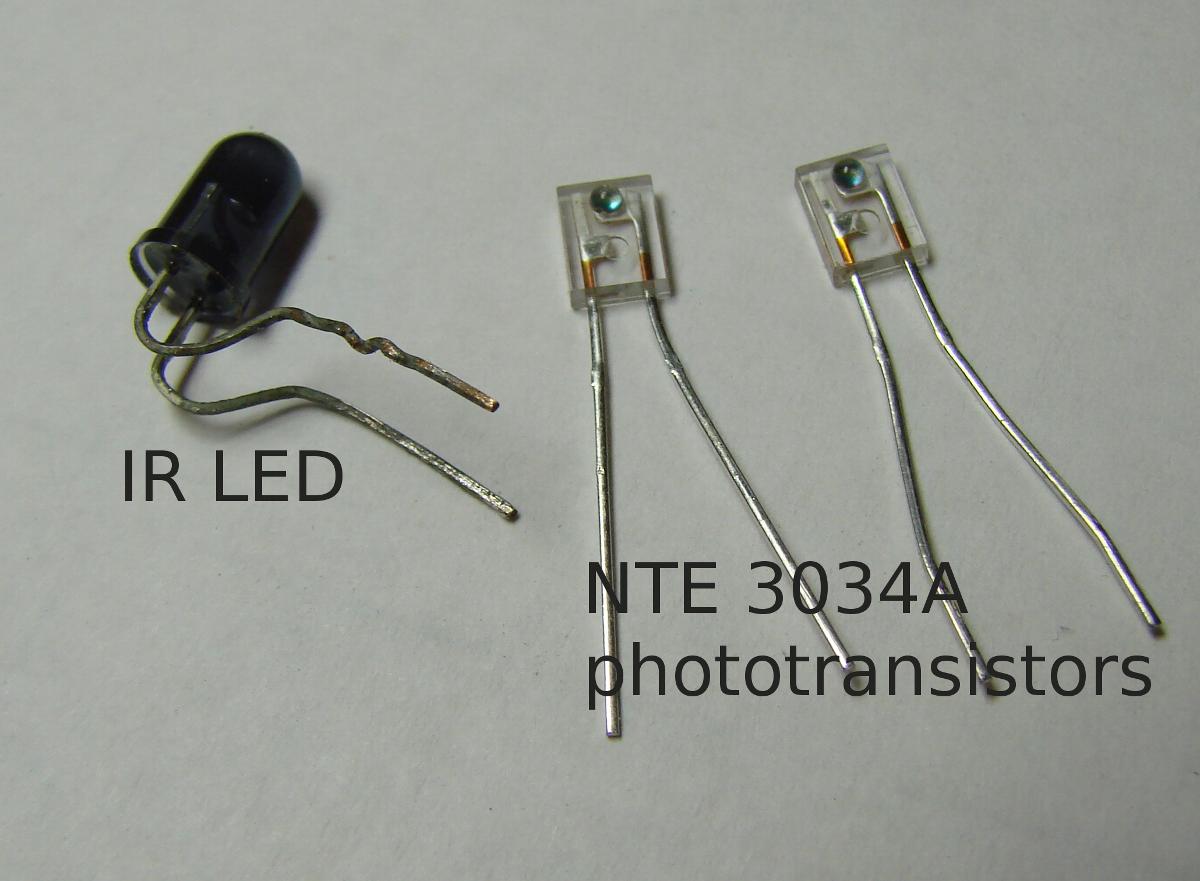 I made a PCB for the sensor board using the laser printer toner transfer
method. This method is described in many places on the
internet, see <
http://www.riccibitti.com/pcb/pcb.htm
> for an example. The
hardest part of the method seems to be finding suitable paper that
will release the toner easily. I used some inkjet photo paper from
Costco, but it was too high quality. It has some sort of polymer
coating which didn't come off the PCB very easily with water soaking. One
guy recommends using shiny newsprint - doesn't seem to matter if it's
already got some printing ink on it. I haven't tried it yet, but I did start
collecting nice white pieces of it whenever I run across them (older Apple
iPod and other i* ads seem to have a lot of white
My result with the toner transfer was a bit ugly so I had to patch the
toner with some nail polish before the soak in ferric chloride. The second
picture shows the end result. It looked and worked OK. Then I soldered
the components onto it and attached a piece of ribbon cable scavenged
from an old ATA hard drive cable. An old shelving bracket made a nice
mounting bracket (note to self: always check pieces of metal like this
for hardness before scavenging: I think I destroyed a nice metal drill bit
making the mounting holes, this bracket was made of very hard steel).
The 3rd picture shows the whole positioning system assembled and mounted
on the turntable and positioning disk. (Note the corrosion on the vanes - it
happened overnight after I mounted the test vanes and forgot to clean off
the flux residue). I followed Wayne Rodericks advice and made a whole
stack of those vanes at a time. Mine didn't turn out completely uniform
unfortunately - I'm not much of a metal worker. But they seem to work just
fine.
You might laugh when you hear where the metal for those vanes came
from
I couldn't find suitable sheet metal in my junk box and didn't feel like
driving to the HW store. I got an idea and headed for the pantry, where I
examined all the canned foods. Most cans have ribbed sides but a can of
coconut milk had nice smooth sides. I suddenly developed a craving for some
nice Thai green curry! A short while later I had the stack of rough cut vanes
you see in the last picture and a nice meal
Continued in part 2
Cheers,
ik
Last edited: