Hello from a chilled So. Central Wisconsin. It is 58f/14.4c degrees but the wind chill numbers are back at 49/9.4. Heading to the low 60's. Rain possible around 10am and then on/off till midnight.
We are going to try to beat the rain at the Farmers Market this morning. Terry wants another batch of zucchini and yellow squash to chop up, shred and freeze for her zucchini cakes later in the year.
Terry was amazed by the dynamic between the faraway county vet and our vet regarding the 6 rescue horses. Seems there was some history between the 2 and Terry said it showed and then they both realized they were there to help the horses. The 2 she found out later had been engaged but then broke it off.
Gotta go
90 minutes roughly later I am back. We did beat the rain. It started about 10 minute after we got home at 10:05am. Raining hard right now.
Horses, the Vets both want to try another 3 days hoping for improvement and if not, the faraway County vet will put them down. The other 4 are doing ok and thankfully we don't have to pay the Veterinarian bills on these 6. Our vet is here again this morning, well actually every morning but she is checking out the 6 specifically. Over the years Terry and the vet have lost quite a few rescues but it's because they get them here to late…
Trains, I am not enjoying the weathering project. Wheels, axles, trucks and couplers are fine. Sides of cars, not too sure off. Along with the pulp cars I am playing with a gondola, here it is: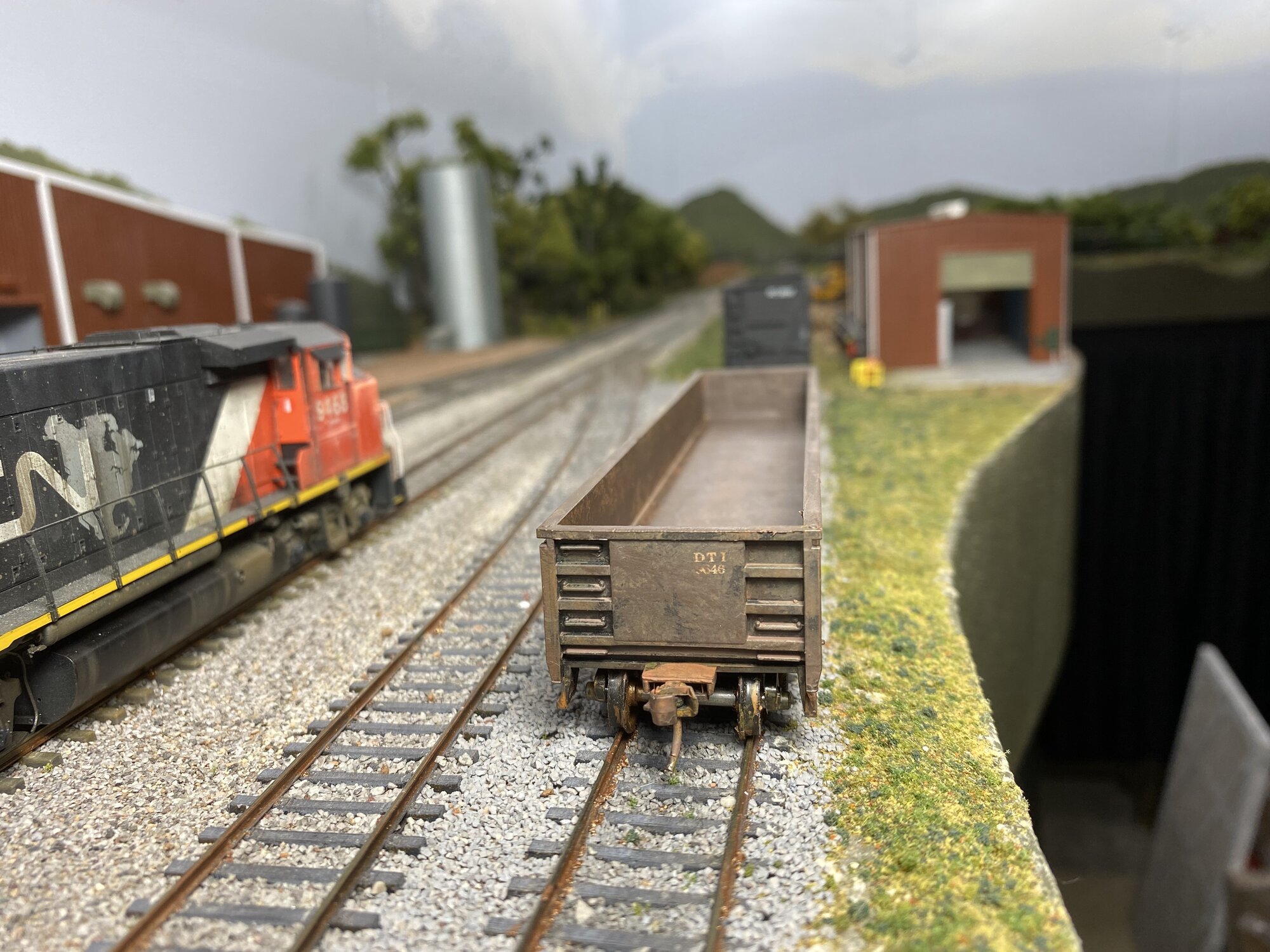 I don't like the sides but when I did them they seemed fine. Give me honest opinions, I can handle it,
maybe.
No,seriously help!
Christian
, your pictures of the French countryside are just awesome. Thanks for sharing those.
Willie,
besides weight loss, should you be drinking the beer? Whenever I have one it just destroys my daily numbers for days. I know we all react differently to the foods we eat so just wondering definitely not judging. Especially since you are closer to you goals then I am to mine. For Terry and me we need to eat more at home then out.
Sherrel and Willie,
chair discussions are kind of funny to me. MY chair is approaching 12 years old and Terry pronounced it dead maybe 4 years ago. It is sort of like those comfy jeans that should be long gone. Maybe soon…
sports,
like voting I don't care who you do or don't root for, just do it! I went off of sports a few years ago because the owners were complaining of costs and this after one of them purchased a $350 million boat. Politics were evident on and around the field. I can make my own voting mistakes, thank you. Millionaire players feeling they were treated WORST then slaves. Plus, the talking heads announcing the games wouldn't shut up. owners saying the players made too much, well who was the one paying the player? The NFL player making a normal play a 7th grader could make celebrating like he won the lottery. Soccer players complaining one gender makes more then the other. Check ticket sales on that one. I never did stop watching NHL hockey but have stopped watching the pre-game and intermission shows. Last NFL season I did watch some Packers again and just a little more this year. Both the transition from fanatic with NFL season tickets in Green Bay, Chicago and Arizona (for business) and Terry's 4 tickets inherited from her dad was tough. I loved the game. Trying to go back is tough and made harder by many of the above complaints still going on. But, if you do or don't enjoy sports, I respect your decision.
trains,
I will be in the train room quite a bit today.
all clear ahead
TomO