Good Morning All. Cloudy and 69°, going up to 94° today. NWS has been adamant about clear and warm for the foreseeable future since Monday, so early this morning we had a "where the heck did that come from?" moment when a thunderstorm rolled in from Oklahoma City and dumped .75" of rain, high winds and possible hail on us. I was already up when it came at 5:30, and I shut down the computer and went back to bed expecting to lose power. Well, that didn't happen and I ended up sleeping until 8:30.
Wife left yesterday for two days of helping my daughter's family pack and move to their new house today. My brother and niece finished painting the rooms that they were doing earlier in the week. Two of my nephews helped install the rest of the ceiling fans and light fixtures. The movers have an additional surprise as she decided to take her brand new refrigerator with them instead of leaving it. They just remodeled the kitchen area+ about ten months ago.
Another day yesterday with some quality time picking green beans in the garden, and checking on the progress of some of the known early tomatoes. None are turning colors yet, so they have the potential to still get larger. My "go-to" variety of Early Girl was not available this spring, so I am having to be patient with my longer maturing varieties. I was able to do some more mowing yesterday, and chopping up immature grasshoppers. They are thick this year. Thta spells trouble later this summer. Last night's rain probably wasn't enough to drown too many, so my only defense is to mow them to smithereens. Unfortunately there's a large swath of the front yard (lowest on the property), that I couldn't get to yet, too saturated still. I am also avoiding mowing the wildflower meadow for now. Hoppers are in there but don't feast on them.
The Indian Blankets are there, but not as flush as in the past.
A couple of breakfast tacos this morning Flo. Just the ground beef and cheese type.
Thanks for the likes yesterday;
Tom O, Gary, Steve, Troy, Justin, Rick, Karl, Hughie, Tom, Guy, Patrick.
Out in the train shed, painting continued on the detail parts for the country mart. As a diversion to that slow progress, I took out some 40' trailers that I purchased last weekend.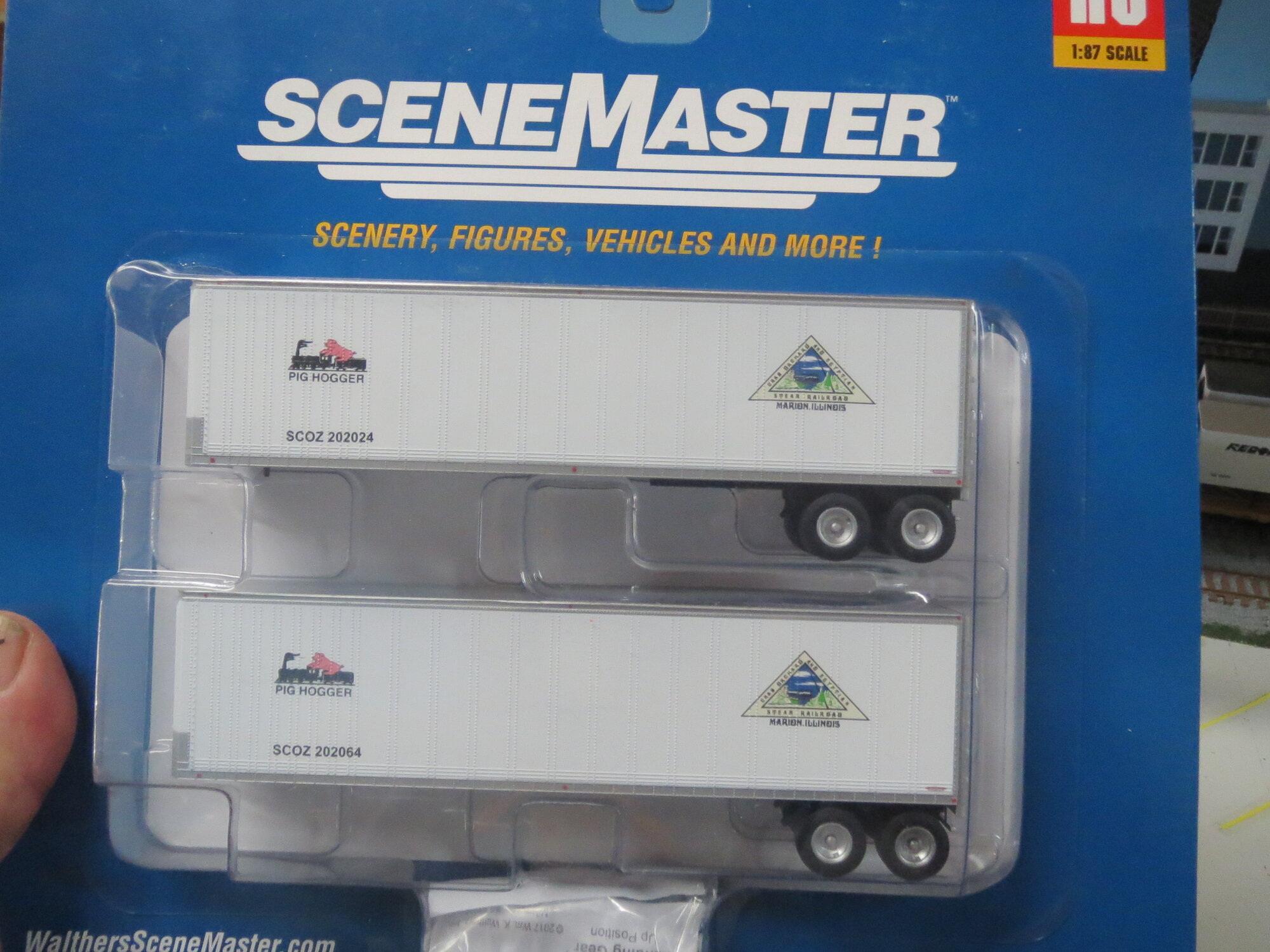 After some minor assembly they are ready to go.
These are nicely detailed.
The intention was to add them to a couple of the TOFC cars that I am using in the intermodal facility that I added last year. I have been using 45' units but they don't fit real well on the flatcars. So two got moved into the trailer staging area and the new ones get to ride now.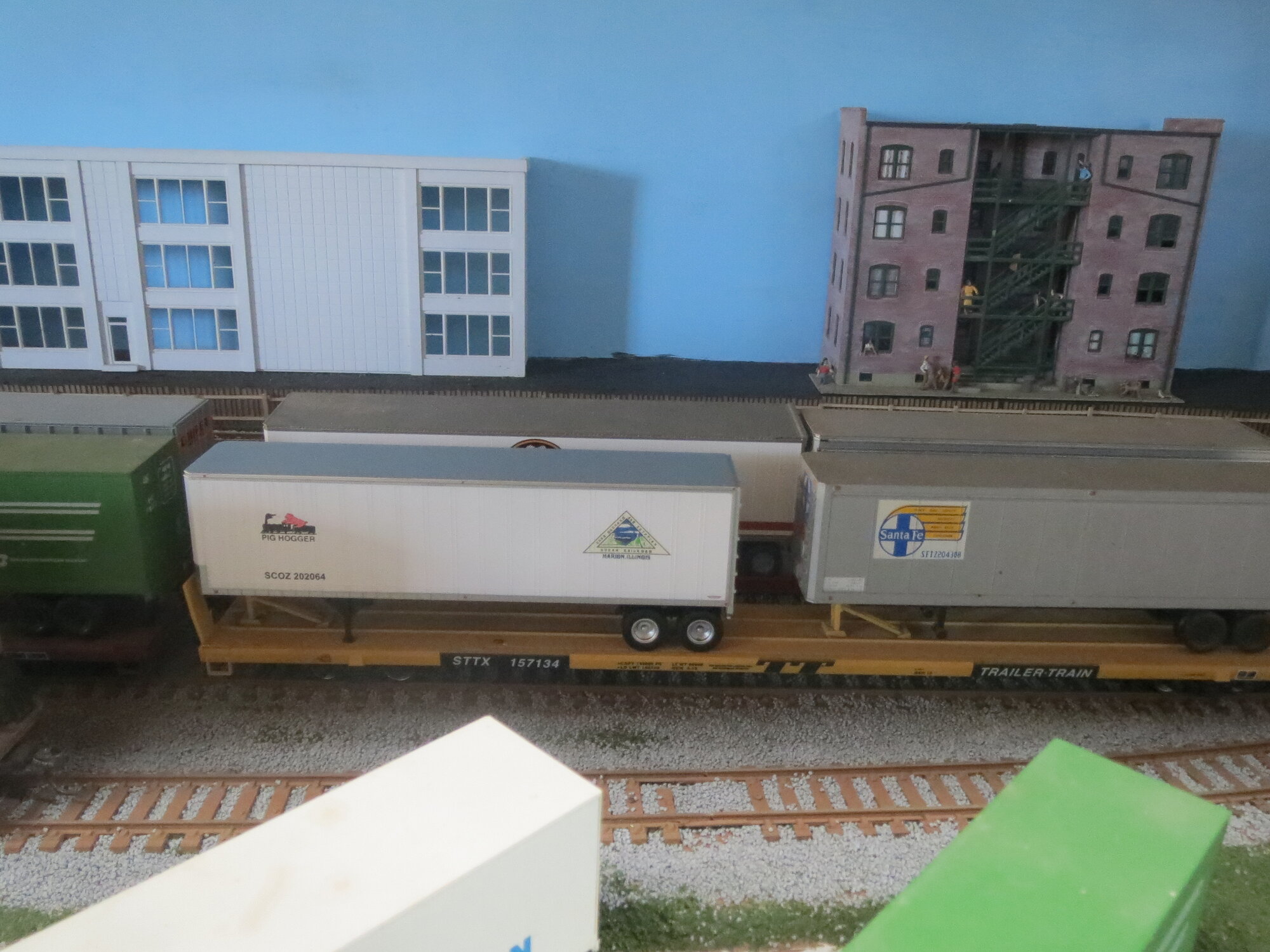 Steve
- Prayers and best wishes for your daughter.
Tom O
- At work, we had a 12" gas line in from the main supply line. I don't know how big the main was. Since we used a gas furnace to extrude aluminum ingots into structural shapes, we used a lot. If I remember correctly, our monthly gas bill was $25K+.
That's too bad about the son's friends not being able to get jobs in their preferred backgrounds. I didn't think of that which is very prevalent in the Austin area. Learning a new profession when you're a musician isn't always easy. Those jobs will mostly come back in Austin a lot sooner than say NYC or LA.
I'm off to a late start this morning, but it is time to go and pressure can some more of the harvest.
Everybody have a great day and an awesome weekend.