Electrotren have produced a number of models of the Type 316 DL500A since 2006 and I have three of the contractors versions - RENFE had withdrawn the type by the mid nineties- but I wanted another one from private operator TECSA for my future layout to go with the VIAS, COMSA and AZVI locos I already had. Despite many hints over a number of years on Electrotren's FB page they haven't produced the TECSA version yet so I decided to have a go myself! Taking advantage of the best deal on the Hornby Website, I got Electrotren starter set E10126 with VIAS 316.002.
TECSA 316.017 retained the RENFE Taxi livery with TECSA logos and also had the number boards removed and plated over so I had to make a few alterations to 316.002 before I could start on the repaint. The front end was altered using Revell filler and plasticard follow by a complete respray with Humbrol 126, Railmatch 304, Xtracolor 802. After a coat of Railmatch gloss I used decals from Trenmilitaria and then Railmatch satin. I've popped in a decoder and its ready for duty when I get round to building a layout! The loco runs superbly, as do all my Electrotren models, and I think I did a good enough job for it to not look out of place.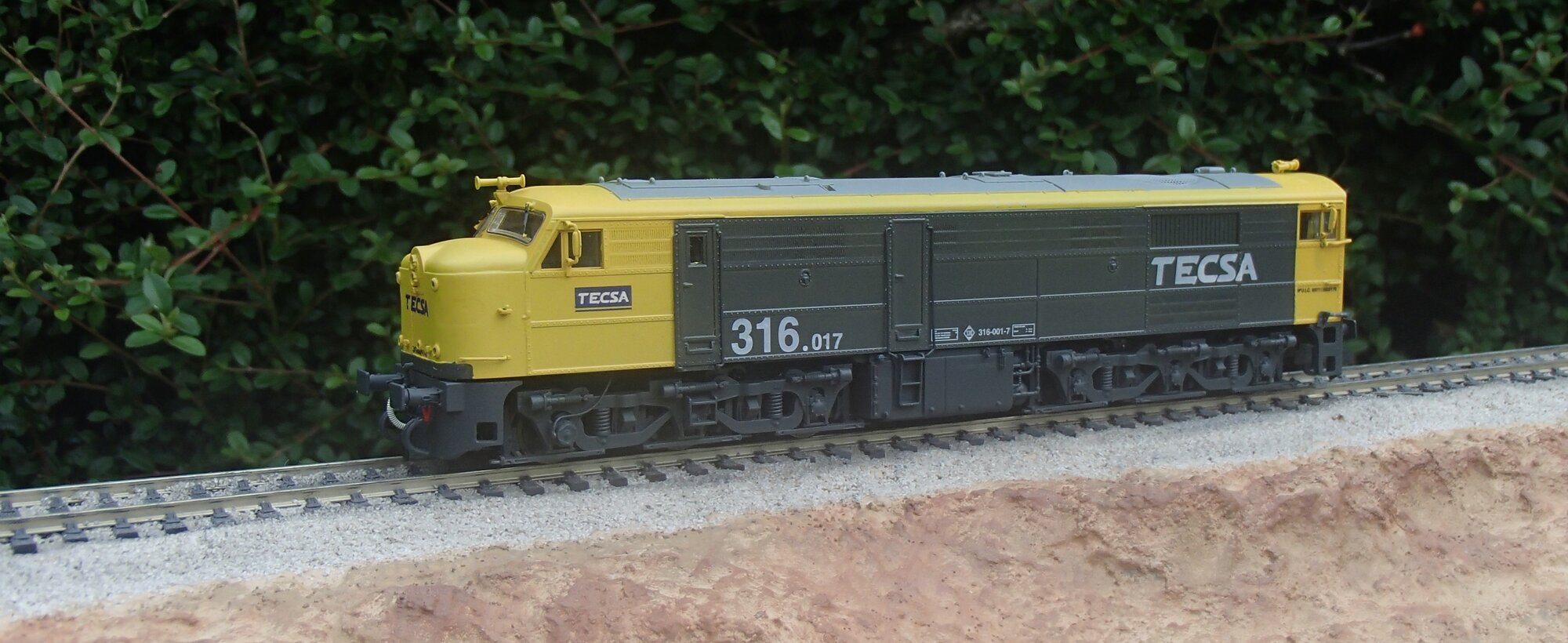 Alongside my model of TECSA 316.017, I converted another Electrotren ALCo into TECSA 321.048. Starting with E3119 - RENFE 321.025 I again stripped all the paint, did a few modifications and resprayed it into the TECSA version. The 321 class were a later version of the ALCo DL 500 World loco and were essentially a more European styled 316 as first bought by RENFE. 321.025 carried the same livery as 321.048 but because I would have to make some changes I knew I wouldn't be able to avoid a full respray.
321.025 is modelled in original form though later in their service life some of the 321 class were modified with larger cabside windows, smaller front windows and cab door windows plated over. The headlight arrangement was also changed and Electrotren modelled a number of these rebuilds including E3115 - ADIF 321.051. Once sold into contractor service, 321.048 was partially modified and does not match the tooling of either Electrotren variant. It has the new, larger, cabside windows but retains the door windows and original front windows and the number boards were removed and sheeted over and the light set up changed. Fortunately I was able to order as spares from the Hornby website the cab windows from E3115 to use in my conversion. It was relatively simple to increase the window space on the body shell to fit the new ones. The rest of the changes were similar to what I needed to do with 316.017 and included using plasticard and filler to cover up the number boards and fill in some of the light fixtures. I also had to remove some bodywork around the cabsides where these look like they have been replaced with new sheet steel. Once again the model was finished with Railmatch, Xtracolor and Humbrol paints and Trenmilitaria decals.
The finish model runs superbly and has a Lokpilot factory fitted which allows control of the separately motored fan and selectable lighting options. The original ALCo World locos were based on the North American ALCo FA series and although not a B unit, running 316.017 and 321.048 together almost gives the impression of a classic 50s US AB lash up! I am still missing TECSA 318.009, so no prizes for guessing what I'm looking for next!