After looking for a good subject to build a layout for months, I came across Sperandeo's ATSF "San Jacinto Division" Trackplan, which can be found in the January 1980 MR. This plan had most of what I wanted, and a very appealing locale, and with some modifications to the trackplan, I was able to create a pleasing, working plan which suited me nicely.
First, Here's a "Primer" for the Layout:
ERA: 1940-1960 (1954)
Railroads Featured: AT&SF, SP, UP, MV&P
Locale: Area around Riverside, Southern California.
Emphasis on Waybill/Car card operation.
Description of Layout:
A nice single track mainline w/ sidings, which connect three towns: Perris,Ca, Hemet, and San Jacinto. There is a 4 track yard at Highgrove; RR "north" of Perris.
Scenery:
Endless Citrus Groves, and gentle rolling plains, with San Jacinto Mt. Range in distance on backdrop. Perris is the main city and will feature the old California Southern Depot, which is currently on the Natn'l Register of Historic Struuctures.
Here's some photos of the area, courtesy of Mr. Marty Quaas. (used with his permission)
Here's an ATSF F7A pulling into the Victorian-Era Station at Perris, CA.
Here's the Industrial district in Hemet, Ca.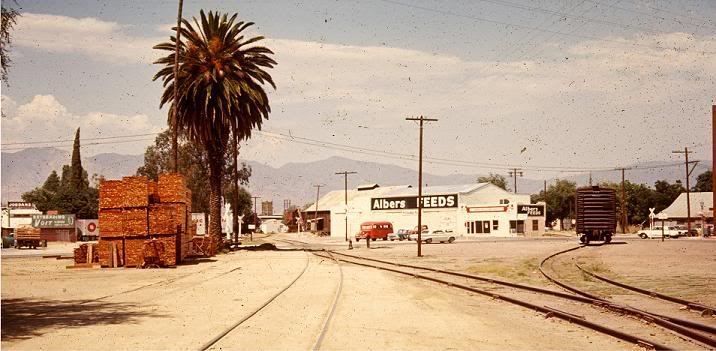 Here's a photo from 1965 at Box Springs, just outside of Riverside.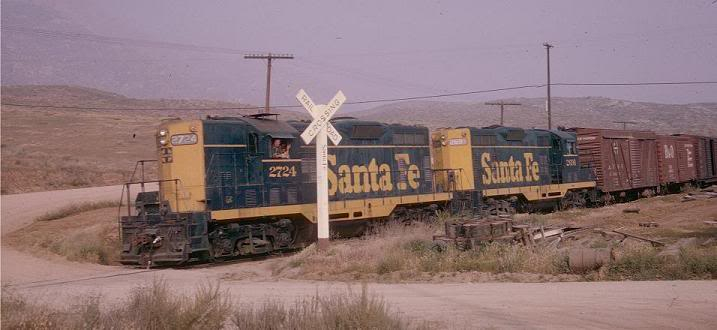 I hope you enjoyed just some of the great photos of this Area. I'll post some more pictures, along with layout progress in the following posts of this thread.
Enjoy!
-Miles