Hey guys,
I went to visit Magic Kingdom today. My dad is a cast member and there was a rumour that they had a soft opening for Pirates of the Carribean, which was previously repaired and changed, so that it could incorperate some of the newer, Johnny Depp's Jack Sparrow. As a matter of fact, we're going to see the new one tonight at a midnight show!
Anyhow, I took some pictures of a few train-related things that I thought you all might enjoy.
First, is Big Thunder Mountain's Mine Train. I think I got a REALLY good shot of it, even though it was moving at RollerCoaster speeds. It looks really old and dusty...just so you know, it is supposed to be like that!
The next are of Main Street Station. It is the Main Station of Walt's Trains that run around the park.
Here is a Special Picture, Just so you know these are authentic.
The next are of one of the 4 Beautiful steam engines. They are heated with propane, to keep emissions down. As you know, Disney has no price limit!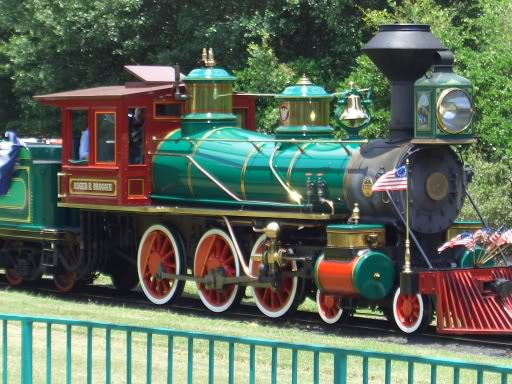 Here is a little tribute to Tuesday...
...and here is a tribute to Walt.
Thats all I have. I hope you enjoy them! I know you didn't get to ride on it(Or be the engineer, as I was when I was like 3), but even pictures are nice of these rare beauties!
I almost forgot. I also picked this up while going out: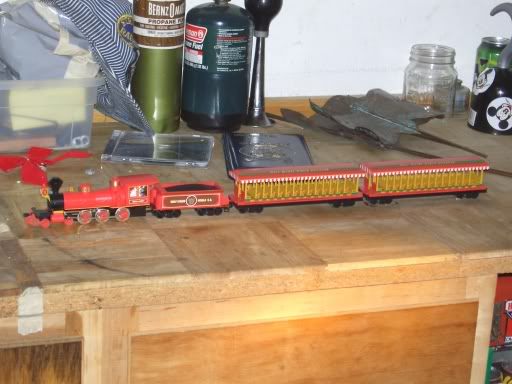 If you can't tell, it's an HO representation of the Walt Disney Steam Engine.
Thanks,
Todd