My son and I built our 2 X 8 yard addition and got the track pieced together on the 3/4 foam sub-roadbed: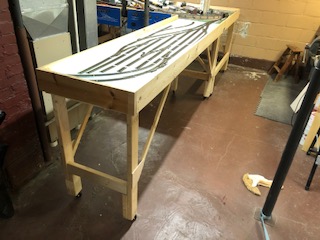 The above picture shows the new 2 X 8 yard section hooked up the 4 X 8 section. Everything was great until I rolled a car onto the yard section from the 4 X 8 to make sure that the track and turnouts were aligned. It rolled beautifully..... and then..... it started to roll back towards the 4 X 8 section. So now I have a problem. The picture below shows the level on the 2 X 8 yard section at the end where it connects to the 4 X 8 section:
The picture below is the level as it sits on the other end of the 2 X 8 yard section(the end with the two curved tracks):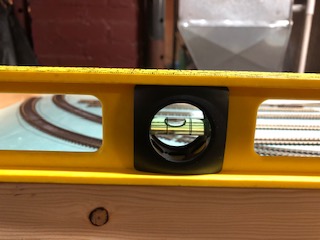 The problem is the uneven floor of the basement in my old house: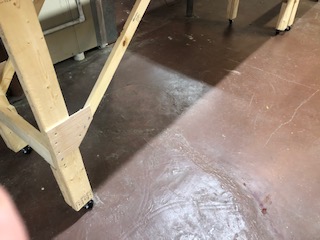 The legs on the left side of the above picture are on a section of the basement floor that was filled in for some reason before I bought the house. I am guessing there was a coal furnace there at one time that had to be torn out when a new furnace was installed. You can see how the far legs in the above picture are on a smooth cement surface. When the car rolled back towards the 4 X 8 section, it only rolled back half way before stopping. I would like to hear thoughts on whether I should shim the legs/wheels higher where the 2 X 8 section joins the 4 X 8 section? Or, is there something I can do to shim the track as I am laying the roadbed. A couple things to note..... even though both sections are on wheels, this is the only part of the basement where this will fit. I plan on using Woodland Scenics foam roadbed. The 2 X 8 section was perfectly level when it was built and before it was moved to where it has to be.