2) I have found thus far that the split helps with locating over my paper drawing, then extracting the paper drawing in order to glue it down.
Here is the method I to draw the centerline for track laying. I thought I was being completely original with this method, but I later discovered that others had used it long before me! I call it the
Sharpie Method
.
What I did for my layout was to use track planning software (XtrackCAD) to print my track plan full size. This may not be practical for a very large layout, but it worked fine for my small one and required 20 sheets of 8.5 x 11 printer paper. First I taped the sheets together:
The printout includes the track centerline, rather faint in this photo but easy to see on the actual printout: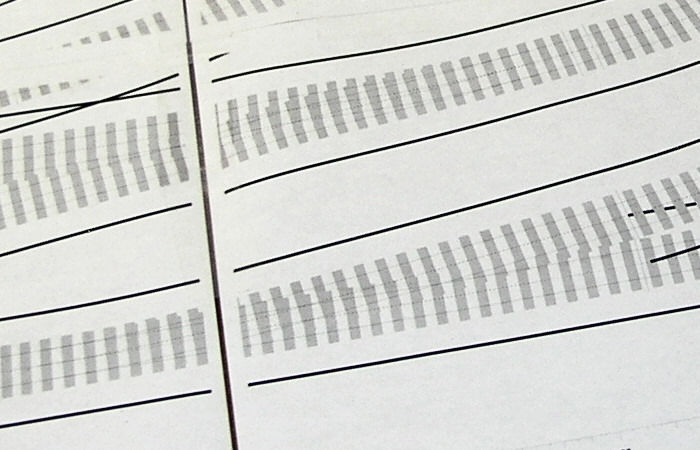 With the printout laid on top of my layout base (blue foam), I used a Sharpie marker to mark dots every few inches on the centerline and at other important locations:
The fluid from the Sharpie easily bled through the paper to make dots on the sub-roadbed. Then using a straightedge and a flexible ruler, I simply connected the dots:
With the dots connected, I had the track centerline for the entire layout on my sub-roadbed. From there, I started gluing down cork and laying track.
- Jeff