Montana is one of my greatest desires as a fly fisherman. I need to plan a trip out there! The only place I want to go more than Montana is New Zealand. The brown trout there... out of this world! Anyway, back on task lol. Here is what I have come up with. The major industries are a small coal operation, a fueling depot, and an iron facility. Most of the iron facility will not be represented. Just the blast furnace, and I will be modeling it after an old brick-and-mortar furnace from my area (any of you ever heard of the Eliza furnace in Vintondale, PA?) Here is the plan: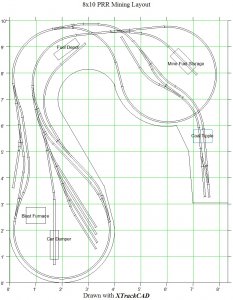 I took the layout and reworked it to use #6 Peco code 83 mainline turnouts, and #5s in all the sidings. There are three ladder tracks in the yard for the furnace. One will be for limestone cars, one for ore cars, and one for coal cars. The coal will be dumped at the dump site, then loaded into the furnace by conveyor and shovel. I am not quite sure what to do with the other little industry on the left hand side. I am thinking fuel receiving for the furnace? And also, I feel like I really should model the ore dump site too. I know there are many more considerations for a steel operation like this, but these are the components I absolutely want to model. I figure the steel mill and the output of the steel mill can be represented somewhere outside of the layout space, and maybe even as a future expansion. I'm no longer certain if transition era fits this layout since the mining operation and steel facility will be of an older design. Does anyone know how late this style of blast furnace was in existence? Once again, back on task. Improvements, suggestions, criticisms (constructive of course)? Thanks!
Edit: The more I think about this, I realize I need more. I need a coke oven as well at least! Plus a limestone crusher... this is more complicated than I thought. I guess I could forgo the limestone aspect, having the limestone come in crushed from an off-layout source. What would you guys do? I mean I like the idea of these industries, but when it comes down to it I can plan a different industry in the lower area and just model the remains of an old blast furnace somewhere on the layout. Actually I fell in love with the idea of the blast furnace from all the mornings walking by the old Eliza furnace to go hunting on the hillside, so an abandoned furnace could be a good idea to model?
Last edited by a moderator: