#1 - my layout is on a 5' x 16' table.
#2 - the track layout right now is rectangular, with the Main going around the rectangle and the Sub branching off of it and paralleling the Main for 3/4 of the Main.
#3 - I'm following the DCC wiring info from DCCWiki and the Wire Gauge Guidelines for a DCC Power Bus and also power drops specs.
#4 - I have an MRC Prodigy Advance2 power station and Cab throttle
#5 - I plan on wiring the Main Bus in a long loop that will be about a foot inside from all the edges of the table with 14 AWG- Is this a good idea?
#6 - I plan on wiring the Accessory Bus inside the Main loop, about a foot in from the Main (~ 2' from all the table edges) with 22 AWG - Is this a good idea?
#7 - I plan on putting Wall Warts on both ends of the table.
#8 - I plan on connecting the MRC power on the middle of the long edges to the Main Bus.
#9 - I plan on power drops to the 3 non-powered turnouts to insure power routing through the Peco Electrofrog turnouts (each is gapped right now to prevent a short.
Note that I say "I plan". Please advise if any or all or none of the above is a good idea. Keep in mind this is a new layout on a new table put together by a 73 y/o "newbie" whose last train layout was my son's DC HO setup 40 years ago.
Rough picture as the track layout was in progress recently. You can see the small gaps just left of the frog: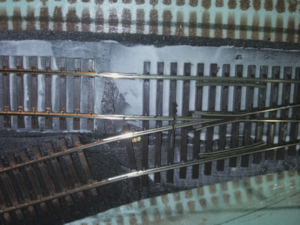 Power routing for the turnouts(my gaps are in place of the insulated rails)