First, let me say right off the bat: Don't use this to power your DCC system. For that application, use the power source recommended by the manufacturer of the system you use.
Second, these power supplies can kill you! Did that get your attention? Good! They have some heavy duty capacitors in them that can hold quite a charge for several days, even if the power supply is unplugged the whole time. They can deliver a fatal shock if not discharged. One YouTube video I watched said that to discharge the capacitors, leave the on-off switch on and unplug the power supply from the wall. It will continue to operate for a short time, then stop. At that point the capacitors have discharged and the case can be opened up if necessary. You can also leave the power supply unplugged and turned off for a few days. The capacitors will discharge themselves, but it takes a while.
I take no responsibility for anything that happens if you decide to convert a computer power supply into a power supply for your layout. You do this taking responsibility for yourself.
The current need for a good DC power supply is that I want to convert my double crossover from manual operation to operation from a single Tortoise switch machine.
I plan to use Melvin Perry's idea, found here:
http://melvineperry.blogspot.com/2012/06/june-25-2012-my-double-crossover.html
I bought a Tortoise from my LHS, and picked up a DPDT switch from Menards. The RC bellcranks are Dubro products, part #167. Powering the Tortoise requires a DC power supply. You can use a wall wart if you choose, but I wanted something more substantial that could power numerous things on my layout, so I choose to convert a computer power supply, hereafter referred to as the PS.
I have an old Windows XP computer that ran when I mothballed it, so I took the 300 watt ATX PS out of it. Nothing I did would get it power up. I twisted the green wire to a black wire. Nothing. I put a load resistor between a red (+5V) and black wire. Nothing. Methinks it be kaputsky! So I bought a new 600 watt PS for $26.95 including shipping from eBay.
https://www.ebay.com/itm/NEW-Hercul...e=STRK:MEBIDX:IT&_trksid=p2057872.m2749.l2649
I received it, jumpered the green wire to a black wire, plugged it in, and it powered right up!
The primary video I watched to figure out what to do was this one:
So this afternoon I got to work on it. I cut all the plugs off the wires and separated them into bundles based on their voltages and purposes.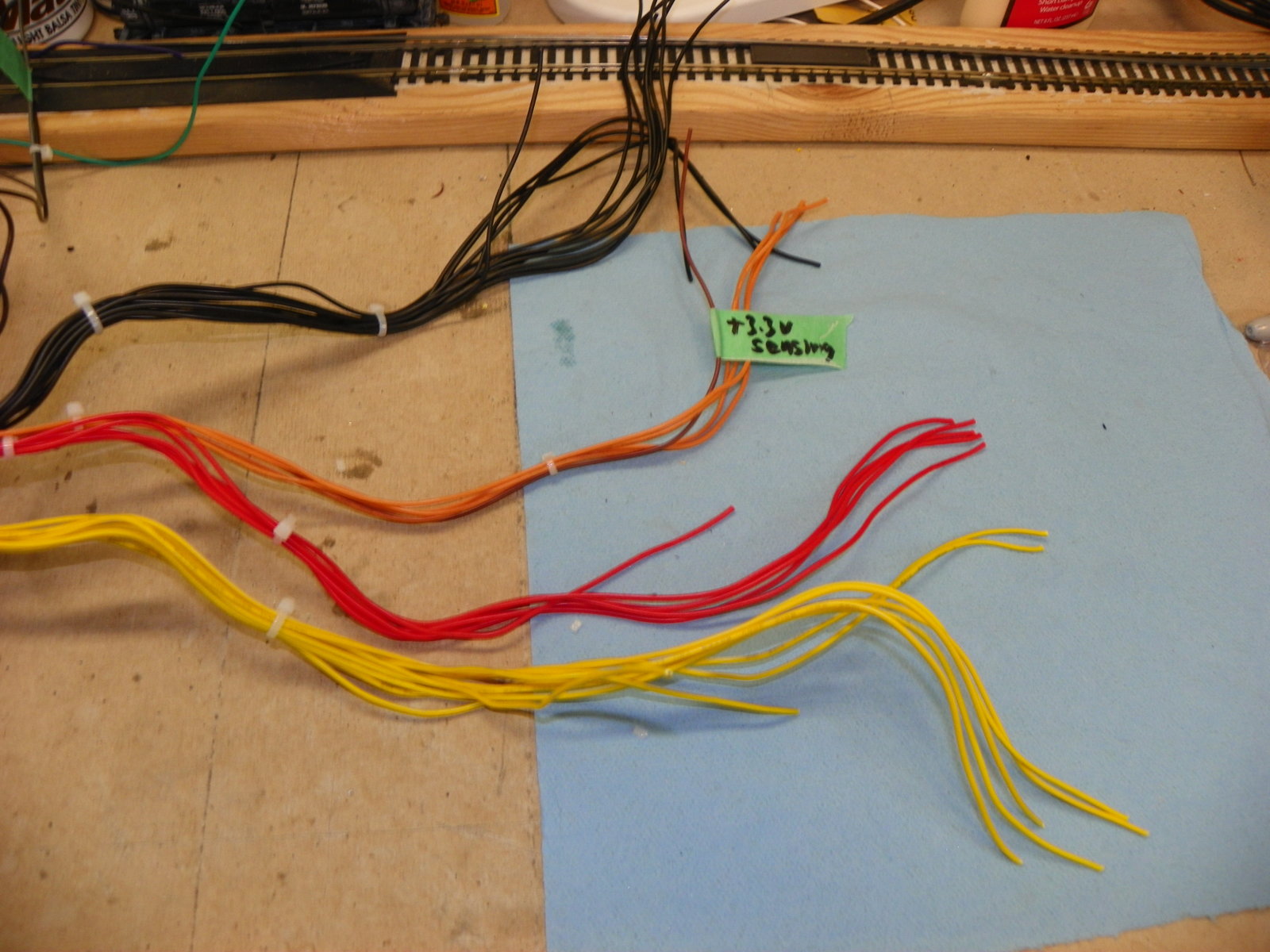 From the top: The black wires are ground wires.
The orange wires are +3.3 volts. You will notice that there is a brown wire in the bundle. That is a sensing wire the power supply uses to help regulate the +3.3 volts. It will be included in the wire bundle later when I connect the wires to a terminal strip.
The red wires are +5 volts. These will be used for lights and LED's.
The yellow wires are +12 volts. +12 volts will be used more than any other.
There are also some wires that will be used by themselves.
From the top: The purple wire is +5 volts standby. This wire is energized anytime the PS is plugged in, even if the on-off switch is off. This will be connected to an LED as an indicator light.
The blue wire is -12 volts. This can be used in conjunction with a +12 volt wire to give 24 volts, but there are some special wiring guidelines that have to be followed. I have no plans at this time to use this, but I will connect it to the terminal strip anyway.
The green wire is the on-off switch. I will connect this to a SPST switch.
The gray wire is the power good wire. This wire will be connected to another LED as the indicator that the PS is running.
While not all PS's need to have a load on a +5 volt wire to operate, the PS will regulate the voltages better if a load is present. I am using a 50W 6 ohm resistor wired between a red an black wire. These resistors will generate a lot of heat, so I have mounted it to the metal case in the air-stream of the cooling fan. Mounting it to the metal case will help dissipate heat through the case of the resistor, and having it in the air-stream will also help carry away heat. I opened up the case and mounted it using 2-56 screws and nuts.
That's all for today, folks!