The Rio Grande Platte Canyon Subdivision is a fictional portion of the Denver & Rio Grande Western (D&RGW)railroad set in the early Fall of 1965. The Platte Canyon Spur extends west into the mountains from a break point just south of Sedalia, Colo, on the Joint Line. Joint Line traffic includes trains from Santa Fe (ATSF) and Colorado Southern (CB&Q) as well as the Rio Grande. Most Platte Canyon Spur traffic is from the mountain coal mining district the spur was constructed to reach, but mining towns and small customers along the route are served by the railroad as well. Coal loads travel to Colorado Fuel & Iron (CF&I) in Pueblo and electrical power generating plants along the Joint Line to Denver.
The railroad is modeled in HO scale. It's a small layout that has roughly 4.5 scale miles of track and covers about 20% of our full basement. Staging consists of three yards that operationally represent points North, South and West of Sedalia, Colo. Each yard has four tracks. The Upper or "north" staging yard sits atop the south yard while the west yard is a stand alone. Train detection was required for the yards since they're hidden during normal operations (see pg 4 for staging/train indication pics).
Recently, an older MRC DCC system was upgraded to a Digitrax Super Chief system for train control. The improvement has been incredible!
While the layout is basically complete, we still have several planned projects, the largest of which is signaling. There's also scene super detailing and scenery refinements to do.
Thanks for taking the "virtual visit"!
F3 at CF&I's Split Rock Mine #4.
Empty coal drag rumbles toward the Joint Line from Denver's Cherokee Station power plant.
GP30's struggle upgrade with a load of Platte Canyon coal bound for Martin Drake in Colorado Springs.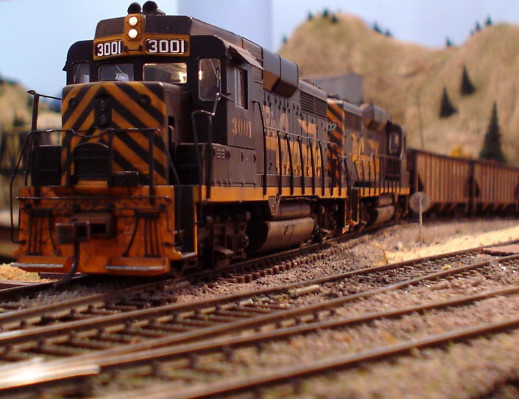 Mountain meet! This railfan found himself in the right place at the right time. The long, rugged hike in was worth the effort.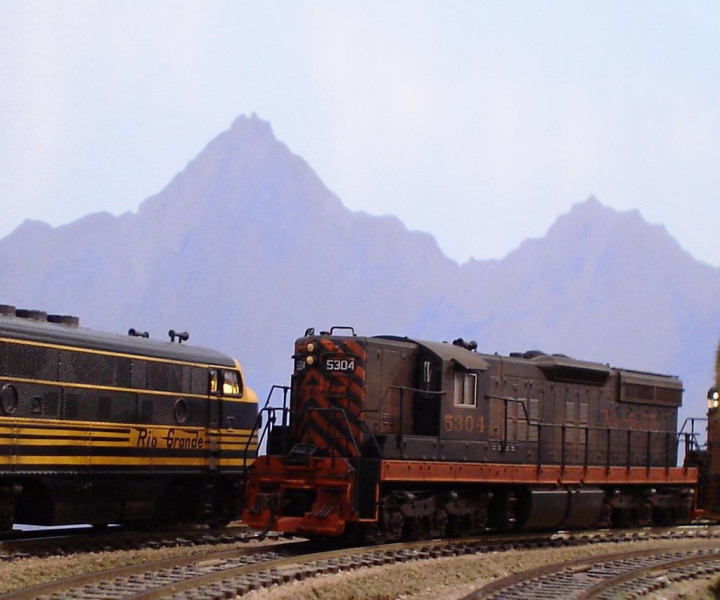 Eastbound coal train on the Platte Canyon Spur.
Southbound freight crew waits for train orders as a Northbound blurs by.
ATSF power at Sedalia, Colo
Last edited by a moderator: