Hello all,
While I have been in model railroading for years I have not had a personal railroad for over 6 years now. I do help with the scenery on the Railroad Museum model railroad in Minot ND (N scale). I have always in the past modeled in N scale, so this is new to me as I move to HO.
I have planned a modest two level self layout and am looking for input from you as to possible improvements. It will be loosely based on the Copper Range railroad of the Upper Peninsula in Michigan.
The lower level is a straightened out version of Byron Henderson's version of Linn Westcott's switchman's nightmare. The upper level right hand side is a rendition of Chuck Yungkurth's Gum Stump & Snowshoe. The upper left center runaround is set for a Loads-in - empties out operations with a smelter on the left side and a copper mine on the right side.
I will be using a train elevator to get the train from one level to the other.
The layout will be set in the 1920's and will have two locomotives. An 0-6-0 for the lower level yard which will be set along a dock area to move the copper ingots to market and a 2-8-0 to move the cars between the levels. Approximate train length with be about 4-6 cars.
Looking forward to input. The build is a couple of years off but I have started collecting what I need.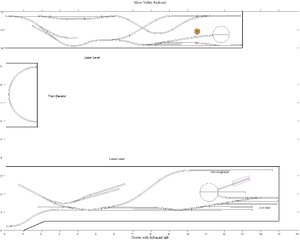 Last edited by a moderator: