Like the title says this is a thread on the building of the current project unfinished. When I started the MRR I was into the D&RGW/SP, but I have always liked the BN, then I kinda reconnected with my roots, and got into the Frisco with particular interest in the Quanah Acme & Pacific RR (QA&P). My Grandfather was a Engineer for the QA&P and took me for rides when I was very young, of course that ruined at an early age on railroading.
This is the 4th MRR I have started, 1 in a spare bedroom, 2 in house trailers that I subsequently sold, one is still around less than 3 miles away from me.
This monstrosity is in a 30ft x 50ft metal building, purposely built for the MRR. Been working on it for about 8 years now. I lost a bunch of build photos along the way but saved a few. It is a DC outfit, with 150+ locos it will be some time before I get into that. I set it up with enough blocks and power to run all the units I want on any train, and can run more trains than I can keep track of LOL. All power is Athearn or Athearn clones. Why? Cause thats what I started with, 30+ years ago LOL, they still work just fine. I still enjoy building, detailing and painting them.
Anyway a couple photos along the way.
Please post your comments and questions.
This freelance MRR starts off at 54" above the floor climbs to 74" at the entry door. One direction out of the main yard (timetable East) is a 1.5% ruling grade but is fairly long like 200' to the summit Quanah. The other direction starts off at 1.5% but levels for a bit then goes into a 2 1/2% climb to the summit all in all around 200' that way too. I will never get done with it.. The main yard will hold around 300 cars, Quanah around 75 cars, other yards and sidings off the main will hold 40 cars total. 2 staging yards holding 200 cars each. main yard has an operating hump, so yea it is kinda big I guess. I know that I will never take on a project like this again, not this complicated anyway, next time
if there is one
will be single track main with sidings and easier to access staging yards. we usually run 50-65 cars on a train probably 40 ft in length is average. 20-35 car locals. A couple reversing loops to keep stuff even more complicated to dispatch.
I am soooo lucky to be fortunate enough to build something like this once in my life, but I think once is enough
.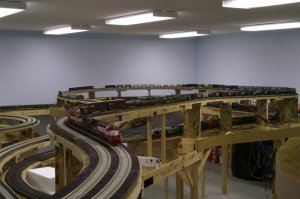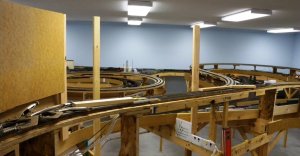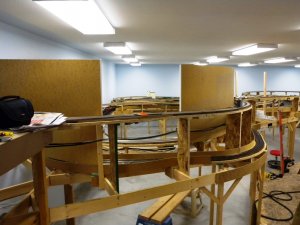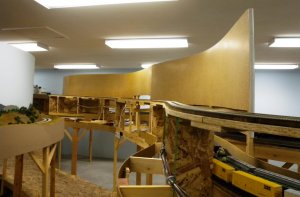 I will add more photos in another post.