I've been making some repairs to my 'estate acquired' Diamond Scale turntable, and in doing so I needed to build a whole new turntable pit. I will be covering that shortly.
But in the meantime I have realized a mistake I made long ago when I was building my first turntable for my Central Midland layout, so I thought I would start this subject thread out with that bit of knowledge that I think MANY of us first assume when we look at such a project.
Connecting Drive Shaft to Turntable Bridge
As I have been rebuilding my Diamond Scale turntable, I've discovered an important feature they possess that should have applicability to turntables in general. The connection between the drive shaft and the bridge structure should NOT be a rigid one,...not an absolute rigid affair.
This is particularly clear as we consider larger/longer TT bridges. As our bridge decks become ever longer it becomes a problem to have them contact their pit rails at BOTH ends simultanousely, while also being pushed up by their center drive shaft. We need to 'uncouple' this drive shaft's vertical motions, while still retaining its very positive rotation motions.
Diamond Scale accomplished this quite nicely by gluing a rectangular block of plastic onto the upper end of their drive shaft,.... then providing a slot in the underside of the the bridgedeck for this rectangular block to ride in. This uncouples the strictly rigid connection.
Here is the black piece of plastic stuck on the centering/rotation shaft,..and the slot in the bottom of the bridge deck into which it fits,..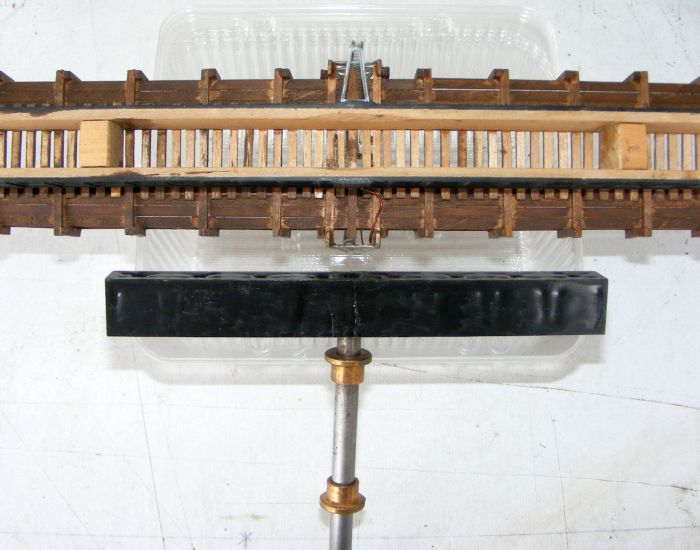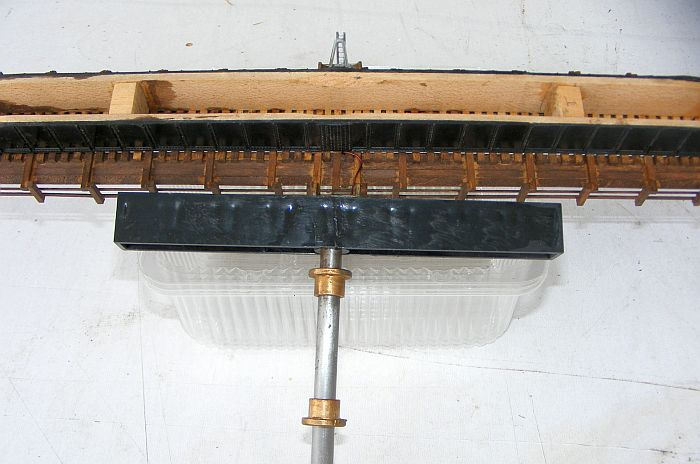 (btw, there is a crack across that hole where the center shaft fits. Mine developed that crack somewhere along the way, and I had to glue it back together.)
Here is that bridge deck partially set down on that black plastic block. You can see by these 2 photos that the bridge itself is free to dip either of its ends to meet the pit rails at either end,..
Yet the solid block of plastic keeps the bridge deck under absolute rotation control.
Another nice feature of this arrangement is that a person can lift the entire turntable bridge deck up and off the layout without have to remove the turntable assembly itself !!
Last edited by a moderator: