Yet it looks better than some of the still-in-use railbed around here

I love reading all your history threads...even if they are 1000 miles away.

Sure

you don't want to hang out in PA for a while?
Thanks for reading the history threads
Nate
. As for the Lehigh rail bed, some of it can still easily be driven, some has been converted into roads, and some of it is so overgrown that it's tough to get thru at all. LGM and I wentback over there today, even though the weather is a bit wet. We did manage to find the remnants of two trestles. It looked to me like the L&N spent some $$$ to get to Lehigh. That's some rugged country out there.
Here's an 1890 map showing Compton and a stub track headed northwest, the direction of Lehigh...
This map shows the break point/wye at Village Springs, the L&N's Birmingham Mineral RR and the location of the two trestles we visited today.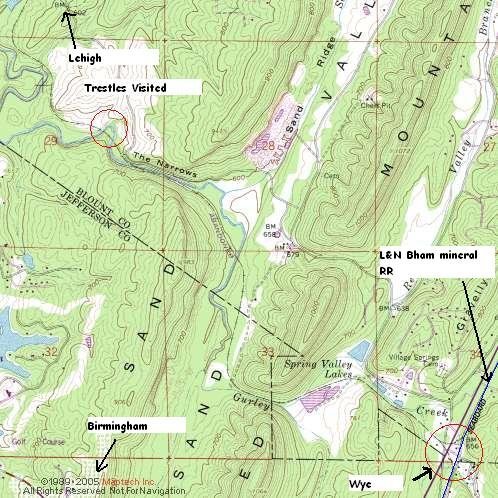 What's left of the first (east) trestle. Keep in mind, it's been at least five decades since the last coal train...
Second (west) trestle. It still had timbers standing.
The two were only about 100 yards apart due to the bend in Gurley Creek. They just blasted a cut thru the hilltop between them.
Last edited by a moderator: