Hi,
Long story short: Packed up the old layout in progress about 3 years ago to prepare for a move. Moved and settled in and now working on the new layout. It's a 6' x 12' doughnut. Walls with sky backdrop built and painted. 2x4 benchwork built. 2" foam base installed. NOW I've taken all of my old buildings out of boxes. It was fun to pull them all out and find that everything made the move without damage. I have a few kits that still need to be assembled and a few others that need detail applied. Here are the latest...
This one is a small auto/motorcycle repair shop that came in a kit with a grocery store. I stated the repair shop first. Got the exterior walls painted a pale yellow. Also painted some joints on the roof and darkened it a bit with flat black spray.
I needed to file down the sidewalk curb as well. Oh, and I also shot the roof vents with some bright aluminum followed by some flat black overspray. They seem a little oversized, but maybe I'll just use one... not glued yet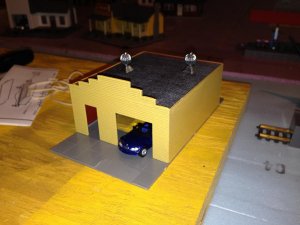 The next one is a Merchants Row kit. Love the idea of having 5 storefronts in one kit. Not loving the idea that they are all connected. I took this kit out of the box years ago and tried to whitewash one of the side walls. I've seen people do that and then wipe off the wash kinda like grouting tile. Supposed to leave the mortar lines between the bricks... Didn't seem to work so well for me so I put it right back in the box. Now I've got to figure out a way to paint it. Stated with the front and masked off the middle building. Used the same yellow as the garage 'cuz it's the only feasible color I have on hand right now.
So, here's how that looks so far...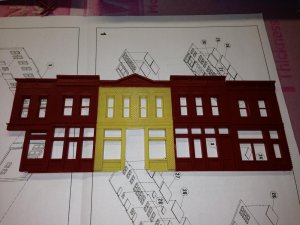 And finally, I mocked up a little main street scene... Need to get some "dulcoat" to get rid of the glossy look... You can see my sky background in this pic. I like the way it came out. Wanted to make it just one of those things that looks right so that it's not really noticed... Know what I mean?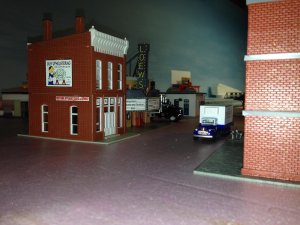 Doug