Hi all. We had many "problem" turnouts on our RR and, since we use the common Atlas turnouts, I thought I'd pass along the "fix" we found. I've been an Atlas turnout user for many years (used them as a kid) and
am not knocking their product
. They are a good product at a good price. Plus, I love that "S" turn logo I remember as a kid...
We had derailment problems with several of our Code 83 and 100 turnouts. The problem seemed to be more persistant with the Code 83 turnouts and their related twin coil switch machines. Derailments in hidden staging are a real pain! After investigating the cause, here's the simple fix I found for them.
In this "before" pic, you can see that the points have moved together in the switch rod. This causes the points to fail to make proper contact with the stock rails. No contact = drailments...
Here's a before shot with the NMRA guage to further illustrate the problem. It's obvious how much the points have closed together in the switch rod.
Our fix, as stated above, is very simple. Using .012" sheet styrene (brass shim stock works too, but is harder to work with), cut appropriately sized shims to correct the point spacing. I don't bond ours in place because they slip under the switch rod's mount and stay securely put. Since the turnout pictured is in staging, I didn't bother to paint the shims. On scene shims can be easily hidden with a little paint.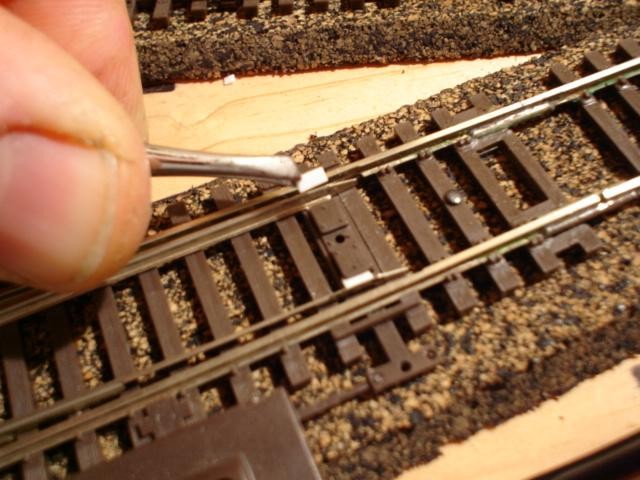 The after pic...
The NMRA guage makes the improvement apparent.
Happy railroading!