Here is an easy and inexpensive way to upgrade your Tichy or Mantua couplers, using the KaDee # 148 whisker knuckle coupler.
I put a dab of JB weld in the hole and set one side on wax paper for overnight. The next day an exacto knife can be used to scrape off the excess.
A new hole is also easily drilled with the sharp pointed exacto knife, and the coupler fits snugly in the original factory supplied trucks.
This shot shows one coupler filled with JB weld, and one with the hole and cleaning up completed.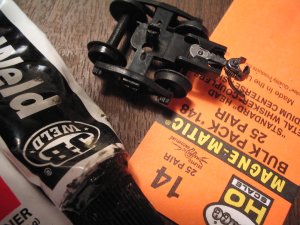 This shows what a tight fit you can get.
Shows how versitile the JB weld product is. (I am not a salesman, honestly!)
The #148 coupler works with the bulk gear box kit sold by Kadee, so these two items with the .10 and .15 bulk shims pack will adequately retrofit just about any product purchased on Ebay or bought at garage sales.
I hope this helps someone with their modelling projects!
logandsawman
Last edited by a moderator: