I started with a hinged drop down but that didnt work out well with my trestles and bridges on it. So here are some pictures of what I did.
The right side rests on a full width stop. The hinges are above the height of the track so it doesnt bind.
I used rerailers on the layout side to secure the track firmly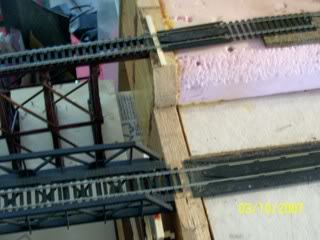 My next step is to figure out how to control the wiring underneath.
Thanks for looking!!! Comments always appreciated.
Last edited by a moderator: