Hey all, so I scrapped the spaghetti bowl plan I first floated here some months ago, and have come up with the following. It's not an exact plan regarding dimensions, curves, and clearances, think of it more as a general concept for the time being. For example, I didn't mean to leave only 4" between the bottom closet and the layout edge, but I don't know how to shift/shorten the whole plan to the right. If anyone has any comments or sees any problems, let me know.
Scale: HO, code 83
Curves: target of 28-30"+ radius
Continuous running (yeah, I know, but my non-RR friends won't get a P2P layout), "generic modern" era (not specifically modelling a timeframe, as I have a mix of equipment, mostly modern, but a few slightly earlier)
DCC (probably NCE, haven't decided on the system yet)
Possible industries: rock quarry, grain, small intermodal yard, warehouses, lumber
Would like a double-ended yard.
This is a modified around the walls layout, I suppose. I need to keep one corner of the room adjoining an outside wall clear for a work and other hobby area. Hence the open NW corner. Room entry is on the west wall, there's a door between the closets, and one also in the SW corner. I figure this can be operated from the outside or the open inner area. Yeah, I know that's a bit of a duckunder, but I'm still young and don't mind clambering into the middle when needed to work a siding in there. The SW loop area with the quarry would be elevated in the form of a hill over the line entering the yard from the west, which would be in a tunnel most likely. The shop area butts right up to the elevated area, but I envision making it look like a shop tucked up against a hill, with a rock or timber retaining wall and the line running up above it.
What has partially stopped me from adding more sidings and stuff is how quickly the cost is adding up. With quality turnouts and track, the price estimate has me pausing on other ideas like a reversing loop, more spurs, or staging. I've tried to leave some options for expanding those in the future. Thanks for taking a look. -Eric
View attachment Layout4b.pdf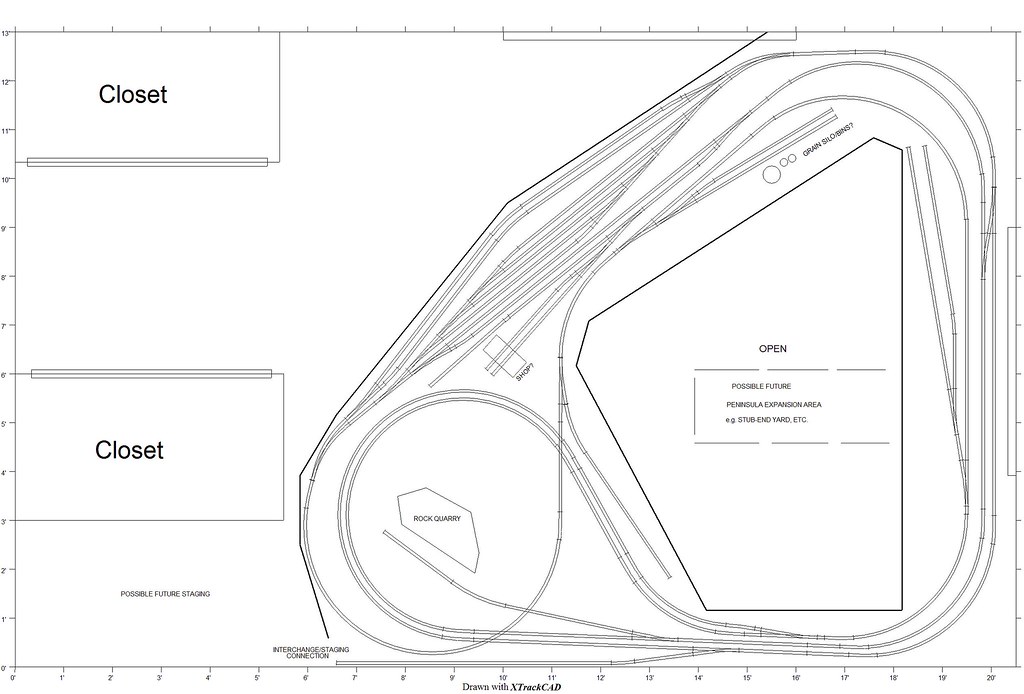 Last edited by a moderator: