Got an e-mail from a friend from church who told me a fellow he knew want to meet me, something about seeing my work on line. Turns out the guy is the president of a local museum model RR group that has a small layout at a local restaurant. Nice fellow. Looking for volunteers to man the layout. I had to turn him down. My job requires too much travel. We did have a nice talk and I mentioned my fondness for brass models. He was delighted about that and took me to a display case and showed me a brass model that had been donated. It didn't run and they didn't know anyone who could fix it. Until yesterday
I ended up taking the thing home and looking at it. It's a nice little NP 4-6-0, but it had a lot of problems. Back in the mid 70's labor costs in Japan were going up, and the Dollar was falling against the Yen. Importers started moving brass model production to Korea. The Korean builders are very good these days, but if you happen to stumble across a model from this time period, when they were on their way up the learning curve, your life will become interesting. Look out for Overland Models steamers in green boxes, PFM models made in Korea (the Japanese stuff is fine), and any Korean builder with a name that sounds like a Korean car manufacturer. Many of those are stinkers! I knew what was up as soon as he produced the box. I thought, "no good deed goes unpunished!" "Didn't you learn about volunteering in the service you dummy?" This early Korean stuff is lousy with bad solder joints. It will often attempt to re-kit itself as you work on it. Enough yakking. On to the photos and the fun!
This is actually everything done, but note the discoloration at the stack. This is what happens when the parts don't get rinsed in a wash to remove the acid flux.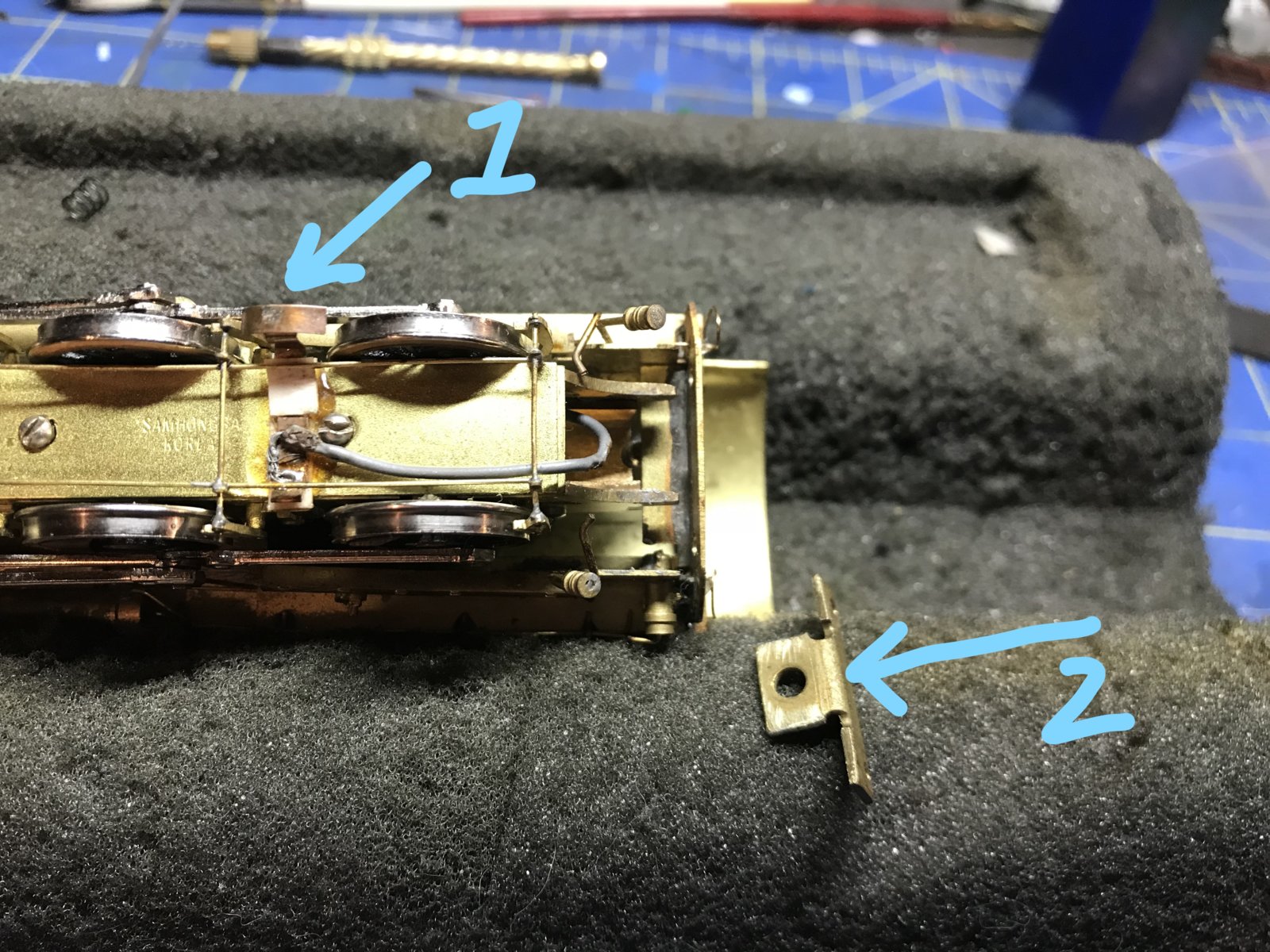 This is the worst of the problems. The rear frame cross member fell off due to cold joints (#2). The previous owner or someone he knew tried to fix it by making the drawbar a mechanical connection only, and installing a wiper for power pickup (#1) These wipers are to supplement power pickup, not to replace the tender, so power pickup was, shall we say, crappy? The cross member is shown cleaned up and ready to be reattached. I had no jig for this, so I had to screw everything back together and position it by hand.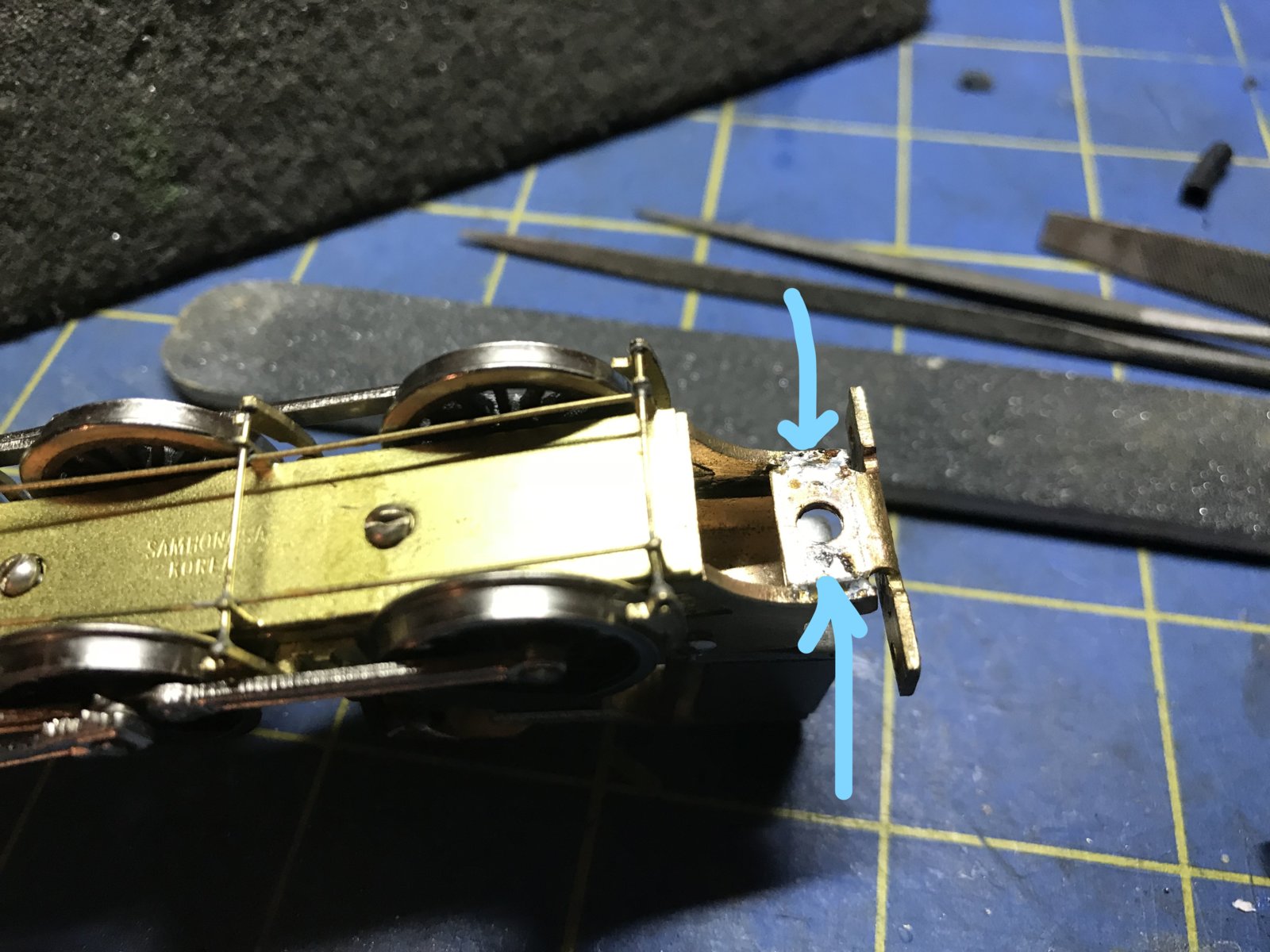 The soldering tweezers made short work of the repair, and everything now fits. Then the re-kitting process began!
While test fitting and removing a little material for a smoother fit of the chassis into the boiler, both ash pans fell off. They were a simple enough fix. Soldering tweezers to the rescue! Look at the general quality of the solder work on this model. Yuck! After re-attaching them I found out that this model is a convertible. It came as an oil burner, but had ash pans in the box, as well as a tender slope sheet if you wanted to do a coal version of the engine. Since I had already attached the ash pans, I removed the oil bunker and installed the tender slope sheet. Screwdriver work there, no biggie. I also restored the electrical function to the drawbar as built. There are some loose pipes that need soldered into place and whatever else falls off if I do anything else. It is alive!