Some times when I go under the layout I look at sections of the under-layout wiring that appears to be a rat's nest of different sizes and colors of wires. Many wires lead to switch machines or terminals that feed some electrical features. I just shake my head in wonder. Complicating the issue is that I installed separate power supplies for switch machines (Tortoise) 6 volts, incandescent lighting (<10 volts), LED lighting, signaling and DCC. Each power supply has a separate buss line wiring that runs the entire length of the layout.
Each of the power supply busses are connected to mini-toggle switches at a Master Control Panel where I can turn the power on or off for all of the electrical supply, except DCC which is always on, but DCC can be turned off at the 12 volt transformer that powers the DCC system. As an example, I can turn off everything except DCC when running trains and forgot the lighting effects or operating turnouts.
Should a problem arise, I just only leave on the buss wiring that powers the effected electric portion or element of the layout. I then use a multimeter to trace the wiring from the earnest electrical terminal to the affect component. I tried to wire each electrical component, be it a signal, turnout or lighting from a terminal strip. I added a second set of operating crossing signals near the Pine River Yard where was an existing opersating signal. Using the approach above I could easily find the correct terminal screws for the signal wiring.
I attempted to make the wiring as neat as possible,but wires do crisscross over each other and I tried to use a color coding system that was abandoned early in the wiring stages. I also wanted to label the wiring.
While it appears that there's no logic or reason for the wiring, once you take time to study how its wired it makes some sense. But, not as neat or organized as I would like it to be.
I've started to mark the terminal strips with a label maker to help in trouble shooting.
I've seen some layouts that are a masterpiece of professional wire installation and perfect wiring of the control panels, color coded wires and labeling.
Okay, how neat is your under-layout wiring and did you follow any particular planning or scheme?
Greg
The Master Control Panel with a volt meter for incandescent lighting and a Ramp Meter for the DCC track voltage and Amperage. LED's indicate when certain power is on. The Lexan front panel is mounted on hinges and is opened by lowering the face panel.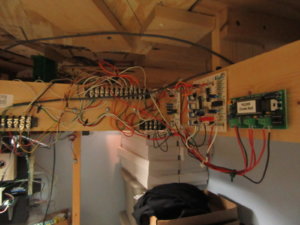 Under-layout wiring for the crossing signal and the crossing detection circuits, bell ringer and flasher circuits. The terminals may also feed other electrical on the layout.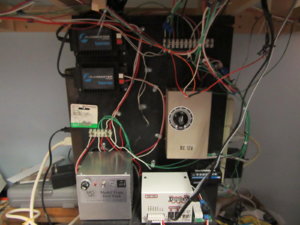 Main electrical supply. Some transformers are hidden behind the panel. Everything plugs into power strips and the layout room's electrical and lighting is controlled by a single circuit breaker.