So a few months ago I posted wondering if anyone was going to enter. Well I did. I was informed that I am a semi-finalist. I hooked up with a non-model railroader fellow so that we could enter into the "teams" category instead of individual. I thought perhaps he would get the model railroading bug. Anyway being a semi-finalist that allows us to be in the "People's Choice" category where folks can go out an vote. It is down the page a bit. There is a video that tells folks how to vote.
https://www.walthers.com/nmrbo
I don't think they got a lot of entries.
I selected the "city center" kit for a few reasons. First I figured the agriculture and brick works would have many takers. I see I was wrong about the brick works. Only one semi-final entry used it. I see only one other semi-finalist that chose the city center. Second, one of the criteria is going to be creativity. The kit is supposed to be basically a modern commuter type elevated station. However I saw it and immediately thought of a station in St. Louis near Forest Park called Delmar. In this case the track and trains are below grade and below the station. I thought I could just reverse everything. Little did I know the issues I would encounter because trains need such a taller clearance than the automobiles do!
The center piece of the module is a kit bashed Delmar Station from two Walther's "Bailey Savings and Loan" kits. It was also a much harder bash than I originally thought because the parts are not solid and cannot necessarily be cut where one needs to cut them. Plus I had to selectively shrink it to fit. 2'x6' is such a tiny amount of real estate in HO scale.
It was a rule that one had to use everything provided in the kit. That proved a bit challenging when one is attempting to do early 1960s and the kit contained things like "modern trash cans", and a modern school bus (I just hid it in the background as best as I could). The trash cans however flipped upside down and became the pylons around the White Castle restaurant. Other creative uses of things allowed a fairly easy backdate. But still so many compromises. l had to extend the station platform and retaining walls way past the end of the Delmar Street bridge to use up wall pieces (soooo many concrete wall pieces). Had to flip the White Castle to the northeast corner rather than immediately north of the station. And on and on. Still ran out of time. I had a to do list of 41 items when deadline came, including lighting everything. The module had to have a train element so that was fairly easy, got the Delmar Trolley running and the BLI Wabash Budd passenger train out of storage.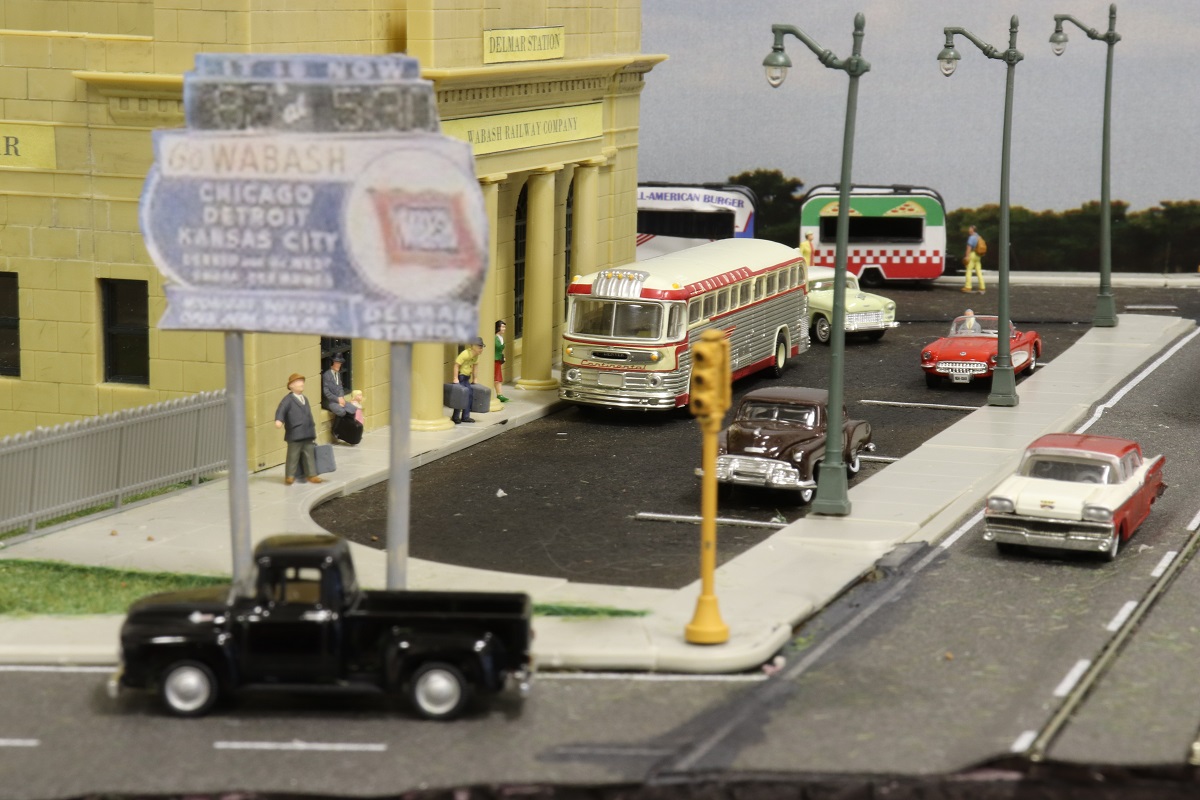 Last edited: