I was browsing the web today and came across these two photos on
www.ho-scaletrains.net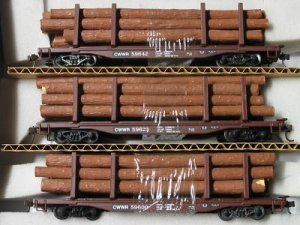 Chehalis Western Milwaukee Road
According to the site, these are Walthers HO scale logging flatcars from the late 1990s.
Every site I've looked on doesn't have them in stock, which is frustrating since Milwaukee Road log cars and Chehalis Western equipment in HO scale is so scarce, and I could use a couple of each for my layout.
If anyone knows where these could be obtained for a reasonable price, I would be highly interested in buying them.